Issue #13 July 21st - August 3rd, 2006
Thor: Rock Warrior
By: Adrian Fallwell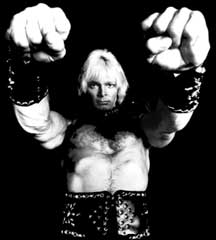 The press release came to me through email: Thor! at The Conservatory, July 5th. Links to who this "Legendary Rock Warrior" was followed. I was surprised to find a barrage of photos and articles spanning back all the way to the '70s, detailing the career of a man who has spent his life thundering through the changing generations of rock 'n' roll theatre. A huge body-builder, clad in Conan garb, brandishing a broad sword, with minions busting cement blocks over his chest; I had to dig deeper and see what The Legendary Thor was all about.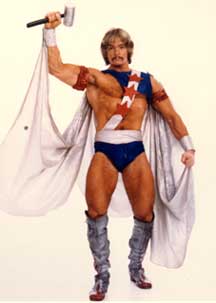 Amazingly, Jon-Mikel Thor was a bodybuilder by the age of seven, going on to win the titles of Mr. Junior Canada and Teenage Mr. America. At eighteen, he won Mr. Canada and Mr. USA, and has even won Mr. North America. The muscle-bound teenager hit the stage, performing in shows in Las Vegas and Hawaii, and in '73 he appeared on The Merv Griffin Show. While working out, he listened to bands like Led Zeppelin and Black Sabbath, and was inspired by the theatrical antics of Alice Cooper and KISS. Eventually, he combined these elements with his love for comic books and science fiction to produce his ultimate ego, THOR!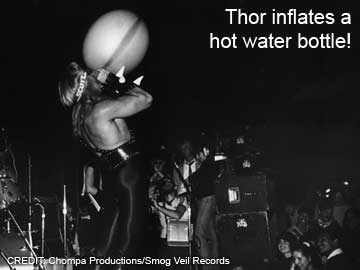 His first major release came in '77 with, Keep the Dogs Away, honing more of a punk edge than metal, playing the New York scene during the time of Blondie and The Ramones. However, it wasn't until the early '80s that Thor's musical career would find wings and take off. With hits like "Let the Blood Run Red" and "Thunder on the Tundra," he marveled audiences with gladiator-like outfits, riding a horse-drawn chariot on stage (previously used by Charlton Heston in Ben Hur), and feats of strength, such as exploding hot water bottles with his lungs and bending steel bars with his teeth. He would perform mock battles on stage, often starring with his wife and ex-model, Cherry Bomb. With several albums and constant touring, his popularity reached cult status.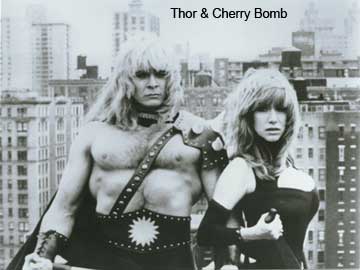 It was at this point, in 1986, that he began his movie career with the very B-movie classic, Zombie Nightmare, starring Adam West and Tia Carrera, more recently famed by its appearance on Mystery Science Theatre 3000. He continued on with a role in Roger Corman's Recruits, a Canadian version of Police Academy. The next year he wrote, produced, and starred in another zombie classic, Rock 'n' Roll Nightmare, which spawned his rock anthem, "We Live to Rock."
Throughout the early '90s, Thor seemed to have fallen off the map, although his past hits would make it on to a few metal compilations. He resurfaced again in the late '90s with a couple of albums, and in 2001, took a stab at the nu-metal sound with Dogs II. He teamed up with fantasy artist, "Mick" Hoffman, and produced a couple of Thor comic books. As well, Mick did the artwork for his follow-up albums, Triumphant and Beastwomen from the Center of the Earth, the later burgeoning many metal styles to merge as a psychedelic metal opera.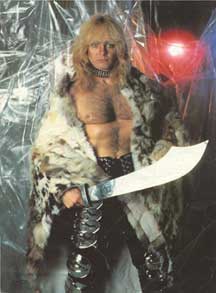 On fire again by 2005, Thor found himself on a new label, Smog Veil Records, which released Thor Against the World (sidenote: Brian Kehew of Moog Cookbook plays keyboards) and the acclaimed DVD collective, An-THOR-logy, featuring 90 minutes of Thor video stretching all the way back to the beginning of his career. This month they released his newest album, Devastation of Musculation, which trumpets a move back to his roots with straight ahead balls-to-the-walls rock. He also recently returned to star in and produce a new movie, Intercessor: Another Rock 'n' Roll Nightmare.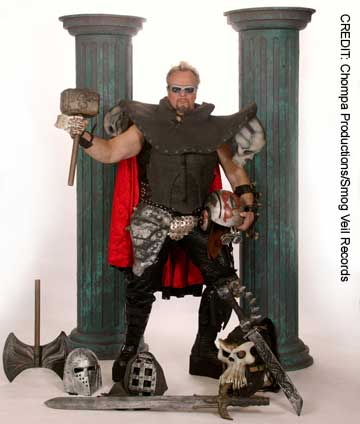 Whew! That's 40 years of rockin' there. Did we cover everything? Not even! But, a little on-line research will fill in the details for those who dare to journey for it. Unfortunately, you most likely missed his performance at The Conservatory on July 5th. That was his first time to ever visit Oklahoma City, and the few dozen fans that showed reflects how little Thor is known here. However, the incredible energy of the crowd that was there reflects just how awesome the mighty power of Thor is. A high point of the act was Thor bending a mic stand around our favorite bartender, Beth. The friends I took with me that night are still thanking me for turning them on to The Legendary Rock Warrior, THOR! Check out ThorCentral.com for more.