Issue #10 June 9th - June 22nd, 2006
These Drums Could Be Your Life:
Rob Smith
By: David Klein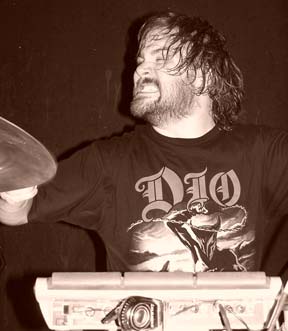 Happiest when his schedule is booked and his sticks are high above his head, one of Oklahoma's most prolific drummers spent the last 15 years searching for his instrument's creative role in rock music.
Rob Smith, longtime drummer for Oklahoma's Traindodge and more recently St. Louis' Riddle of Steel, is renowned for his intricate, hard-hitting drumming, but his style has evolved into a solid, simplistic version of its origin.
"When you first start playing drums, you want to get tricky pretty quick," Smith said about his early work, but "9 out of 10 people didn't come to see a drummer. They came to see a band."
Smith's main influences are John Bonham, Stewart Copeland, and Bill Bruford, among others, and the infamous "Kansas City bands" Shiner, Season to Risk, and Molly McGuire heavily influenced early Traindodge recordings.
Stated musical influences rarely materialize to the desired degree; however, Smith is quite capable of consistently delivering the power and grace of his predecessors with a fresh perspective.
On Thursday, June 29, Traindodge will host a tripartite release party with a reissue of their second record, a split EP with Dropsonic, and a new full-length record titled "Wolves" on Ascetic records.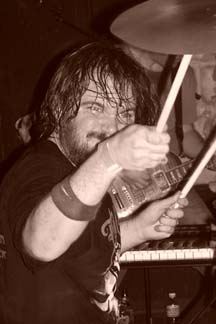 In addition to drums, Smith plays keyboards for Traindodge. He plays drums and keyboards simultaneously during live shows, which adds to his mystique and creates welcome obstacles.
"If I'm playing keys, it limits my drumming. Fills become more sparse, and open high hats become off limits," Smith said.
Smith described his drumming on the new record as more simple. He attributed the
increasing simplification to his live musical multitasking and his quest to write for the song above all else.
"Whatever I'm playing, 4/4, 7/8, 3/8, it's got to be natural. It's got to have a flow to it," Smith said.
He is more reliant on 4/4 time and straight beats than ever before. Perhaps it is because Traindodge refocused the writing process in recent years around melody and song structures that are more traditional.
After years of providing their brand of indie-prog rock, Smith said that Traindodge started looking to the past for inspiration and using their guilty pleasures as bona fide influences.
"We'll admit we like Journey," He said. He also added Yes, and Led Zeppelin to his list of vivifying sources.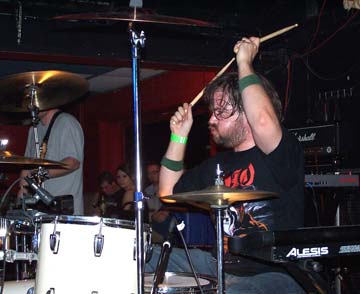 In addition to his hectic schedule of recording and touring with Traindodge, Smith joined Ascetic label-mates, Riddle of Steel two years ago. He played on the band's 2005 release, "Got This Feelin'," and he tours with the band when not with Traindodge.
Being in two working bands allows Smith to stay busy musically. He was on the road 200 days last year and played more than 150 shows around the world, including Europe with Riddle of Steel and Japan with Traindodge.
Riddle of Steel is definitely more up-tempo and driving than Traindodge's signature rhythmic wall of sound. "Playing in Riddle of Steel is a stamina thing more than a mental thing," Smith said when contrasting his two bands.
Whether Rob Smith invokes a '70s prog-rock drummer for a ten-minute Traindodge opus or eighth-notes his way through a pounding Riddle of Steel song, he demonstrates a pure musical
voice – void of preconceived tenets and misconceptions about his craft.
More information about Rob Smith and his music can be found at www.traindodge.com and www.myspace.com/riddleofsteelband.