Vol. 1, Issue #24 Dec. 22nd - Jan. 4th, 2006
Southern Grindcore Earns It's Keep
By: Ryk Weston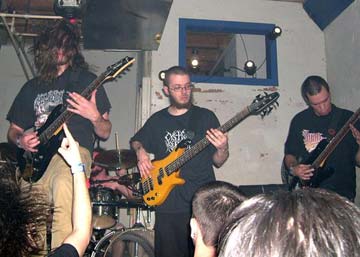 When one speaks of heavy metal in Texas, your first narual thought would obviously be Pantera. If you dig even further into the realm of extreme metal, names like Absu, Devourment, and Thornspawn  pop up. But within the past couple of years there is a new hybrid of death metal and grindcore emerging from the Lone Star State, and drummer Eric Park can often be found at the helm of such acts.
Considering his duties in three different death and grindcore bands (Devourment, Hyperion, Rhome), Eric is now taking aim at the death/grind world with Rhome, probably one of the most extreme bands this side of the Midwest. Rhome, who formed in 2003, are hard at work recording their debut full length due sometime in the summer of 2007 and have been hitting the road to spread the word and ferocity of which their music showcases.
Being in three different bands, especially when you consider the genre of music, seems no easy task. Not so, claims Eric. "It's actually not too bad. As far as Devourment goes, we don't practice a whole lot due to Ruben's work schedule. Everybody else just works 9 to 5. He's pretty busy during the night when we would normally practice. If anything, it's in spurts so it works out for Rhome especially because we can go in and pick and choose. Hyperion actualy lives in Longview. We kind of do it all in spurts and we all delegate time around each other."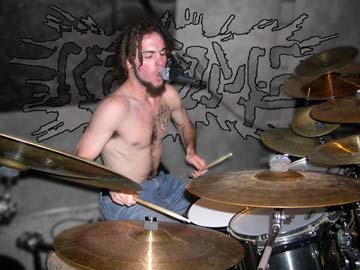 Eric, who began playing drums at the age of 12, began cutting his teeth on extreme metal at age 14 when he discovered the technical aspects of prog-death metal pioneers Cynic and Atheist. "That's basically what drew me to this style of metal. I grew up listening to a lot of alternative when I was growing up as a kid. I didn't even know this shit existed. When I did hear it, I was just constantly wanting to hear bands that were pushing themselves. I latched onto every band that was doing thing like that. And of course Cynic...when I first heard them, I couldn't believe what they were doing.", says Eric.
If anything can be said of death metal and grindcore, it is that the envelope is constantly being pushed. So the pressure certainly must be demanding on metal drummers to keep driving on and inventing new tricks. "Definitely, man.", remarks Eric. "There's a whole lot of pressure and you see it at every show. Everybody's constantly wanting to be that guy. It's a hard thing to obtain. When I go to shows, sometimes I just want to hand those dudes my kit and just say, "Take it!". But at the same time it's very uplifting because everybody's good spirited about it. Everyone's been helpful as far as the metal scene is concerned. It's big as far as the competition goes, but at the same time it's a healthy competition."
It's no secret that Rhome is definitely here to stay, and they are spreading the word the best they can. Having just completed two new tracks for their upcoming full length, Rhome is out to set new standards in death/grind. Getting people to shows, however, has been a challenge that nearly every extreme metal band in the Midwest has been confronted with. Says Eric, "Well, there's good bands out here. It's just very, very hard to get people to come out, especially in Dallas. It's just kind of died down. A lot of the clubs have closed and people just aren't coming out. They don't want to spend the money to do it. In Denton, we try to not charge as much for shows. It being a college town and mostly young people around here, they're always down to come out and have a good time. I have a feeling it's going to come back, at least in the metal world."
Back in October, Devourment played their first ever show in Oklahoma at Studio 360 in Downtown Norman with local grindcore band, Exitium. "That was a really fun show. The crowd wasn't exactly huge, but it was probably one of the best shows we've done as far as the crowd energy was concerned.", says Eric. And Oklahoma will have their chance again on February 17 when Rhome, Hyperion, Forever Mourne, and Exitium hit the stage once more at Studio 360.
And what does 2007 look like for Mr. Eric Park? "Well, Devourment's already booked for 2007. We're doing a European tour. With Hyperion, hopefully this EP's going to be dropped on January 12, so hopefully we'll get some good response from that. Maybe get out on the road. And same for Rhome. Get an album out, get out on the road, and just do as much as we can. We just want to bring this music to as many people as we can.", says Eric.