Vol. 2, Issue #14 August 3rd - August 16th, 2007
Sleepytime Gorilla Museum
By: Adrian Fallwell
Photos By: Ki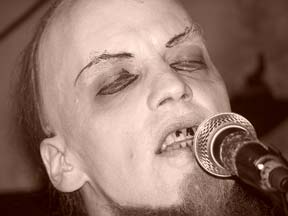 In 1996, some friends of mine recounted to me a show they had just seen at the Deli on Norman's Campus Corner. A crazy, jaw-dropping band called Idiot Flesh played. They were dressed strangely, had strange instruments they had built themselves, and did complex performances that often included participation throughout the audience. It was Metal, but it was orchestral and sporadic in nature. Sounded cool. I'd have to check them out next time…and when I did, not to be corny, but it changed my life forever.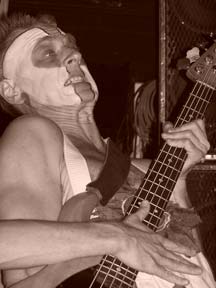 In 1990, I started giving up my teenage, hair-metal tastes, and "opened my mind" to different styles of music. Among all the genres, I particularly loved the over-the-top creativity of what I would call "eclectic" music. With these bands, the experience is often music that I did not know could even exist. Concepts merged together, creating sounds that are unlike anything that had ever existed on the planet before then. Surprises around every corner. Ween and Mr. Bungle are the more popular bands of this spectrum, but that night at the Deli, at the return of Idiot Flesh, the surprise skipped the corner and did a 360, flew straight up into the ceiling, and never came down.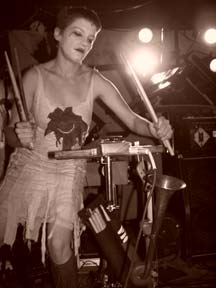 In 2001, I did an article for a local magazine, in which I described that night and some of the incredible things I saw (see below). I've been describing that night for over 10 years, wishing I had video of them that I could show people. Just recently, some were posted at youtube.com/IdiotFleshVideos. Finally...FINALLY, I can show people some of the craziness that I saw that night. The first one to watch is "Dead Like Us", which is one way they used to start their shows, marching into the crowd unamplified. The remaining videos give a taste of what their show was like, but do not include the multitude of performance art that connected songs and tied it all together as one grand display of theatre.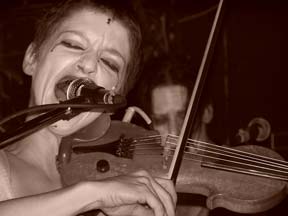 Another recent addition to publicly accessible video of Idiot Flesh is the DVD release of "Oakland Underground," a mockumentary made 10 years ago that pokes fun at the Oakland scene, and includes some of the grander entourage of performers that would accompany them, including fire-dancers and acrobats. A trailer and clips are at OaklandUnderground.com.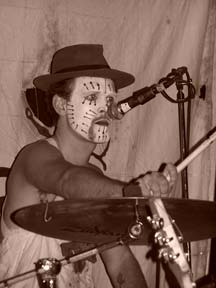 Even though Idiot Flesh broke up in 1998, frontman Nils Frykdahl and bassist Dan Rathburn continued to work together in various bands and projects, eventually leading to the creation of Sleepytime Gorilla Museum (SGM). Their first show here was in 2001, mentioned in said article above (see below). That night, we got to meet and hang out with the band. I must explain what this meant to me. Nils was my FAVORITE musician. It was like meeting Jimi Hendrix, or Cher, or whatever floats your boat the most. I was floored! Since, I've hung-out with Nils multiple times and have gotten over some of the starstruck feelings. He's an incredibly nice person, but like all Sleepytime fans, I still listen and watch in awe.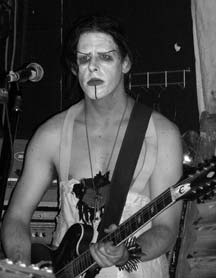 The original line-up of SGM consisted of Nils and Dan, the incredible violinist and vocalist Carla Kihlstedt, Frank Grau on drums, and the "found object" percussion stylings of Moe! Staiano. Since, the percussion section has changed, with Matthias Bossi on drums, and the multi-talented Michael Mellender playing everything from percussion to trumpet. Recently, a surreal-dancing figure named Momo has been adding to the onstage theatrics.
Slowly over the years, their fanbase has grown, and recently they toured Europe and did some shows with Secret Chiefs 3. They just released their third studio CD with The End Records, titled In Glorious Times, which includes the song "Helpless Corpses Enactment," which acclaimed New York director, Adam Feinstein (remember the Polygraph commercial from MoveOn.org's "Bush in 30 Seconds" contest), created a masterful music video for.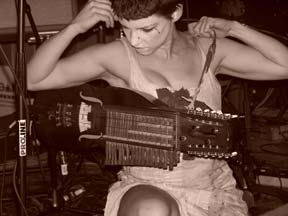 I guarantee you, no video clip is going to come even close to what it is like to experience this band live. They are going to be performing live at the LiT Lounge at 209 Flaming Lips Alley in Bricktown next Wednesday, August 8th. I highly recommend this show to anybody, even if the music is a little heavier than what you are used to. For more on SGM, visit SleepytimeGorillaMuseum.com. AMBUGATON!!!
Below is the article I did in 2001.
Click on pages below for larger images...