Vol. 1, Issue #26 Jan. 19th - Feb. 1st, 2007
Slayer: Heaven Can Wait (part 1)
Interview By: Ryk Weston
The audience is restless. There is enough energy in the crowd to light up the entire State of New York. The ever increasing volume of the crowd's chant becomes formidable: "Slay-er! Slay-er!". Suddenly, the house lights go down and the audience erupts into a deafening roar. Ladies and gentlemen, welcome to the world of Slayer.
Many of you are probably familiar with the "Slayer" chant even if you have never been to a Slayer concert, for it is as common as screaming "Freebird" these days. Tom Araya, vocalist/bassist for Slayer, has a laugh at this claim. "That's funny! "Slayer" and "Freebird"! No kidding! I like that. That's good."
Nearly 25 years since their formation in Huntington Park, California, Slayer has been the emodiment of no holds barred speed and thrash metal whose name alone is a testament to the seditious and unflinching worldwide. With over 12 albums under their belt, plus a box set, home videos, and two Grammy nominations (their most recent for "Eyes of the Insane', a track from their current album, Christ Illusion), Slayer is undoubtedly the stpale of extreme metal as we know it. Not bad for a band whose entire career has been void of radio play, music television, and media hoopla. Slayer marches to the beat of their own drum, and their horde of steadfast loyal fans are too willing to follow suit. "Slay-er! Slay-er! Slay-er!"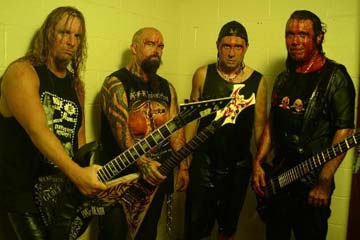 To say that controvery follows Slayer at every step would be an understatement, especially with 2001's God Hates Us All which was eerily released on September 11, 2001. God Hates Us All went on to receive a Grammy Nomination for Best Hard Rock/ Heavy Metal Album and saw the band on an extensive tour including numerous Ozzfest dates. It also marked the reunion of longtime drummer Dave Lombardo who had left the band over a decade ago to follow other musical interests including Grip Inc. and the noise-art supergroup Fantomas.
With the release of their most current album, the band has met with good fortune once again as they have just received their second Grammy Nomination for their first single from Christ Illusion entitled "Eyes of The Insane", a track about the the effects of war on soldiers upon returning home. Christ Illusion is also the first Slayer album to hit #5 on the Billboards Top 200 Chart. Says Tom Araya, "Yeah, we came out on #5 here in America, and believe it or not a lot of international charts at #2 in some places, which is really trippy".
Make no qualms about it, Christ Illusion is not light on it's attack on religion and society as a whole. If anything, this has been Slayer's trademark since their inception, and groups like the PMRC have chased the band every step of it's career. "The one thing they get wrong is that they call us Satanists", says Tom Araya. "I mean, that's what they're getting wrong. The concept and the idea of the song and what it means, what it's trying to say. The fans pretty much understand what the song is saying. It's just like anything else when you're an artist, when you create you have things that influence you. Your outside world influences you, and it becomes a partof your creativity. Especially with the songs we write and the topics that we write about. It's just our outlet."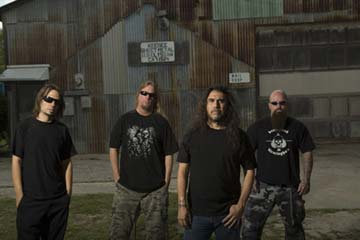 Those in the know can usually tell who writes what in Slayer. Guitarists Kerry King and Jeff Hanneman tackle war and religious topics, whereas Tom generally sticks with the serial killer issues. "I'm more of a commentator", says Araya. "A social commentator. I write about things, especially if they affect me. It's almost like an obsession. It's something that you just have to write about. Or what I've read about a person. And then if I can help Jeff and Kerry, if I can understand what it is they're trying to say, or get across with a song. the same with Jeff. He's more war orientated. He writes about that kind of stuff. The psychology of that mentality."
One of the more controversial songs on Christ Illusion is 'Jihad', a song about life seen through the eyes of a terrorist. As touchy as this topic may be, this track is really no different than past Slayer songs such as 'Angel of Death' based on Dr. Joseph Mengele, or '213' which dealt with serial killer Jeffrey Dahmer. "Yeah, that's exactly it. It's done through the eyes of a killer or terrorist. It's done in that fashion", says Tom Araya.
Read Part 2 of 'Heaven Can Wait' in the next issue of NONzine as we dig deeper on the covert art of Christ Illusion and go into the belly of life on the road with Slayer!
Slayer: Heaven Can Wait (part 2)