Vol. 1, Issue #20 Oct. 27th - Nov. 9th, 2006
Skate, Bike, or Die!
By: David Klein
I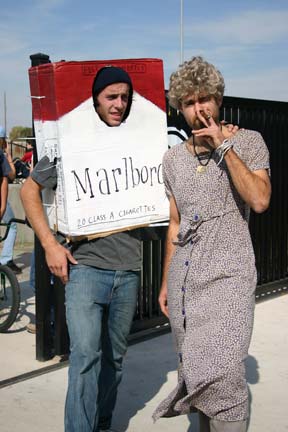 n one generation, Halloween has devolved from a night of miniature zombie hordes tricking their way through neighborhoods in search of treats into a sugar-sweet romp of Disney costumes, daytime safety haunts and moms in miniskirts. Luckily, skateboarding is still cool.
The second annual Halloween Bike and Skate Jam will occur Saturday, October 28 at Mat Hoffman Action Sports Park in Oklahoma City from noon to dusk and will feature a costume contest, age-divided bike and skate competitions and more than $6,000 in prizes.
Sponsors of the event and prize contributors include Adio Footwear, Planet Earth Clothing, and Hoffman Bikes among others. The all-day thrash fest is free and open to people of all ages, but skaters and bikers must be in costume to compete.
Last year's contest featured a skateboarding Samurai and a more cumbersome man-sized box of cigarettes. This year, at least one contestant will opt for a less dramatic costume for easier ma-neuverability.
"I'm going to have bones on my shirt, like a skeleton," Kyle Walker, skater from Moore, said.
Walker participated in last year's Halloween Skate Jam and won 1st place in the "Best Trick" category for skateboarders 14 years old and younger. He was optimistic about the coming contest in which he will vie for the same prize.
"I like the challenges of competing with older people, learning new tricks and skating new parks," Walker said.
The event's creator, Jeff Mains, and co-organizer, Jeremie Insulise, organized the event to give riders in the OKC area something fun to do and a chance to get free Merchandise. Both men work in the skateboarding and biking industries and used their contacts to find financial and product support for the event.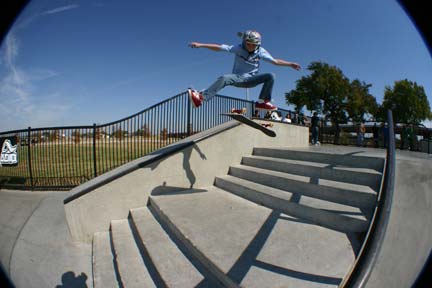 Mains recognizes the lack of interest in promoting local skate competitions and feels obligated to maintain the traditionally skate-shop based contests.
"These events wouldn't happen if we didn't organize them," Mains said.
Mains was a major contributor to the recent rejuvenation of skateboarding in Oklahoma City. He successfully lobbied for the creation of a public skate park in Edmond, and in combination with the Hoffman Park provided skateboarders and bikers with designated spaces to cultivate their talents.
"Jeff is a well respected person in the skateboarding scene in Oklahoma City," Brandon Sowards, local skateboarder, said. "Nobody else takes charge, and at least somebody is trying to make the scene blow up."
Mains organizes several skateboarding events each year including Skate Day, in which scores of skaters carve the streets of OKC for a day. Since there are few local skateboarding events and fewer legal skateboarding venues, local skaters appreciate Mains' skating events.
"It's something to look forward to every year, Sowards said.
Oh, btw. The Adio skate team will be at the Halloween Bike and Skate Jam for a demo.
Surprise!