Vol. 2, Issue #11 June 22nd - June 28th, 2007
Shaken to the Core
By: C. J. Rock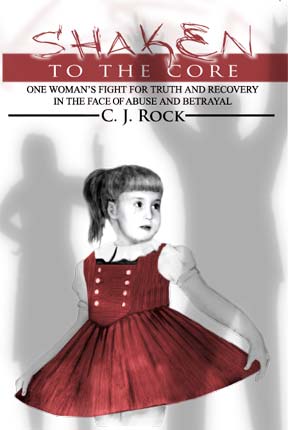 'Shaken To The Core' is the painful memoir of my childhood and my personal story of survival. My story begins in Chicago, Illinois where the dark family secrets and my molestation as a child finally came to light. After countless years of suffering, I could no longer remain silent. It was time to find my voice and allow it to be heard.
The world as I knew it came crashing down around me when I was twenty-seven. All of my past choices suddenly took on a whole new relevance. The mixed messages and faded memories haunting the roots of my being started to unravel. Once this barrier was broken there was no turning back. Determined to get to the root of my despair, I delved into my past, not knowing that opening that Pandora 's box would change everything in my life. My journey home would become a return to the scene of the crime.
The Fifth Commandment states, "Honor Thy Mother and Father." Unfortunately the consequences can be devastating when we forget to honor the child as well. The challenges we face as the abused child either makes us lifelong victims or survivors.
Children and adults who endure these tragedies must be nurtured and healed over time. Molestation in itself is a heinous and cowardly crime and when it is inflicted upon an innocent child by a parent or sibling goes beyond evil. There are many victimized children in our world and the transgressions heaped upon them have gone undetected, unpunished, and almost always unspoken.
'Shaken To The Core' shows the realism. It will open the reader's eyes, and open the doors. People of all ages who are in denial that this could happen, after reading 'Shaken To The Core' you will end the denial. You will feel empowered. Your past doesn't have to imprison you so you remain a victim. Instead, my story will enlighten you to never lose heart or your sense of humor in spite of adversity. It will provide you with an illumination to trust your gut instincts.
Sadly it could be your story. Or it could be the story of someone you love. If it has been your story and you have lived all these years with fear of reprisal, with fear of life, with fear of failure, then I believe that knowing what I've endured can help you accept your past so you can live in the present and look toward the future with hope, just as I have done.
Child abuse casts a shadow the length of a lifetime… Abusers of children inflict consistent trauma upon defenseless victim's everyday and sadly they may get away with it. What may appear to be the reality of a happy home can be in fact, play-acting by an entire family.
The victims, innocent children are 'taught' to pretend everything is normal. In some instances, they don't know the difference between reality and perception. What is real? What is perceived? What is brainwashed into their minds through consistent abuse? How can they distinguish between right and wrong when all that has been done to them is wrong, but they are taught-terrorized-into believing that the wrongs are acceptable. If you are taught from day one that the sky is purple and not blue, you will come to believe that it really is purple. If you are taught from Day One that molestation, physical and emotional abuse is NORMAL, then you will come to believe that.
It's programming. As children-as-innocents we are 'programmed' to believe that the ABNORMAL is normal. Normalcy isn't something we, as the abused, can understand until we are taught- or see differently.
Abuse comes in many forms. As children who know nothing else, we accept the abnormalities of the adults surrounding us because we are expected to accept them. We are mentally tortured and brainwashed to believe that if we should stray from what we have been taught, the retaliation against us will be strong and fierce. To preserve ourselves, we accept this suffering-this terrorizing abuse.
I've come to terms with what happened to me. It's in the past. It can't be erased. It can't be forgotten. But it CAN be overcome. I refer to myself- and others like me as- "The Walking Wounded" because we have been wounded. We have suffered indignations beyond belief. There are no accurate numbers on how many 'walking wounded' actually exist. It is shocking and more common place than we want to admit.
We cannot make excuses for those who have abused us. Instead, we can know in our hearts that We are not to blame. That WE did not cause this abuse. WE CAN heal from our internal fears, our rage and agonizing and sometimes overwhelming pain. Life is a gift. As the ones who have been abused, each day is not just a gift to us, but an award for enduring the agony and pain.
I am walking proof. Believe… Just believe. Let's start at the beginning- overcome and accept the past as the past- live for today-and prepare for the happiness we WILL have tomorrow.
Since the release of 'Shaken To The Core' I have had the honor of meeting so many wonderful people who have shared their amazing stories of molestation, severe beatings, and emotional abuse that forced them to carry a stigma of shame. It is my hope that 'Shaken To The Core' will help others learn how to heal themselves and reach out for help.
If one person who reads 'Shaken To The Core' knows someone within their family, or circle of friends who is being abused and stands up for them, then my story- as painful as it was to tell- will be worth the years it took for me to put it on paper.
'Shaken To The Core' is in Hastings Books, Enid, Ok, and Full Circle Bookstore, 50 Penn Place, Oklahoma City, Ok. June 27th 'Shaken To The Core' will be in Steve's Sundry Books & Magazines, Tulsa, Ok. A Book signing and talk is scheduled at Full Circle Bookstore on Saturday, June 23 from 3-5. For more information on 'Shaken To The Core' visit my website at www.rockcj.com You can order 'Shaken To The Core' at P.O. Box 5264, Enid, Ok 73702