Vol. 2, Issue #7 April 27th - May 10th, 2007
Rikets Interview
By: Anonymous w/Gruver contributing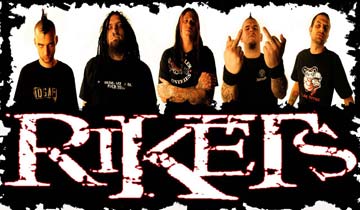 When it comes to rock bands, there are really only two categories; the bands whose t-shirts you own, and the bands whose tattoos you wear.
RIKETS has fast established themselves as the latter.
With one EP under their belts and a studio album scheduled for release Summer 2007, they've already shared the stage with such heavyweights as Korn, Nothingface, Seether, Breaking Benjamin, and Buckcherry. Scott Rose started RIKETS as a studio project with Ben Schigel, who has also produced records for Chimaira and Breaking Point. "We just started recording the ideas and eventually it spawned into what you see today," Rose said.
Hailing from Oklahoma (though its members include a Texan, a Californian and a Louisiana native), the quintet has already made waves from shore to shore, but not from the safety of their computers.
"We've packed the Key Club in Hollywood to Joe's podunk bar in Kansas and its from touring our ass off and making that band-fan connection. MySpace is so overly abused now, it's disgusting. All our fans on our page are real adds and the plays are true."
"We get about 1,800 to 2,500 hits and plays a day, and as far as our fans ... You'll find them everywhere and they are diehard RIKETheads. Seriously man, this sounds pompous, but I can't really leave my house or go anywhere in this country without someone recognizing one of us. Provo sticks out the most. I mean, how can you miss a dude with dreads down to his ass and a car part for a nose ring?! We love all our friends man, and that's what they are to us ... friends."
Unhappy with the production value of their first record, RIKETS believes they've learned from their rookie mistakes and corrected them for their newest album, "All American Death Cult." With topics ranging from relationships to revenge to arson, their second outing is the culmination of nearly a year and a half on the road.
"We made a record that we lived. We toured as a band for almost 17 months straight and we grew together in that time. We figured out each others thought processes and just wrote. We had a lot to talk about, from suicides of fans, deaths, our label turning their back on us . . . the industry turning their nose up at us because we didn't play their way. We've been through a lot as a band and if I sat here and explained it all, I would have my book written, so we'll just say that it's all in there. If you know us as a band, as friends, as an enemy, there's something in it for you." Rose said.
It's this work ethic that's made other industry legends take note.
Gerard McMann, best known for his theme from the eighties cult vampire film The Lost Boys, has recently done guest vocals on RIKETS' cover of "Cry Little Sister." "Well, the tune has always been a part of my life and I really wanted to redo the tune and give that song back to the fans and try to open some doors with it ... Doing it with 'G' was an experience I cant really explain. I mean, here's the guy who wrote the tune, sang it, writes major movie scores. He's Roger Daltrey's best friend and we're in here singing it with him on our record. It blows my mind. . . Vinnie Paul was floored when he heard we were covering that tune! That will tell you the impact that song has had on everyone. It's a timeless cult classic and I'm just overly appreciative that Gerard chose us to bring it back to the public," Rose said.
The new record, "All American Death Cult," is set to be released . . . "NEVER! No seriously, I don't know. Hopefully soon. We've tracked the record and now here in May were gonna travel back to Ohio and have Ben mix the record, then after that were gonna look at it and decide what to do with it.  We might put it out on our label (Corporate Punishment) or a joint venture with a major label. We just don't know what we want to do. I do know we want it out soon, hopefully in the summer. This is our second record and we want it treated right, so were putting all the necessary things in order to make that happen for everyone," Rose said.