Vol. 3, Issue #14 August 1st - August 14th, 2008
The Revolve Reunion Show August 9th!
A brief interview and "hello Oklahoma" by: Casey Castille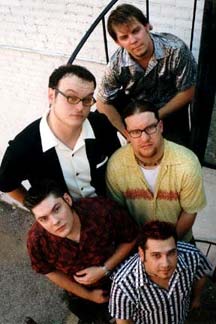 What goes around comes around, and The Revolve are coming back around for a reunion show at Belle Isle Brewery on August 9th. If you missed The Revolve the first time around, catch them on this revolution. Justin, Jeremy, James, Mike, and Paul are scratching their itch to play together again, and I invite you to join me down front to groove to their funky, hooky, psychedelic, pop-rock.
It's been ten years since my band, The Mimsies, and The Revolve shared the stage at the OKC Talent Showcase. (WTF?! TEN YEARS?!) We immediately hit it off, and I was hooked on their sound – a danceable blend with influences ranging from The Beatles and Hendrix to Pink Floyd and The Cars. Our bands swapped shows in Norman and OKC for about a year before The Mimsies headed west for the dirty glamour of Los Angeles.
Rewind. One day about three weeks ago while I was brushing my teeth, I found myself dancing to the melody of The Revolve's "Supercharged." I was doing everything I could to tease my brain into remembering all the words. At that point Synchronicity intervened. Synchronicity is like Owen Wilson's character in You, Me and Dupree: if you invite him into your life, he will walk right in, sit right down and ask you what's for dinner. Synchronicity has been sleeping on my couch for years, so it came as no surprise when, the very next day, lead guitarist Justin Shipley sent me a note telling me about the upcoming show. Immediately I began making plans to go. Having newly arrived in Austin after nearly a decade in California, I was thrilled to take advantage of the proximity to OKC and started planning the trip. A week after that, Synchronicity got up from the couch, scratched his balls, and locked me out of the bathroom. While I was waiting my turn, I realized Synchronicity was here to stay. Never mind that he was dulling the blades of my Venus razor on his three-day stubble, his presence called into being an email from NONzine editor, Mike Taber, who I'd not heard from in ten years. Synchroncity may be a mooch, but, like Dupree, he brings home some awesome surprises.
I knew Mike back in 1994 during The Mimsies' infancy when he was the editor of doublethink magazine. When he found me on MySpace just a few days ago, he suggested I write a piece for NONzine reintroducing myself to the Oklahoma scene. So here I am, Oklahoma, and I am excited about seeing you again when I go to The City for The Revolve reunion.
In forthcoming issues, I'll give you glimpses into the whirlwind that has been my life for the last decade. Tune in again for lots of name-dropping and tales of adventure from the super-charged life of a professional muse. Meanwhile, listen in on a conversation I recently had with Justin Shipley.
CC: Justin, I hear you're one of the hardest working men in show business these days.  Tell me who you're playing with. 
JS: Well, currently I'm part of an acoustic duo called Just Travelin' with my good friend Travis Osborne.  We play every weekend in Edmond at Danny Bob's Hideout and Buffalo Wild Wings.  I'm also the bassist for Ryan Dorman & Clever Guns, based out of Chickasha, as well as the OKC-based hard rock band Uro Steppe.  In addition to that, I'm playing lead guitar for OKC solo artist Ronnie Deane, and co-vocalist and lead guitarist for a classic rock cover band called Chicane.  And top it all off, I also do a solo acoustic show at Danny Bob's Hideout in Edmond on Mondays.  Each Monday features a different guest singer/songwriter.  Everyone can check out my full schedule at www.myspace.com/justinshipleymusic. One of the busiest men in show business?  Sounds good to me!
CC: What precipitated the reunion show? 
JS: Actually, it was really nothing more than the urge to play on stage with each other again.  I think all of our internal clocks started going off.  I contacted Jeremy Painter, and mentioned the idea, and he informed me that he had just gotten off the phone with our other guitarist Mike Brooks, and their conversation was the same idea.  I contacted 2AM about doing the show together at the Belle Isle, and thanks to Brad Bartlow, everything is set and ready to go.
CC: Who are the other players involved?  Is it the original lineup?
JS: One of the most unfortunate things about The Revolve was that we went through constant lineup changes.  Finding the "original lineup" would be next to impossible.  This is what I would consider the strongest lineup we had, which consists of:  Jeremy Painter on lead vocals and keyboards, Mike Brooks on rhythm/lead guitar, Paul Courtney on bass, James Wyrick on drums, and myself on lead/rhythm guitar.
CC: Any plans for a continued reunion with a new album, more gigs, etc?
JS: For right now, we'll probably just keep the shows to a minimum, especially with Jeremy living in New York.  As far as a new album goes, I'm sure that with the proper planning, anything is possible.  With today's technology, you just never know.
Not only is Justin a gigging nut, but he also knows how to create mystique!
There you go, live-music lovers! See, hear, and groove to The Revolve. I'm so looking forward to seeing a lot of old friends at the show as well as dancing my booty off.
And thanks to my perennial, pigeon-toed, hairy-legged, stubble-faced pal, Synchronicity, I'll be singing all the right words to "Supercharged" while foaming at the mouth with Aquafresh.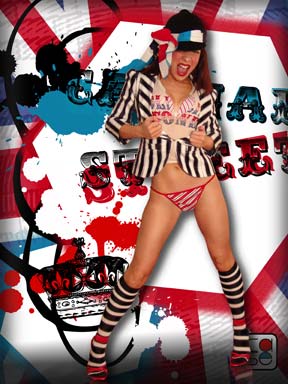 Casey Castille is back in middle coast America after a five-year sabbatical in San Francisco. She now runs in the ATX, making digital art (see right for a sample) and networking like Sharon Osbourne on crack. "Synchronicity" is her favorite Police record. You can keep up with Casey and her ever-present houseguest at www.caseycastille.com or www.professionalmuse.biz