Vol. 3, Issue #20 Oct. 24th - Nov. 7th, 2008
Repo! The Genetic Opera
By: Nathan Winfrey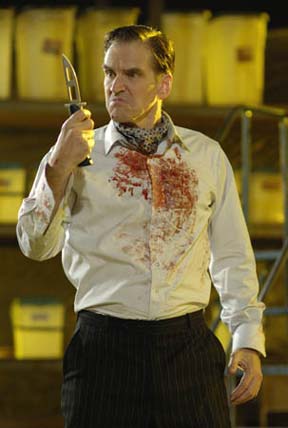 "I kill people. But the good news is, I sing and dance as I do it," said horror icon Bill Moseley about his role in the upcoming rock opera splatterfest "Repo! The Genetic Opera," opening Nov. 7, which may or may not play in Oklahoma, depending on how persistently we beg for it.
You may know Moseley as long-haired Otis B. Driftwood in "House of 1000 Corpses" and "The Devil's Rejects," as Chop Top in "The Texas Chainsaw Massacre Part 2" or in any of his lesser-known roles in Rob Zombie's "Halloween" remake, "Army of Darkness," or from his band, Cornbugs, with Guns N' Roses guitarist Buckethead and Deli Creeps drummer Pinchface.
In the "Repo!" vision of the future, everyone is obsessed with body modification — new skin, new organs, new eye color, etc — and if they don't pay their organ transplant bills on time, repo men hunt them down and take back the body parts they default on. Moseley plays Luigi Largo, a very angry brother of Pavi (Nivek Ogre, lead singer of Skinny Puppy) and plastic surgery-obsessed Amber (Paris Hilton). Their father is Rocci Largo (Paul Sorvino), founder of GeneCo, the mega-corporation that supplies the cosmetic and medical organs that everyone wants grafted to their bodies. Daddy has started to cough and, sensing his impending demise, the kids circle the wagon, waiting for him to croak, to see who will inherit his company. The film also stars stage legend Sarah Brightman and a grown-up Alexa Vega ("Spy Kids").
"It's something completely different and unique that people haven't seen before, and that's why I got into film in the first place — to do things that are completely out-of-the-box and 'Repo!' is that," said director Darren Lynn Bousman. "Where else can you see Sarah Brightman singing with Paris Hilton against the band Bauhaus? If for nothing else, check it out to see what the fuck is up with that."
Bousman is a member of the "Splat Pack" troupe of young horror directors that includes Eli Roth, Alexandre Aja, Rob Zombie and Neil Marshall, who specialize in bloody, ultraviolent movies. He also holds the record as the only director in film history whose first three movies ("Saw II," "Saw III" and "Saw IV") opened at #1 at the box office. But Bousman's record is about to take a drastic dip, considering his new movie is opening in extremely limited release.
"I can see 'Saw V' (which he opted out of) in nine theaters within a mile of my house, but there will be only nine theaters in the world playing 'Repo!'" he said. On leaving the "Saw" franchise, Bousman said, "'Saw' was a very important time in my career. 'Saw' kind of raised me from obscurity and, in that respect, it was great. I'm happy to be doing something completely different, though. I've done three sequels. Sequel, after sequel, after sequel. Here is a chance to expose a different side of me."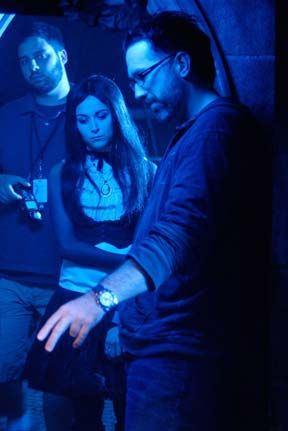 It was an accident that Bousman got into "Saw" in the first place. After getting fired as a crew member on "The X-Files" for writing scripts on the job, he completed a final draft of a screenplay for an intense, claustrophobic horror flick called "The Desperate." While shopping it around Hollywood, studio execs felt it was quite similar in tone to the as-yet-unreleased first "Saw" film and offered to buy it with the intent of transforming it into a "Saw" sequel with Bousman in the director's seat. He agreed, but much to his dismay, the shooting script for "Saw II" bore little resemblance to the work he'd spent countless hours perfecting. "A great, great deal of it changed," he said. "Ninety-five percent of it. The basic idea is still there, but in and of itself, it's a completely different movie…I was bitter at first, but then I realized this was how I was going to get my start. If I had said no, I would not be here right now. 'Saw' changed my life."
Bousman said now that he has established himself in the industry, he's considered returning to "The Desperate" to do it the way he envisioned. "I talked about it for a long time, but it's a hard movie to return to. 'Repo!' is such a different movie than 'Saw.' 'Saw' is a very claustrophobic horror film; very small and kind of gritty and dirty. 'Repo!' is a very expansive, wide-open rock opera. It would be a step backwards. As much as I would like to do 'The Desperate,' it would be a step back into 'Saw' territory."
As for topping "Repo!" Bousman isn't quite sure how to do it. He's reading scripts daily, trying to find something unique that will take him into another exciting direction. "It's hard to do a follow-up for 'Repo!' It's basically an homage to everything I love about filmmaking. It's like going to an amusement park and riding the best rides first. If you go to an amusement park, you should ride the shitty rides first because if you ride the best rides first, then everything else seems shitty by comparison. I don't know what I'm going to do next."
As for a "Repo!" sequel, Bousman said the film only tells the middle of the story, and that he'd like to tell the first and third parts at some point. "There's much more to tell in this world," he said.
Bousman already knew Moseley's horror credentials before their first meeting, but the director told the actor that he would still need to come in for a singing audition. "I asked if he'd ever heard my Cornbugs songs and [Bousman] said, 'Yes, I've listened to them, and that's why I need you to come in and audition and sing.' I was like, (sarcastically) 'Thanks, buddy.'"
Even though Moseley has been taking weekly singing lessons for the past 14 years, the audition was frightening. There were more than a dozen people in the sound booth when he arrived, and they were all transfixed on a member of the Pussycat Dolls who was auditioning for a role before him. He said she had a beautiful voice, stylistically somewhere between Broadway and Las Vegas. "I just thought, 'I am fucked.' My objective for the audition was to get through it without them throwing tomatoes at me. I was nervous until I sang my first notes into the microphone. Thank God for expensive equipment, because the mike was magical for me. It was just fantastic. They started playing the music on the headphones and I just sang away and was really impressing myself. I owe most of it to the mike."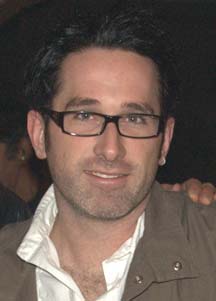 While Moseley got the part, the Pussycat Doll didn't. That role went to tabloid-favorite Hilton, who made quite an impression on Moseley. "I loved her. Paris is very cool; she's a trooper. I'd see her in the makeup chair at 5:30 in the morning. She suits up and shows up, which is very important. She was a good worker and was always prepared. Plus, it was exciting to be with a mega-celebrity."
The cast spent six weeks in Hollywood recording the soundtrack, then production transplanted to Toronto, where the film actually lensed. Moseley's two daughters, Jane (21) and Marion (9), visited him during the shoot, where Hilton took Jane under her night-clubbing, Denali-rolling wing (with daddy along for the ride) and put Marion on puppy-sitting duty, which she loved. "Paris was nice to me and my two daughters, so I guess she's solid in my book," he said.
Moseley's journey to become a cult film icon started at Yale University, where studied to become a journalist. Each Tuesday night at midnight, Moseley and a friend would host the "Things That Go Bump in the Night" horror series in a dorm lobby. They would catch weary studiers on their way back from the library, which closed at midnight, and suck them into the blood-soaked world of classic horror films. They ran the film society for three years, and then passed it on to others who carried on the tradition after Moseley and the other founder graduated. After that, he moved to New York City, where he began freelance writing for a variety of magazines. Then "The Texas Chainsaw Massacre" came out in 1974 and changed everything. "It really freaked me out, so I wound up seeing it a bunch more times, figuring it would lose its grip on me, which it never did. It just kept driving that wedge into my brain," Moseley said.
Inspired, he made a parody short film with his friends, called "The Texas Chainsaw Manicure," set in a beauty parlor on Staten Island, in which he made a brief appearance as the fiendish Chop Top. By some act of fate, a copy of the film wound up in the hands of "Texas Chainsaw" director Tobe Hooper and he loved it. Hooper called Moseley and asked who it was that played Chop Top. When Moseley told Hooper that he'd played the role himself, Hooper promised that if he ever made a "Texas Chainsaw" sequel, he'd call Moseley. That call came years later, from screenwriter L.M. Kit Carson. "On the basis of that probably 20-second cameo in 'Texas Chainsaw Manicure,' I was given the part of Chop Top. God bless Tobe Hooper for having the faith and taking the gamble that I was going to be the right man for the job," Moseley said. Now "Repo!" seems poised to deliver to the annals of horror history another iconic Moseley character.
"I don't think anyone realizes how much power they have in the fate of this movie," Bousman said. "We were told that no one would get this movie. Everyone laughed at us. When someone makes a rock opera, it is scary. How do you market a rock opera? Every time someone buys a ticket, it proves the studio wrong. Every ticket that is sold makes a huge statement. If people go see the movie, we will open up in more markets."
Of course, it's hard to make a horror rock opera without drawing immediate comparisons to "The Rocky Horror Picture Show," but Bousman maintains that "Repo!" is a very different animal. Where 'Rocky Horror' is straight camp, 'Repo!' is part camp, horror, drama, comedy, melodrama and tragedy.
So how can Oklahomans bring "Repo! The Genetic Opera" to a theater in our state? They can start by visiting www.repo-opera.com and posting their interest in it in the message boards. No one in Oklahoma had posted at press time. Another way is to check out the soundtrack, released Sept. 30. Others have taken more nontraditional approaches, like producing fan films set to "Repo!" songs or vowing to drive 10 hours to see the movie.
"It's a fantastic movie and it really needs to be seen on the big screen," Moseley said.
Fans in Austin brought the movie to their city by calling and writing a local theater, asking for it. The theater then called LionsGate and requested a copy of the film. A similar campaign earned the film a single upcoming screening in Kansas City. "Everyone has a voice," Bousman said, "and that voice is what's spreading 'Repo!'"