Vol. 2, Issue #21 November 9th - November 22nd, 2007
Rainbows Are Free
By: Graham Lee Brewer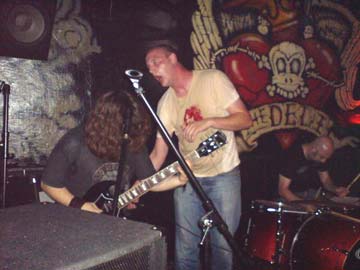 When I tell people that I write local music columns, they usually want to know which local bands I like. The obvious ones are always in the mix: Student Film, Starlight Mints, Dorian Small, Mama Sweet, El Paso Hot Button, Hosty, etc, etc, etc. But there is one band that I mention which I really enjoy introducing to people, partly because of the reaction I think they'll give and partly because no one else around here knows how to fuckin' wail quite like these guys do. Inevitably, people will ask, "Well, what do they sound like?" I usually just tell them to keep their listening holes locked on the earphones and prepare to get their nuts smashed. This is fucking Rainbows are Free.
"People have been very receptive to our style of music," drummer Justin Gallas said. "It's got an element of sex and danger. All good things, if you ask me."
For the most part, the local music community has been very responsive to RAF. There has been a surprisingly potent buzz surrounding them ever since they emerged on the scene earlier this year. To be honest, I was surprised how quickly they garnered attention and landed amazing shows. So far, they have already opened up for Burning Brides, Black Mountain and USSO, with shows with Lions (featured in "Guitar Hero 3") and Black Gasoline soon to come.
"It's been amazing that people are responding in a way where they pair us up with those types of bands. That's mind-blowing to me," Gallas said. "But it's also mind-blowing that we started with this idea and it's blown up. Every month we've played together has gotten better than the last."
But it's those mismatched shows that they really live for. By that I mean the shows which represent two very different styles of music.

"We kind of like not having bands that match at all and playing mismatched shows," bassist Chad Hogue said.
"Yeah, and there's a lot of bands we want to play with," Gallas said. "Dorian Small would be great; El Paso Hot Button, 'cause I'm a huge fan. Dorian would be a really cool show, just because I love shows like that, where it's not the same thing all night. I think from a crowd reaction, it can be kind of weird because they have certain expectations. I have this friend who went and saw Hank III, and he played with his other band Ass Jack, too. She said the crowd just didn't know what to do with that. One is honky-tonk and the other death metal. To me that's awesome."
RAF are in the process of preparing their first release, an EP which they plan to release very soon.
"It's four songs we recorded with [producer] Trent Bell, which was an awesome experience for us. Trent is amazing," Gallas said. "We're in the process now of figuring out the artwork. It should be released by the end of the year for sure; we'll probably have a release show. We've been pretty open with the songs and content, so it's not really a huge surprise. I guess it will be the first show where you can buy merch, how 'bout that? It will be a merch release show."
The band hopes to get their EP out there, keep grabbing attention from the local music community and start playing some shows outside the state. Living the road life is something they are all looking forward too; you know, living in a van and eating gas station food.
"I was talking to a friend the other day and I was saying how I hoped everything goes really well, and I'm living out of a van next year," Gallas said. "And he said, 'Well the great thing about that is that if everything goes really bad, you could still be living out of a van next year.'"

You can catch Rainbows are Free with Black Gasoline and Toothman at Lit Lounge in OKC on November 16, and again with Lions at the Opolis in Norman on November 19.