Vol. 3, Issue #20 Oct. 24th - Nov. 7th, 2008
The Return of Quintron & Miss Pussycat
By Adrian Fallwell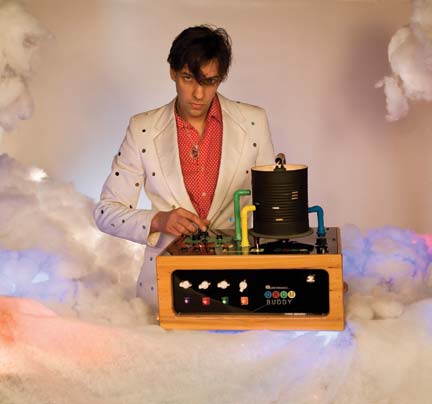 Growing up in Antlers, OK, Panacea Theriac learned and practiced her skills of puppetry at a Christian Youth Ministry. She moved to New Orleans and started the Pussycat Caverns puppet theater in the mid-'90s, where she acquired her title, Miss Pussycat. That's when she met Quintron, a drummer and ex-night club owner who had just moved from Chicago. She convinced Quintron to take up the organ, expanding his musical creativity into the realm of electronics. Alas, Pussycat Caverns is no more, but the two currently run a night club in New Orleans called the Spellcaster Lounge. Although the couple tour and perform together, they've each attained a completely different set of accomplishments.
Quintron further expanded his sound by inventing new instruments, including the Drum Buddy, an amazing contraption that works somewhat like a player piano, but with lights, and the end result is very much like a drum machine that can scratch like a record. He built and sold Drum Buddies starting in 2000. Late last year, Quintron built a special run of 10 Drum Buddies made of rare sinker cypress wood with updated electronics and controls. One of these went to Nels Cline, respected guitarist of the Geraldine Fibbers and now with Wilco. One went to NY's experimental musician, Laurie Anderson, who invited Quintron to join her and Lou Reed in an impromptu jam when he delivered the Drum Buddy. The last Drum Buddy was sold on Ebay in February, as they are now destined to become collectors' items. Quintron also has a Hammond organ/Fender Rhodes synthesizer combo which he has custom outfitted to resemble the front of a car.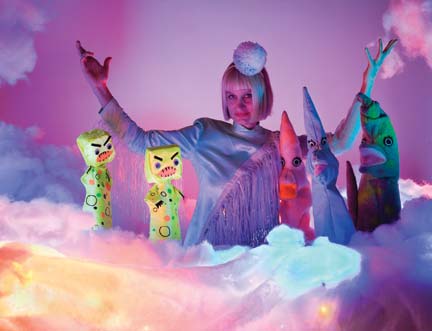 Miss Pussycat has created several different puppet shows over the years. In 2002, she released on VHS, North Pole Nutrias, about two swamp mammals that travel to the North Pole to see Santa, and must help save the toys from the Virus Monster. The video was produced in a full-movie format, including various sets and camera angles, theatrically-styled special effects, and a mix of real humans and puppets, as Quintron & Miss Pussycat make appearances among the cast. The video is now an underground holiday classic, and airs every Christmas time on New Orleans TV.
In 2005, Quintron and Miss Pussycat released a CD/DVD set called Swamp Tech/Electric Swamp. In Electric Swamp, Cinnamon the alligator and Lolly crawfish must find out how to stop a group of termites from destroying the swamp. Again, the video is done in a movie format.
More recently, Miss Pussycat & Quintron created a puppet show series titled Trixie & the Tree Trunks, which has been aired regularly on Vice Magazine's VBS.tv (an incredible online video site if you have not seen it before). Two woodland creatures, Trixie & Martha, want to start a band, and their adventures take them from the center of the Earth to the spirit world. The ten episodes of season one are coming on DVD December 1st.
The duo is currently on tour, supporting Quintron's new album, Too Thirsty 4 Love, on Goner Records, and a puppet show titled "The Legend of the Haunted Art Gallery". They're touring with the band, Golden Triangle, and will be playing at The Conservatory this Friday, October 24th. Kicking the evening off will be OKC's own BALTHAZAR!, with a brand new show that I'm sure will kill, and beautifully compliment the carnival atmosphere of Quintron & Miss Pussycat. Be sure and bring extra cash so you can purchase a CD and video too.