Vol. 1, Issue #15 August 18th - August 31st, 2006
The Purple Cow Story... story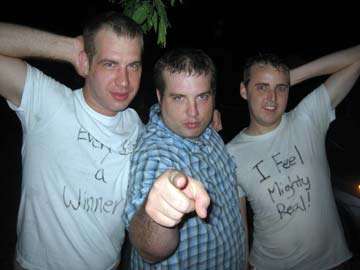 By: Adrian Fallwell
The interesting thing about The Purple Cow Story is the actual story behind the band. They are having their debut cd release party at the Deli on August 31st. Their debut, self-titled CD... and they formed in '94 while in high-school. What took so long? So I talked with band member, Alex Stephens, to get the scoop on what's been going on for the past 12 years:
From '94 to '99 we were a four piece. I played bass, Austin drummed (his brother and drummer for The Evangelicals), Brian only sang and we had a guitar player named Adam. We were not that great at playing, although I really think we wrote good songs. We played occasionally and didn't take it seriously. I moved out of state a couple of times, and so did Austin.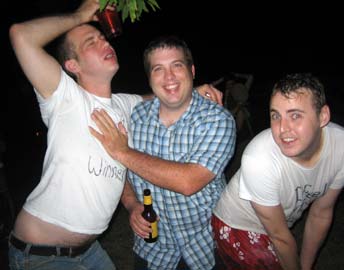 So in 2000, we had to kick out the guitar player. He developed Schizophrenia and had to go into a mental hospital, but he is still one of our best friends and a great song writer. I took over guitar and Brian started playing guitar too. Then we started playing shows a lot, writing better songs and taking things more seriously. But, then things came to a stand still again due to my job and school. So from 2000-2001 we didn't play a single show and Austin drummed with other people. Then I quit my job and lightened up on school and we played more. Then I got sick and was bedridden for 7 months, with a few more months of post-operation recovery. I wasn't able to walk and had spinal surgery.
Then when I recovered, I went to study in Russia for a year. Then I lived in Scotland with my now ex-girlfriend. In the meantime, Austin joined The Evangelicals. Finally, while in Scotland, I realized that the most important thing was music, and I hated not playing with my brother and my best friend, so I broke up with her, moved back and we have been going at it pretty heavily ever since, excluding long breaks due to The Evangelical's schedule.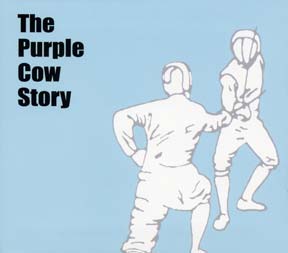 As far as recordings, like I said, it was always very half-assed, but fun. We were never that happy with what we were doing to release something. We have recorded tons of songs over the years and passed things out to friends, but we just felt that, as little as we played, it wasn't necessary. Finally, after playing out of state shows, we realized that we had to have something to give to people. Even here, people kept asking what was up. The recording we are releasing now was, once again just, a recording for ourselves or friends, and we had no real intention of officially releasing it, but we decided that we had to finally come out with something.
This CD was recorded last year, and in the meantime we are on our way to finishing up another CD right now. Honestly, we have written and recorded so many songs that we could release three albums right now. I think that we just thought we could always do better, or maybe the recordings were not reflective of what we felt we could do. Hell, this CD is not even reflective of what we are doing now!
**DON'T MISS**
The Purple Cow Story's CD Release Party
with special guests, The Separation!
Thursday, August 31st
The Deli - 309 White, Norman
$5 to enter/21 to Drink
Be sure and bring an extra $5 for the CD!