Vol. 1, Issue #15 August 18th - August 31st, 2006
Pastor of Muppets: Ryan Bellgardt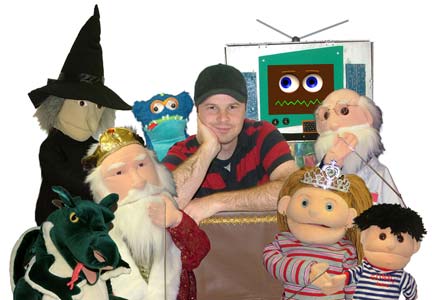 By: David Klein
Few resumes include rocker, sound engineer, radio personality, award-winning jingle writer, and puppet show host, but for Ryan Bellgardt, this is just the beginning.
Rarely can one Oklahoman, aside from Woody Guthrie or any given college athlete, develop a reputation that spans several generations, but Bellgardt has packed more creative output into three decades than most people attempt in a lifetime.
Gen-Xers know Bellgardt best as the singer and guitar player for Smarty Pants, a now defunct nerd-pop band from Edmond.
He and his band mates built the band on a solid foundation of melody and musicianship, masked by gimmicky stage shows and inflated production. The band often dressed in costume as crayons, with cellophane light suits, or as angels when they "died."
"I look back now, and some of the stuff we did made no sense at all," Bellgardt said. "Nine out of ten times that crap didn't work."
For eight years, Smarty Pants played scores of shows and disseminated countless tapes and CD's to fans, and the band's music also appeared on the MTV teen drama, "Undressed."
Baby Boomers and the Post-Morte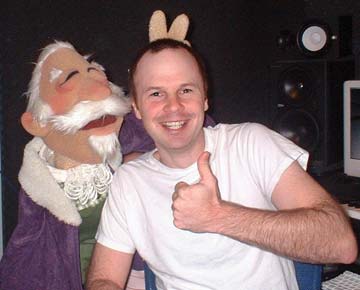 m generation know Bellgardt as Ryan O'Brien from 92.5 KOMA in Oklahoma City. For 10 years, Bellgardt was a co-host on the morning show with Danny Williams.
Early in his tenure at the station, Williams offered Bellgardt some sage-like advice. "Danny said, 'You'll never make any money being a DJ, but you can use being a DJ to make money,'" Bellgardt said.
Using that bit of wisdom, Bellgardt parlayed his broadcasting connections and love of music into a lucrative advertising venture with a confident beginning− "How hard can it be?"
He quickly adapted his songwriting skills to compose commercials for radio and television. In 2000, the Oklahoma Association of Broadcasters presented him with an award for "Best 60 Second Commercial of the Year."
Bellgardt also won numerous, consecutive ADDIE awards for his work, including his "It's on" campaign for Oklahoma's UPN channel 43.
His ads are easily distinguishable in the media commercial blitz. They are one part kitsch, three parts genius, and may stick in your head for days.
The most recent addition to Bellgardt's resume is a live, interactive puppet show called Big Magic Book, which has secured his reputation with Generation Y.
The act includes several stories centered on his character, Ryan, his big magical book of adventures, and a core group of puppets engineered by Amy Bellgardt, Ryan's wife, backed by a soundtrack of Ryan's music.
Bellgardt incorporates his music into each performance with the same enthusiasm that powered his band, and he enjoys the creative freedom of writing for a children's show.
"It's an overblown version of being in a band," Bellgardt said. "There are rock songs in the puppet shows that would make great Smarty Pants songs.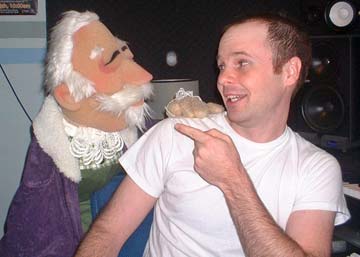 Big Magic Book toured public libraries throughout Oklahoma for the last two summers and appeared at many local events and festivals when not on tour. The act has received positive reviews from the most important theatrical critics− children.
"But, I've had parents come up to me and complain because our CD's are all their kids will listen to," Bellgardt said.
The constant barrage of Big Magic Book actually attracts some adults. In fact, a group of local investors with Pinnacle Podcasting is financing the production of three pilot episodes of Big Magic Book, which Bellgardt will begin filming this month.
The episodes will include many of the characters and stories from the live shows but with a makeover for the puppets and sets. Bellgardt hopes to achieve national syndication for the Big Magic Book program with the pilots.
This latest move in Ryan Bellgardt's career may have a higher budget than the paper Smarty Pants props, but neither his creativity nor his ability to entertain will diminish through success.
"Everything I've done −the band, radio, jingles− has led me to this point," Bellgardt said. "I can't think of anything else I'd rather do."
Go to www.bigmagicbook.blogspot.com for updates on Ryan and Big Magic Book.