Vol. 3, Issue #13 July 18th - July 31st, 2008


By: Nathan Winfrey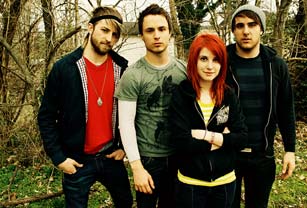 Tennessee punk rockers Paramore are on the rise. With a Grammy nomination earlier this year and high ranks on countless "best-of" lists, the energetic foursome with the cute, carrot-top front woman are unanimously considered new talent to watch.
The band recently finished up Van's Warped Tour where, in spite of grueling sets under the blazing summer sun, they had a great time and pleased hundreds of sun-burnt, dehydrated fans. "It was awesome," Josh Farro, lead guitarist and backup vocalist, said. "Of course it was super hot, but it was really fun."
Josh grew up in Tennessee, where he formed Paramore in his late teens with younger brother Zac (drums), and friends Jeremy Davis (bass) and Hayley Williams (lead vocals). At the time, none of them could have predicted the level of success Paramore have risen to. "I always hoped that we would [be successful], and I'm definitely thankful for where we've gotten with the band and how far we've come. Our fans have been so supportive. I'm 20 years old, and Hayley and Zac are still teenagers and Jeremy is pretty young too. The fact that a band this young is doing so well, we are just really blessed and thankful."
Although the alchemical formula of Josh, Zac, Jeremy and Hayley has proved golden, forging that lineup came with its share of obstacles. Some of the band members were initially unsure about a female lead vocalist. "Obviously, it works," Josh said. "The reason why we were hesitant was because, when we really started our band, Avril Lavigne was at her peak, and we didn't want to be compared to her and we did not want to sound like her and, of course, we still get that comparison even though she's not really around now. We wanted to be a cool band, instead of some cheesy pop band with a female lead singer. Hayley definitely proved to us that she can lead the band and be the front woman and take control of the band. She's awesome and we wouldn't have it any other way."
Paramore's debut album, All We Know Is Falling in 2005, was bittersweet, as it was released shortly after Jeremy decided to quit the band for personal reasons. His departure greatly shaped the album, including its cover art, which depicts an empty couch with the shadow of a man walking away. "We were pretty devastated over it. It was a hard situation," Josh said.
They found a new bassist, John Hembree, who played with them for a couple of months before Jeremy briefly came back to fill in for him. Jeremy loved playing with the band again and he told them that he missed them all and that he regretted leaving. The rest of the band missed him as well, but things were going well with John and it wasn't possible for Jeremy to come back. A few months later, John decided he needed to finish school and stepped down, which made an opening for Jeremy's return.
Paramore, now restored to the original four members, are a close-knit group. Zac may be Josh's biological brother, but the others are practically family as well. Before each performance, Paramore sit in a huddle and talk about the show, stretch their necks and pray that the show will go well and that they will have a good time.
"We don't really consider ourselves to be a Christian band, but we are Christians," Josh said. "It definitely influences us because that's what we believe and it's our life, but we try to not overdo it. We feel like that's a turnoff to a lot of kids these days and a lot of times people have a bad taste in their mouths when it comes to Christians. We just try to love kids and treat them well and treat them as we would like to be treated; it's one of God's greatest commandments. We're not trying to be out preaching to kids…we want them to come out to our show and possibly forget the pain that's going on in their lives. It's kind of a safe place that they can get to."
Josh and the rest of the band took the stage at a large show for the first time at Bamboozled '05 in New Jersey, and frigid temperatures and stage fright took their toll. "It was cold and my hands were stiff as a rock, and I could hardly move them and I was like, 'How am I going to play this show?' And you get so nervous when you get up there. It was like that for the first couple years. You get nervous on stage but then you get used to it. It feels kind of like giving a presentation at school," he said.
Whether or not the audience ever noticed Josh's butterflies, these days he and his band mates storm the stage like seasoned pros, but even with their success, critical acclaim and devoted following, they're not above feeling a little star struck at times, especially when they attended the Grammy Awards earlier this year to contend for the "Best New Artist" award.
"It was insane," he said. "I didn't really realize how big of a deal it was until we started prepping for it. Someone told us, 'Hey, in case you win, you guys better have an acceptance speech ready,' and that really made it real. Even though we didn't win, it was still an honor to be nominated and to be around all those well-respected artists, sit on the 10th row from the stage and watch John Mayer up there, and Aretha Franklin, and Prince and Ringo Starr. We were sitting in the middle and we probably looked like a bunch of kids, but it was a great time."
Growing up, Josh wanted to emulated bands like Jimmy Eat World, Deathcab for Cutie, Failure and Sunny Day Real Estate. "Those are the bands that really got me going and inspired me to be in a band," Josh said.
When they toured with Jimmy Eat World in April and May of this year, "It was a dream come true, definitely, because I think they are definitely our favorite band and it was a dream come true to tour with them. It was so much fun. They were the coolest guys ever," he said.
Now, Paramore have definitely come into their own, and may one day share billing with an even younger band, one that are still fervently practicing in a garage somewhere and hold the same admiration of Paramore that Paramore have held for Jim Adkins and the rest of their Jimmy Eat World forefathers.
In the mean time, Josh, Zac, Jeremy, Hayley and touring rhythm guitarist Taylor York will keep touring like crazy, tinkering with bits of new songs, which are still in the fetal stages, during mic checks, while they build a catalogue for a new album. "[The new stuff] definitely sounds more mature. It's really epic-sounding," Josh said. "We only have a couple minutes of music here and there, though, so there's nothing set in stone. It could all change. We're feeling very confident about the music we have and I think it's going to have no problem beating Riot! (their 2007 album)."
Dfest will mark Paramore's first Oklahoma performance. "We're sorry it took so long to get out there. We're looking forward to coming and playing. It will fun," he said. "We're going to put on a show that people have never seen before. It's not going to be a normal Paramore set. We're going to change it up and it's going to be a lot of fun."
Paramore plays the Dfest Hadaly Stage Friday, July 26th at 10:30 pm.