Vol. 2, Issue #16 August 31st - September 13th, 2007
'Painted Atrocities' Strives to Capture 9/11
By: Brandy Ray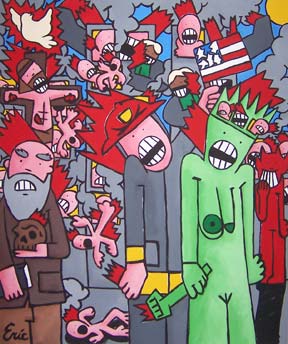 Painting a series of vivid pictures about notorious tragedies like the Mai Lai Massacre, the Holocaust and even the Iraq War, local artist Eric Humphries has stirred up quite a variety of impressions on the Oklahoma City art scene. At first glance, the 'Painted Atrocities' collection appears to be merely a mix of happy cartoon scenes with bright vivid colors and huge toothy smiles, but as you get closer to the paintings you understand why first impressions can be so misleading. From images of public execution to the mass slaughter of women and children, Humphries aims to capture the true essence of war and human brutality in all of its vulgar deprecation with only one moral in mind: Remember the past or be doomed to repeat it.
The latest additions to the 'Painted Atrocities' series are, of course, no exception. Ghastly, vulgar and possibly more controversial, the new set of paintings strive to yield thought to one of America's closest and most tragic experiences: September 11. With shockingly, moving pieces depicting a complexity of violence, Humphries uses imagery like a suicidal Statue of Liberty to represent the loss of liberty in America to terrorists lifting a burning American flag as a mockery of the famous WWII picture of Iwo Jima.
In a jumbled array of colors, Humphries' work alludes to the possible moral and religious causes, the emotions and the experiences of Ground Zero. A flood of different thoughts may fly through your head as you examine the paintings' layered meanings, so it is no surprise that the artwork has been met with such varied perceptions.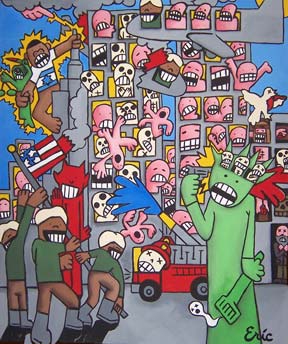 "People see my art in many different lights. Some people get right away what I am trying to do and congratulate me for my efforts. Others are appalled and afraid. And then there are those who get angry. Sometimes I think they are angry because the paintings force them to go places they would rather not be. Real places they pretend don't exist. Real bad places. I just wish everyone could look at my art and really empathize with the victims in the paintings. So maybe next time a bad idea comes up that they can do something about, they will," Humphries said.
Regardless of the different compliments or controversies his paintings may cause, Humphries hopes his art may serve as an influential expression for change.
"I hope the September 11 paintings serve the same purpose that all of my 'Atrocities' paintings serve, and that is to remind people that evil truly does exist, right here on Earth, and all too often innocent, decent people fall prey to it," he said.
To catch a glimpse of some of Humphries' controversial pieces, head down to IAO Gallery at 811 N. Broadway for his next opening on October 5. The show will feature several of Humphries' pieces, including some of his newest works like the September 11 paintings and his new pieces about the Manson family murders.
The opening will also exhibit the robust industrial creations of stainless steel sculptor Robert Bellamy. Bellamy's almost colorless, three-dimensional creations will be very different than Humphries' bright and bold stylizations, but IAO executive director Jeff Stokes believes the contrast will be appealing and the dark underlying qualities of the art will bring the similarities out in each other.
For more information about the art opening or either featured artist, you can contact IAO Gallery at 232-6060.
The 'Painted Atrocities' opening is open to the public at no charge and will be held Friday, October 5 from 5:30 p.m. to 8:30 p.m. The artists' pieces will be on display until October 26.