Vol. 3, Issue #14 August 1st - August 14th, 2008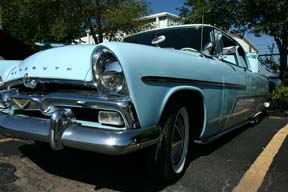 August 8th & 9th!
Conceived in a garage and born in a bowling alley, The Okie Twist-Off is Oklahoma's premiere annual kustom culture event showcasing old cars and bikes, loud bands, wild art and beautiful people. On the second weekend in August, The Okie Twist-Off makes old Route 66 rumble with the roar of hot rod engines and the twang of vintage guitars.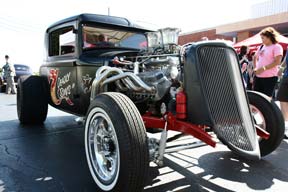 Kustom culture events are a nationwide phenomenon. From the west's Hootenanny and Viva Las Vegas to the Southeast's Sleazefest and Heavy Rebel Weekender, lovers of cold beer, tattoos and punk-rockabilly music have been descending on small festivals around the country, keeping tabs on each other through a burgeoning internet scene. In 2007, Oklahoma City grease monkey Jeff Beck of Beck's Garage started tossing around the idea of launching an event in his hometown. Enlisting the aid of veteran punk club promoter John Manson and OKC's notorious Ratty Bastards Car Club, a search began for a suitable place to host a car show and music festival. The 66 Bowl on historic Route 66 was the ideal choice; it had a parking lot large enough to hold the event, indoor space enough to have multiple stages for the music, and lots of balls and pins in case people got bored. The inaugural event on Saturday, August 11th, 2007 saw 12 bands, 70 car show entries, and nearly a thousand people in attendance, far beyond the organizer's expectations for a first year event.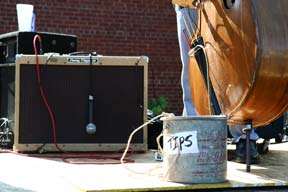 For 2008, The Okie Twist-Off is expanding to a two-night format. On Friday, August 8th at 6 pm, The Okie Twist-Off and the Road Killers Car Club are presenting a free pre-registration party at Spinozi's at 303 NW 62nd St. with live entertainment by Zeerok of The Red Elvises. After the smoke clears, there will be a bar-crawl music fest at multiple venues along the Western Avenue-Paseo corridor kicking off at 10 PM. Participating venues include The Blue Note Lounge at 2408 N. Robinson, VZD's at 4200 N. Western, Sauced Annex at 2912 Paseo, and Galileo at 3009 Paseo. Look for standout sets from Lexington KY's bruising Brassknuckle Boys at VZD's, traditional rockabilly purists The Beltline Boys at Galileo, the lysergic mayhem of Captain Eyeball at Sauced Annex, and the tight and hard modern rock of Streets of Thieves at The Blue Note Lounge.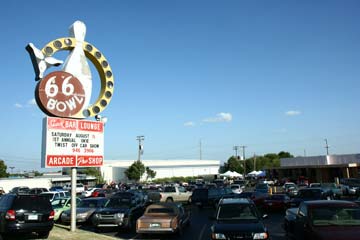 On Saturday August 9th, the action returns to the 66 Bowl at 3810 NW 39th St. with the Ratty Bastards' Car and Bike Show and Okie Twist-Off music festival kicking off at noon. Austin, Texas' psychobilly legends The Flametrick Subs will headline the outdoor stage with a set at 8:30 PM. Other notables on Saturday include Chapel Hill, NC's beer-spitting garage stompers Jimmy and the Teasers, Austin Texas' cowpunk godfathers The Hickoids, the swingin' roots sound of Tulsa's Starkweather Boys, and a triple Oklahoma City rockabilly punch in the Silver Dollar Lounge with The Oh Johnny! Girls, The R.I.P. Tides, and Brian Dunning and The Rock-N-Roll Trio. Registration, venue, and ticket info will be available at okietwistoff.com. Wash your kemp, grease your hair, and mark your calendar!