Vol. 2, Issue #16 August 31st - September 13th, 2007
Oh No! Oh My!
By: Graham Lee Brewer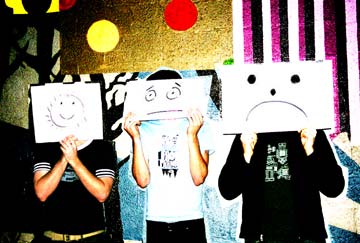 Austin's Oh No! Oh My! are an indie rock Cindarella story if there ever was one. The band went from meager beginnings, struggling to book shows and find fans in Austin's juggernaut of a music scene, to playing their fifth show ever on the nationally recognized and highly respected Lollapalooza tour. A leap that can be attributed to a tremendous amount of internet buzz generated from their first, self-released and self-titled album. The band just let loose a new EP, "Between The Devil And The Sea," on well-known indie label Dim Mak Records. I spoke briefly with member Daniel Hoxmeier about his recent success and playing a show with some famous Okies. Oh No! Oh My! will play at the Opolis in Norman Sept. 14 with former Normanites—now Dallas residents—Red Monroe.
GB: You guys have had the opportunity to play with our home town heroes The Flaming Lips. Tell me about what it's been like getting to know and share your music with them.
DH: We only got to play one actual show, opening for them in Vermont, which was definitely fun. Very easy going approachable guys that were just hanging out with the rest of the bands before we played. The personal highlight for me came during the middle of our set... someone on the side of the stage started shining a blinding light on my face, trying to distract me, it seemed. It took me awhile but I finally figured out it was Wayne... so that was pretty cool.
GB: Tell me how the music scene/industry in Nashville compares to here in the Midwest.
DH: I don't really know too much. We don't live in Nashville anymore. When we lived there for the couple of months we were there, it seemed pretty hipsterish... lots of dance parties, which I'm not really into.
GB: Austin has such an incredibly diverse and large music community. Was it hard for you guys to establish a presence there? Did that have anything to do with your decision to relocate?
DH: We did have a hard time getting shows in Austin, which resulted in us going off to school to try and gain education in a different field besides specifically being in a band. But as soon as we got our foot in the door of the music industry, Austin has been fine to us. Still hard to get people out to shows, but we love Austin.
GB: Where's the beef?
DH: In my Baconator from Wendy's.
GB: Dim Mak has always been a label that intrigues me. I interviewed Steve Aoki once and I got the impression that for someone who is so relaxed, easy going and party-oriented, he is careful with his label and very selective with the bands he chooses to associate with. Is hat a pretty fair assertion? What is it like being on his label?
DH: Steve is definitely a very passionate person. He's been a supporter for awhile, and so it seemed natural to release something with his label. We're not really signed to Dim Mak, we've just licensed the one off EP with them. So it's hard to fully answer this question. We like all the people at the label! They're all super awesome.
GB: What was the process of self releasing your first album and marketing it like?
DH: We basically took all of the songs we had written at the time (in late 2005), and recorded them all as demos to give to clubs to get shows. So, there wasn't a lot of thought put into what songs we recorded... we basically just did everything we had. We gave away the demo to friends, and random people on the internet, and it got to the point where there were too many people asking for copies, so we buckled down and had CDs manufactured professionally with artwork and everything. The rest is history. One of the CD-Rs I sent to a blog I read (at the time I didn't realize there was a whole "blogosphere"...I just thought there were a couple of websites) posted a song, and in turn a bunch of other people caught on. That's the only "marketing," if you can call it that, that we've done.
GB: Where you surprised how quickly it garnered attention?
DH: Definitely. It was nowhere in our plans to jump from not playing any shows in our home town of Austin, to touring on a national level. So it's been weird adjusting, but I think we're figuring it out.