Issue #14 August 4th - August 17th, 2006
Nerdy, But Cool: Chris Harris
By: David Klein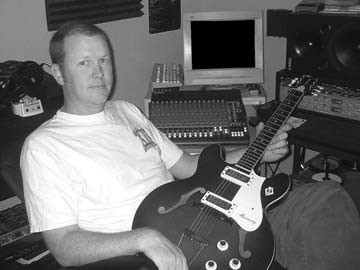 The entrance to Chris Harris' Norman home and studio prominently displays a large photograph of Harris as a child with a leisure suit and full head of golden locks, which concealed his lofty aspirations.
"When I was a kid, I wanted to be a rock star bad," Harris said.
Long before he became a member of the Subatomic Pieces, and before he picked up his first instrument, Harris was a natural performer.
He and his friends often rocked tennis racket guitars and lip-synched to their favorite glam-rock bands for their neighbors.
A lot has changed for Harris throughout the years. He upgraded to real guitars, replaced lip-synching with heartfelt lyrics, and lost a few of those golden locks. However, his creative drive and passion for music remain intact.
In the early 1990s, his band, the Subatomic Pieces, performed acoustically until bands like Nirvana and the Smithereens caused a shift in Harris' vision of music.
He discovered "loud music is more about emotion than being loud," and he began experimenting with sound and recording.
"I wanted to fuck something up. I wanted to make it sound ridiculous, and I wanted to figure out how to do it," Harris said.
He purchased a 4-track recorder and spent several years learning to record the Subatomic Pieces using every non-conventional effect and technique he could devise.
Harris is intently aware of sound and its aesthetic value. He criticized the neglect of quality tone in the digital age, and prefers bands that have a good sound prior to performing or recording.
"God invented midi so people could put together music like a Gap™ outfit, and for 99% of people, music is background noise," Harris said.
Despite his cynicism, Harris still believes in the power of music on the human subconscious.
"Music can evoke memories of a time or person; not a lot of stimuli can take your brain to another place," Harris said.
In 2001, Harris recorded the first band other than the Subatomic Pieces in his home studio, Atomic Sound. Euclid Crash recorded 18 songs over several arduous months. "Euclid Crash was my trial by fire," he said.
"We spent a long time in the studio, and I don't think we even paid him," Tory Ayers, Euclid Crash vocalist and short-time member of the Subatomic Pieces, said. "He's a creative guy, and it's always good to work with someone who absolutely loves what they're doing." Harris has recorded numerous bands in his studio and at Bell Labs in Norman since 2001. Mickey Reece, a.k.a. Seniõr El Paso Hot Button, recorded his album "Turtle Wars" with Harris.
"He's the best in the city, he's the only one I trust," Reece said.
In addition to performing and recording music, Harris is a live sound engineer, and he enjoys mixing a variety of bands live.
"I like the challenging bands like Student Film with all their gadgets," Harris said. "Mixing them and making them sound good always feels like a big accomplishment."
Harris transcends the usual band v. sound guy rivalry and many musicians respect his live engineering.
"Every show I've been to and it sounds good, it's been Chris Behind the board," Javier Gonzales, bass player for the Starlight Mints, said.
Harris recently completed another Subatomic Pieces album. The album, "Hold Out for Science", will be available early this fall and features cameos by several Oklahoma musicians, including Reece.
"My band exists from calling in favors, and this record was born out of collaboration," Harris said. "The best thing that could have happened to my playing is playing with so many different musicians.
Harris described the new record as "borderline psychedelic indie rock" with either personal or intensely disconnected lyrical content.
"We finally sound like what the Subatomic Pieces was always supposed to sound like in my head," Harris said. "This is the record I've been working on my whole life."
Go to www.subatomicpieces.com for more information on the band and the studio.