Issue #18 Sept. 29th - Oct. 12th, 2006
My Sons and I Encounter The Flaming Lips
By: Timothy Bradford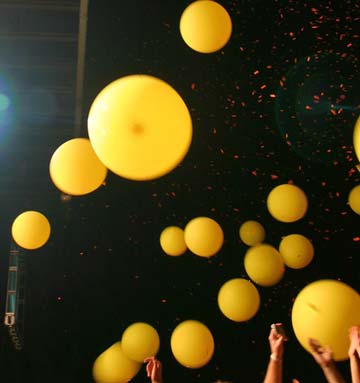 I just asked my two sons what they like so much about The Flaming Lips. They said, "The screaming," and wouldn't elaborate. I assume they mean the screaming on "Yoshimi Battles the Pink Robots, Pt. 2," one of our favorite tracks, but I suspect that they mean other things, such as "sonically dynamic, playful and fun." My sons are seven and four, so their perspective is perhaps a bit different than that of the average fan base. But I love that they appreciate The Lips, and find their curiosity about the polyphonic play in songs like "A Spoonful Weighs a Ton" and "Yoshimi" and the more recent "The Yeah Yeah Yeah Song" consistent with the other kinds of complex music forms that catch their ears. My seven year old is fascinated by the art of sampling in hip-hop, and my four year old recently declared Daniel Barenboim to be "the bestest piano player ever" after hearing his version of Beethoven's Piano Sonata #8.
My sons and I are relatively new to The Flaming Lips—them due to age, me due to a long period of aversion to whatever I perceived to be popular culture. Of course, as an Oklahoma City native, I often heard of them and even heard bits and pieces of songs, but it wasn't until 2003 that I first really listened to The Lips when my friend gave me copies of "The Soft Bulletin" and "Yoshimi Battles The Pink Robots."
My sons and I started listening to selected tracks off these two albums during our twenty minute commute to kindergarten. "Yoshimi," parts 1 and 2, were my oldest son's preferred tracks on the way there. We discussed the lyrics and what the music of the battle suggested à la a "Peter and the Wolf" world of musicology, and I imagine that he drew a certain lightheartedness and strength to face the new world of full-day schooling from these two songs. If Yoshimi could defeat the pink robots, certainly he could survive another day of his first year of school.
My sons always encouraged me to turn it up, especially during the battle. I struck what I felt was a balance between their future hearing and the sheer pleasure of being engulfed by sound, similar to what Jack Kerouac writes about in a passage from "On the Road" about the decibel level of the music at a cathouse in Mexico.
At that point, whatever my eldest liked, my youngest liked too, but the youngest also had patience for some of the slower songs on the album. After school, my eldest liked to listen to "Do You Realize?" and often requested a repeat of the song's opening "1, 2, 3, 4," sung in a breathy falsetto. This was music to calm him after a long day. They also enjoyed some tracks from "The Soft Bulletin" but tended to gravitate toward "Yoshimi." They also really like the first two tracks on the more recent "At War With The Mystics."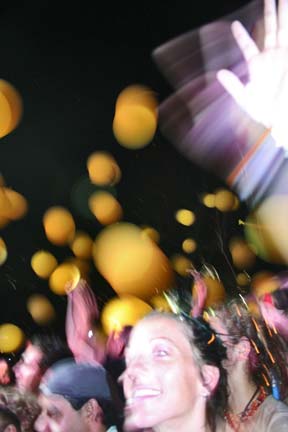 Both boys were excited by the news of an upcoming Lips concert at the Zoo Amphitheater, especially given that they probably imagined something more akin to Coyne's drawing featured in the last issue of "NONzine" involving animal musicians on stage. This connection between The Lips and childhood imagination is best captured by the lyrical words of Willy Wonka, "There is no place I know that compares with pure imagination." But when I invited my older son to accompany me, he said, "Dad, by nine o'clock, I'll be exhausted!" He likes The Lips but knows his limits.
I ended up going to the show with Ichiro Takahata, former owner of the Samurai Sake House on N. May, who arrived at about 8:20 p.m. dressed in all black save for the blue bandana on his head. Ichiro bought me a beer as the excellent Deerhoof, the last opening group, came on stage. A cleaning woman with no teeth and a sunken lower jaw came out from the backstage area with broom and dustpan in hand and did the most genuine double-take I've ever seen. I guess she'd been backstage for a while and hadn't anticipated seeing the place packed to the gills in such a short time. I pointed out a group of ten- to twelve-year-old kids to Ichiro, and he expressed his disapproval. "They are too young for such a place."
Ichiro, who knew or was known by about half the people there, soon landed us backstage passes, and we moved to our privileged position in front of the stage, where I met another of Ichiro's friends along with her seven-year-old son. He was on his father's shoulders, and he seemed happy but a bit overwhelmed. At least he was wearing earplugs. I gave him a couple glo-braclets and watched his reactions to the show. Okay, so my son would probably have done fine aside from the fatigue factor, but I wouldn't have thought of bringing earplugs, and I'm glad I didn't have to explain "motherfucker," Coyne's tough love term of endearment for us that night. My son knows those two separately (the latter due to my foul mouth), but has yet to encounter their heightened power when combined.
But when the show opened with Coyne descending from a UFO of lights and walking on the audience in his inflatable bubble, I thought about my sons. My oldest had just told me the day before about how the hamster in his kindergarten class used to disappear when he was running around the room in his clear plastic ball, and they would find him the next day behind some bookcase with a bit of piss or poop in the bottom of the orb. I imagined Coyne wandering off on top of the crowd and getting lost behind some stand of bamboo, only to be found after the show was over. And when The Lips played "Yoshimi," "The Yeah Yeah Yeah Song," and "A Spoonful Weighs a Ton," Coyne blew up the giant, confetti-filled balloon until it burst, and Michael Ivins donned a pair of giant hands, I felt wistful that my oldest son wasn't there. He would have loved those things.
He would have loved all the glo-sticks and bracelets and necklaces, the dozens of yellow balloons that bounced over the surface of the crowd like excited electrons, and the rain of confetti from shooters and blowers. He would have loved about half the songs—he prefers the faster ones—the UFO of lights, Steven Drozd's quirky, high-pitched "Thank you" after each song, and Kliph Scurlock's fine sense of rhythmic dynamics. And I would have loved him being exposed to such a carnivalesque atmosphere in this city, a place where the billboards we pass on the way to school read "I Pooted" -Cartoon Network (commercial TV's attempt to participate in some challenge to societal conventions) and "Don't Make Me Come Down There" -God (the local religious-rights' attempt to scare people).
I also would have loved him being exposed to such a genuine atmosphere of love amidst the swirl of play and celebration and even irony, that dangerous element that seems to rob many people of an ability to feel or care. Living in Oklahoma City—no, strike that—living in the United States, my sons and I need The Flaming Lips as a celebration of all that is right and a panacea for all that is wrong. I can't wait till we get our hands on four CD players and a copy of "Zaireeka," and I look forward to sharing a Lips concert with them someday. Motherfucker!