Vol. 1, Issue #20 Oct. 27th - Nov. 9th, 2006
Minty Student Kitten Studio Chat
By: Graham Brewer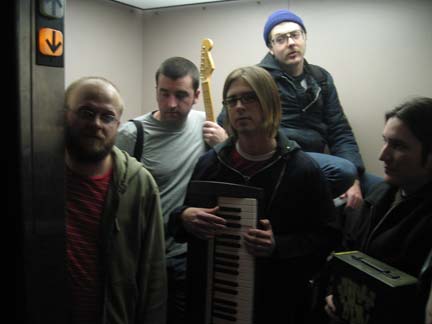 Its five o'clock an Friday afternoon, and in a small recording studio on the north side of Norman, I find myself surrounded by some of the finest musicians Oklahoma has ever produced.
Former Chainsaw Kittens guitarist Trent Bell sits across the room from me mixing audio at the helms of a dynamically large mixing board. Next to him sits Starlight Mints frontman Allan Vest, orchestrating the chaotic array of sounds into a fluid, pleasing sound. And scattered throughout the room are members of local noise makers Student Film.
While all of these people are relatively close in age, to me they represent three generations of music in this state. I remember when I was a young teen and everyone knew who the Chainsaw Kittens were. I used to argue with my friends over wether the Chainsaw Kittens shirt one the characters in the movie Empire Records wore was orange or pink. And, by the way, if any of you are reading this, it was orange! They used to play at the Mid-Way Jam a few blocks down from my house and I'll never forget how their music would draw me to that little market on the corner. That was a good time in my life. I was just starting to truly understand what good music was and what it took to make it. The Kittens were part of that appreciation.
Then there is Allan and The Starlight Mints. Over the past nine years the Mints have established a presence in the music scene that demands respect. Their latest album, Drowaton, was released on Barsuk Records. The same label that has put out albums by Rilo Kiley, They Might Be Giants, Death Cab For Cutie, and Tulsa natives Aqueduct. Allan is easily one of the best song writers around. From his cryptic lyricism to his own brand of beautifully orchestrated pop-rock, Allan is seasoned in writing and producing, and in the studio it shows.
I sit in the corner of the room and watch Allan and the band discuss what tracks to make louder and which to soften and don't say a word, just soaking in the dynamics of this working relationship. Allan is producing Student Film's first full length LP and I get the impression that the album has become just as much a labor of love for him as it has for Student Film. The group methodically review a song and tweak it until each piece of it hits their collective ears just right.
Allan is focusing a lot of his time working on the album, sometimes even saying up until 7:30 in the morning working on songs. "Not only do I adore the songs, they are wonderful to work with. No egos, just good creative minds with amazing work ethic," Vest said, "When I have worked with them, I am constantly throwing out ideas with the attitude 'it's just an idea, take it or toss it' and they understand that I am just wanting the song to reach the potential of itself."
All of this is surreal for Student Film's lead singer and guitarist, Justin Rice, who has drawn a lot of inspiration from Starlight Mints. "Starlight Mints' first album, The Dream that Stuff was Made of, was a huge influence on me. I would love to work with him on all of our albums," Rice said. The album will be called The Sleeping Giant, and I think what the title suggests is a fair assessment of the potential it has.
Student Film's blend of the gritty and raw with the sophisticated and dulcet is great to begin with, but Allan's touch is nothing short of magic. As bass player and definer of enthralling stage presence, Sethy McCarrol put it, "Some bands go into the studio and try to make an album that represents their exact live show, but there are so many elements that can be added in the studio that just can't be expressed live." This is a point that I think is worth noting because it is not only true, it is very relevant to this particular album The Sleeping Giant will feature nine songs, both oldies and newbies. Songs such as "Extravagant Living" and "State of the Union" sound polished and meticulously crafted, and "Crows in Action" and "Indigo" show Vest's touch, boasting beautiful string arrangements.
The band plans on distributing copies to over 40 record labels. "We're ready to get it into people's hands and start shopping it, which is to say give it to labels and say 'here's a record you can put out, all ready to go, mixed and mastered,'" McCarrol said. "And we're ready to get started on the next release," Rice said, "We plan to have twelve songs on it and hopefully have it out soon after The Sleeping Giant."
The ambition and work ethic that Vest speaks of really shows when you ask Student Film about their upcoming albums. With disagreements over when the album's release should take place between the different members and management, it is hard to say when the CD will be available or when the date of the official release show will be, but Student Film fans a can expect to get their hands on The Sleeping Giant sometime in the next few months. For now, a Cd with a few of the new recordings can be purchased at Student Film's live shows.