Metal for the Masses
By: Nathan Winfrey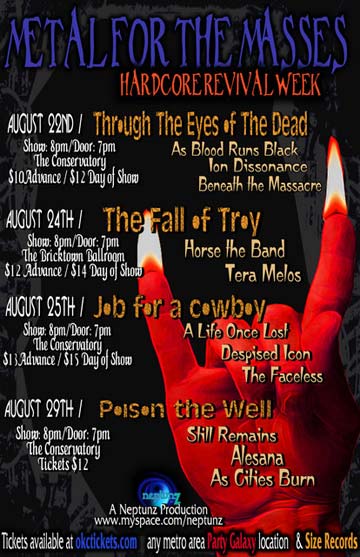 Metal fans rejoice! The Conservatory and the Bricktown Ballroom will host Metal for the Masses Aug. 22-29, a week-long revival of hardcore music featuring 15 of the genre's most brutal and entertaining bands, including The Fall of Troy, Job for a Cowboy, Poison the Well, Through the Eyes of the Dead, Alesana, As Cities Burn and more.
For those who prefer black shirts over Hollister Polos and a guttural, aggressive sound over bubblegum teenybop, his will be an event for the ages. Those who miss out may never see anything like it in Oklahoma for a long time.
Experimental prog rockers The Fall of Troy may sound a little different than others on the bill, but few bands rock harder than the trio from Washington. Once members of 30 Days War, singer/guitarist Thomas Erak, bassist Tim Ward and drummer Andrew Forsman are more than just three guys who prefer band names with historical leanings.
Andrew phoned in from the road for an interview just after their van got an oil change north of L.A., no doubt important maintenance for the vehicle that will carry them through three states before they hit Oklahoma Aug. 24 for their highly-anticipated show at the Bricktown Ballroom.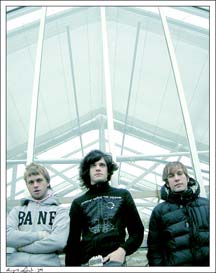 At the show, fans should expect to hear "face-melting guitar riffs" and see a lot of audience interaction. Andrew said Thomas and Tim usually spend up to 20 minutes of their set out in the crowd or up against it.
"If [people] come, they will have one of the best concert experiences they have ever had," Andrew said. "Even if they're not into it on the CD too much, they should check it out live because it's definitely different."
The Fall of Troy just released their third album, "Manipulator," on May 1 and reached #76 on the Billboard Top 200 shortly after its release on Equal Vision Records.
"We're all really happy with it. There's a lot of stuff you want to change when it's all said and done, but I think we're happiest with this one out of all of them," Andrew said.
Between the 30 Years era and now, The Fall of Troy have produced what Andrew described as "pretty riffy, technical stuff," but now they've written what he considers to be more cohesive as their song-writing ability has improved.
"It's really heavy with guitars," he said. "It's a mix of prog and punk and metal and pop, something like that."
Andrew said he doesn't necessarily idolize other musicians, but famed drummer Dave Grohl has always been a favorite of his.
"Foo Fighters are one of the only mainstream rock bands that I don't cringe too much at," he said.
After playing OKC and a few Midwest tour dates, The Fall of Troy will hop across the pond for the European leg of their tour. It's been a while since they've made it to Europe, and they're ready to go back.
"[Last time] was really good. It was one of the more fun tours I'd say. The fans were happy to see us, because we're hardly ever over there," Andrew said. It's been a while since they've played OKC, as well.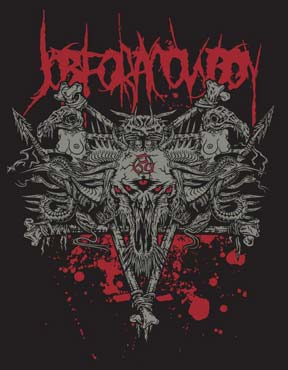 Job for a Cowboy vocalist Jonny "Chaos" Davy took the time for a pre-show phone interview before he and the band took the stage at a venue tucked deep into the woods of West Virginia. He talked about where the band's going, where they've been and what it was like starting as teenagers with a promising EP to become a headlining act in the death metal big leagues just a couple years later.
Jonny's one of only two original members left, and with fellow long-timer Ravi Bhadriraju on guitar, the Glendale, Arizona duo have seen many members come and go since 2002. Now a five-piece, their musical dynamic has changed quite a bit through the lineup changes.
He said there's a noticeable difference between their 2005 EP "Doom" and their first full album "Genesis," which hit store shelves on May 15, 2007 on their new label, Metal Blade Records.
"I guess our EP was kind of quirky, all over the place, with even metalcore and death metal thrown into the grind, but I think this one's a more fast-paced modern death metal album," Jonny said.
"We all just kind of grew up together wanting to play and listen to the heaviest music we could find," he said. "We just aged and kind of matured."
The guys in Job for a Cowboy feel like their fans have grown up and matured with them. They started writing "Doom" when they were 15 or 16, and now that they're all out of high school, they've been touring pretty much nonstop for the past year, with Jonny taking the stage in the same black shorts and Deicide shirt every night, which he only washes every now and then.
"It's my lucky shirt, I guess," he said.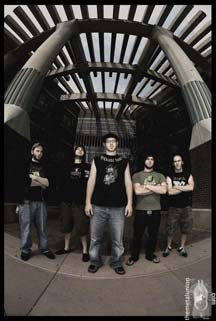 They've played to packed venues all over the world, and the fans love them. Jonny said it's not uncommon to see concertgoers leap from balconies 15-20 feet over their heads.
"We're definitely really happy with ["Genesis"]," Jonny said. Writing was a bit rushed because a band member quit unexpectedly, but he thinks the stress or realizing they had very little time to write an album drove them to make it better than they could have ever expected.
For now, Job for a Cowboy will continue touring nonstop, and they've started writing another album that should be available sometime next year.
"Please check out our new album, "Genesis," Jonny said. "If you like it, download it or buy it, we don't care. We're definitely in it for the music…we're just huge music fans and that's why we do it."
Job for a Cowboy will play the Conservatory Aug. 25. Doors for all Metal for the Masses shows open at 7 p.m.
For a complete show schedules and other information, visit www.myspace.com/neptunz. Tickets are available at the door, or at okctickets.com, any metro area Party Galaxy and Size Records.