Vol. 2, Issue #9 May 25th - June 7th, 2007
Matt Walsh Is the BluesNastiest
By: Bruce Buckner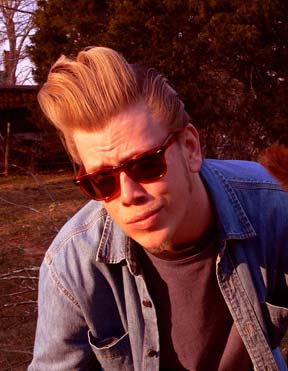 If you live in central Oklahoma, you have 3 opportunities next week to expose yourself to man who gets really nasty. Matt Walsh and his Maddogs are performing Sunday and Monday at the Paseo Arts festival and Saturday, June 2, at the Blue Moon on Paseo. This is a rare opportunity for those who like down home dirty blues, those enamored of guitar aficionados, or those who love concerts with passion.

Matt was not born of Mississippi mud nor has he made any deals with the devil, but upon hearing him, you would swear that one or both had to be true. Just turning 30 years old, this man with the pompadour from hell, has already shared the stage with Buddy Guy, Bob Margolin, Delbert McClinton, Taj Mahal, and many other incredible, experienced blues men. When you listen to him, you find yourself wondering just which old vault of Delta or Chicago blues did he find his songs in. You just KNOW you've heard that song SOMEWHERE, but it just won't come to you. But you are wrong. Matt's deep understanding of the blues allows him to create authentic but original songs that ring true to the soul. It is just astounding.

Some performers sound better live and some sound better in the studio. Matt and the Maddogs are better live but the saving grace is that once you witness them live, listening to the recordings is suddenly better. When listening to his CDs the visual memory comes flooding back and it is as though you were in the room again.

His new CD, Hard luck, was produced by Bob Margolin (of Muddy Waters fame) without enhancements or tricks. The twelve tracks include some side trips into Rockabilly and Jump, but it all comes out of the same perspective, i.e., deep understanding of the roots of the blues. At the moment Hard Luck is only available at his performances and from his website, www.mattwalshblues.com.

His first release, Goin' Back South, is available from CDBaby.com on the Internet. It consists of closer-to-home blues and lacks some of the frenetics that enhance Hard Luck.

I had spent HOURS carefully and creatively reviewing Hard Luck, but a lightning strike destroyed it all. Not having the heart or the time to reconstruct it, this will have to serve the purpose. If you attend any of his live performances you will not need me to convince you to buy the new CD. You will do it because you will NEED to own it. You will then buy Goin' Back South from CDBaby.

At the Paseo Festival, Matt and the Maddogs close out Sunday night at 9:00 on the north stage with Jessie Majors making love to his Stand-up base, a sight to behold. On Monday, Matt plays acoustic on the North stage at Noon. The following Saturday they all return to The Blue Moon on Paseo.