Vol. 3, Issue #5 March 7th - March 20th, 2008
A very brief e-mail interview with Matthew Alvin Brown
because his movie Rainbow Around The Sun premieres at SXSW
this week and we find that extra exciting!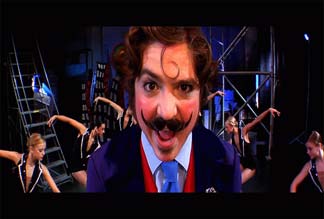 -How are people reacting to the film outside of Oklahoma?
Well, it's awful early to tell, but so far so good. We've been getting great feedback from the Austin folks...so, that's a good sign. I like those Austin folks.
-Tell us about working with Kevin & Beau.
God in Heaven...They are horrible...and by horrible, I mean they are my best friends. I think the three of us compliment each other well. Kevin is chill and wise. Beau is rowdy and wise. I am a douche and just not wise enough to make them laugh...So...put it all together and we've got something.
-Who else is in the film?
The lovely and talented Jamie Buxton plays "Debbie". She was most recently seen in the German tour of HAIR. Doug Van Liew played "The Old Gray Man"...He's a fuckin' genius...Brian Stockton (my very best friend in the world) played "The Young Brown Man" and of course our AMAZING production designer, Rebecca McCauley plays "Cupcake"...Oh, and The Fellowship Students are in it.
-Tell us about going to New York with the film.
It totally changed our concept of the picture. Without the IFP Lab, we would not have the movie we have today. It's the best case scenerio for any first time indie feature film. It raises your game so much, I can't even talk about it without getting emotional.
-What changes have you made to the film since New York?
We wrote new scenes, new songs, new openings...Everything. No comparison. It's a totally different movie.
-Tell us about the premier at SXSW.
We are so excited, I don't think we know how excited we are.
- so why a musical? How is Rainbow Around The Sun different from other musicals, and/or how is it traditional...?
Rainbow Around The Sun is different, because it breaks all of the rules of a traditonal narrative, yet maintains a story. Also, it's basically a "rock monologue" set to visuals.
- Any specific inspiration? It's a very personal piece of writing...?
Write what you know.
I know this story.
I lived it.
I continue to live it.
You add bits of fiction here and there...but you live it.
- So you also have a song on the iROK Radio Compilation CD - give us some details on that project.
They called me and wanted "The Babies". I gave it to them. It's my favorite song on the record. We created it in the studio, unlike most of the tunes. It was really hard to get across how I wanted it to sound, but when we hit it, I was rrreally happy..."Cupcake" was also created in the studio, and when I get really emotional, it becomes my favorite track on the record. It's between "The Babies" and "Cupcake"...
- To continue with the iROK showcase - it features some of the latest in Oklahoma's insanely prolific music scene including: Colourmusic, Jesse Aycock, El Paso Hot Button, Ghosts, Oh Johnny! Girls, PDA, Crocodile, Congress of a Crow, Ryan Lindsey, The Starkweather Boys, Susan Herndon, Anchors for Arsenal, Harmonious Monk, Billy Joe Winghead, Mantra Mantra, Cody Clinton & the Bishops and Callupsie. Do you have any favorites, stories, or overlapping projects with any of these folk?
Colormusic is absolutley my favorite band from Oklahoma. Period. I wish I were in that band. I love every second of everything they do. Ryan Lindsey is a genius. Mantra Mantra is SO great. Oklahoma is kicking ass when it comes to music.