Vol. 2, Issue #22 November 21st - December 6th, 2007
Madison Avenue: Unique Rock Punk from OKC!
Interview By: Nathan Winfrey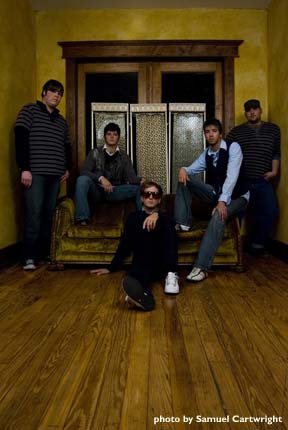 Five childhood friends have become Madison Avenue, a unique rock band forged from the remnants of two pop punk bands. They've traded in their old sounds for something new and it seems to be working, despite severe complications most other bands aren't faced with.
Nathan: What's the story behind Madison Avenue?
Cole Roberts (vocalist): We all met in sixth grade, and grew up together in Grove, Oklahoma. We've all been playing for about five years, but we didn't become Madison Avenue until about four months ago, when I joined. Before, they were a pop punk band called Reasons Untold. I was in a band called Unlikely Heroes. We were local competitors, then both bands broke up and three years later, we combined. We were both punk bands, now we are writing alternative rock.
Nathan: Why did you change genres?
Cole: Our musical influence changed, so we matured as writers and our music horizons expanded. We started listening to more bands and it inspired us to start creating music with more depth and substance.
Nathan: Which bands do you credit as influences, before and after the genre change?
Cole: Our old influences would be bands like MXPX, Blink 182 and The Starting Line. But now, we're more influenced by The Beatles, Third Eye Blind, Anberlin, Acceptance, Jimmy Eat World and The Beach Boys.
Nathan: How would you describe your new sound?
Cole: Very melodic, with a lot of catchy hooks and aggressive beats, riffs and vocals.
Nathan: How did five guys from Grove wind up in a band together so far down the road? Did you all migrate to OKC, or are you scattered across the state?
Cole: I live in OKC, and the rest of the guys live in Grove. It's a four hour drive to commit to the band, and we do all that in Grove. I drive down there about every other week.
Nathan: So how's that working out?
Cole: This works for us right now because we're not 100 per cent full time yet as musicians. Our drummer, Jeremy Castaldo, is a full time drumline teacher at Grove High School, and I'm a full time student at UCO and the others have jobs. During the week, they practice, then on the weekends I come down and we work on everything together. The same goes with shows. We generally meet at the venue and just go at it. There's not much of a rehearsal time before then. The reason it works is because this is what everyone in the band wants to do as a career. We plan on being full time in the next six months to a year.
Nathan: Is there any touring in Madison Avenue's future?
Cole: We just started playing our first set of shows in October. We just finished a regional tour, and we have quite a few out-of-town shows, then we're going on tour this winter for two weeks. We're also playing a week-long SXWS showcase in Austin this spring, then a full time, east and west coast tour this summer.
Nathan: Where will you be touring this winter?
Cole: Our first show is 13 hours away. We're starting in Ohio, going up through Michigan, and then zigzagging our way back to Oklahoma. It will be a good trip; some pretty good driving.
Nathan: So is the summer tour pretty finalized?
Cole: The tour is almost final, we're just waiting for a few places to hit us back. We're self-booking.
Nathan: So, you guys don't have any kind of management?
Cole: That's why we're doing the tours on our own, to show them that we're already hard at work. Most managers don't want to work with someone unless they're already getting off their butts.
Nathan: Can we expect any records in the near future?
Cole: The CD will be out on iTunes in early December, and sold at shows. It's going to be called Seasons.
Nathan: Where did the name Madison Avenue come from? Are you guys just really into advertising, or what?
Cole: I was doing a solo project before we formed, and I was going to use that name. It's because Madison Avenue is in a large city and has to push to stand out, and that's what we're trying to do. I'm not saying that we do (laughs), but we try.
Madison Avenue will play with Chaos to Cosmos, Holiday and Sommerset West Dec. 1 at LiT Lounge in Bricktown. Doors at 8:30 p.m., $5 to enter.