Vol. 2, Issue #10 June 8th - June 21st, 2007
Logan Leistikow on TomGreen.com
By: Logan Leistikow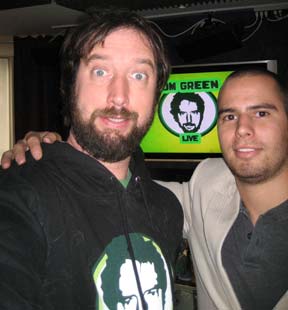 I'm usually not a fan of clichés, but moving to LA to make it big in showbiz is something that I had to do. After going to the University of Oklahoma for four and a half years and struggling to make a name for myself during that time, I had no choice but to move to the coast with my buddies and partners, Dylan and Daniel Cox.
When I was 19 years old, I created my first website: LoganLProductions.com. It was simple and didn't have much content, but I was convinced that I could use the internet to put myself on the map. Senior year at OU I met The Cox Twins, Dylan and Daniel and we began to work together making short films. The site is much different now, but the original idea is still a big part of it.
Fall of 2006 was my last semester at Oklahoma. I'd recently gotten my short films on IFC and done a project for Reader's Digest's website. I was in a couple of commercials at this time as well, but I was not making very much money. I felt like my stock was rising and I needed to be in Los Angeles, the entertainment capitol. The twins were in a similar position with several commercials and a movie under their belt. In March we'd saved up some money and decided to go for it together and drive to LA with no idea where we were going to live or what we would do for money.
Now, I know this sounds really cool, but honestly we should have planned ahead more. The first week of our move was horrible. We were living in hotel rooms and driving around with everything we owned in our trucks. It was just awful and I wish I could erase it from my memory.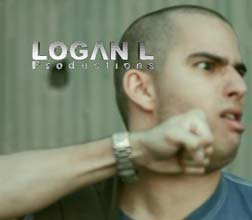 However, once we found a place things got better. Sure, we got a tiny apartment made for one and I had to sleep on a futon, but the beach was down the street and the valley was a hop skip and jump away.
We all hit the ground running and started to search for jobs and gigs. I took a job selling newspaper subscriptions for a while. About one month into this whole adventure I got a phone call. It was Tom Green. This comic legend does a live internet show on TomGreen.com. The show is revolutionary. It's a call-in talk show with celebrity guests every night that is available exclusively online. The man who came before Jackass and so many other man-on-the-street performers is on the forefront again…and he wanted me to help him produce his show!
Tom had seen my work online before and saw that I had applied for an opening on his show. He liked what he saw on LoganLProductions.com and hired me after a couple of interviews.
I now work here at "The Channel" and I am having a blast. I've only had this job for about six weeks, but I've already met been able to work with people like Tony Hawk, Stone Cold Steve Austin, and Wee-Man!
As I sit on the Santa Monica beach writing right now, I think to myself how great life is in America. With hard work, you can chase your dreams and achieve them (another cliché, I know). The funny thing is I still sleep on that futon.