Vol. 3, Issue #4 February 22nd - March 6th, 2008
On NONcast: An Interview with Locust Avenue
By: Adrian Fallwell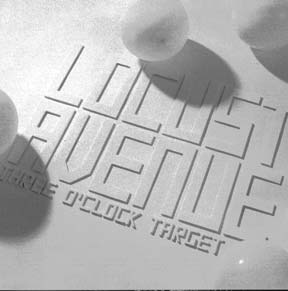 The Norman band, Locust Avenue, started in 2001 with Jeff Richardson recording some demo songs for the band he was in at the time, The Helicopter. Instead, Songs for the Shortwave was released on the Norman label, The Maritime Glee Fist Club. In '03, Jeff hooked up with Helicopter bassist, Jeff Cooper, drummer Blaine Palmer, and guitarist Matt Carson. They did live shows and recorded a second CD, The New Originals, also released on Maritime, in '05. Right after the release, the band split with Matt going to Chicago (now in Miracle Condition), and Blaine going to Japan. In '06, Blaine returned to play with the two Jeff's, and last fall they recorded their newest CD, Three O'Clock Target, at Bell Labs with Chris Harris. The CD is available for purchase now, but the band has not been able to have a release show yet.
We did an interview with Locust Avenue for NONcast, which will also feature music from the past CDs, as well as tracks from their newest one, Three O'Clock Target. Be sure and listen in at 1pm this Friday, the 22nd, or starting Saturday, you can download the mp3 at TOGiNET.com.
The following snippet from our NONcast interview with Locust Avenue will explain the hold up on the release show and shed light on some changes in the band's roster:

AF: You have not been able to have a release show yet. Blaine, it's time for your part of the story, what happened to your wrist?
BP: I got into a play fight that turned not so playful, with a neighbor much bigger than me. So, I sprained my right wrist and had a broken rib, because he was tossing me all over my living room, and I kept getting up for more, thinking I could take it.
AF: Too much UFC.
BP: A week later, I was driving to work, not driving with my right hand because it was sprained, and somebody pulled out right in front of me. Slammed into them, totaled the car, and broke my radius on my left arm, bruised some ribs. In about three and half weeks I'll be out of a cast, and I'll have this thin, pale withered arm.
AF: So, when do the doctors say you can play again?
BP: I'll have to do physical therapy, squeezing tennis balls and stuff, but I can basically play till it hurts and stop. So, I'll see how long I can last, and that's going to build it up more than anything. I tend to play hard, so I'm going to have to take it easy, but, yeah, I'm thinking three and half, four weeks.
AF: So, you have not had the chance to play live with Todd Walker yet, then?
JR: No, we're working with him now.
AF: Then it's expected that he'll be part of the release show?
JR: Oh yeah, definitely.
JC: Something we realized, listening to the new record, was that it would be nice to have someone else on guitar, because Jeff plays rhythm and lead parts on it, so if nothing else, just to play live to duplicate those parts and little lead things that come in. So, luckily, the guy who made the most absolute sense and was available was Todd Walker. Jeff knows Todd real well, we all know Todd.
AF: Who played in Defenestration, and we mentioned earlier, The Golden Eggs.
JR: Right.
JC: So, we've been working him in. He is just a great guitar player, and his musical tastes are very similar to ours, so it's been a very smooth transition.
JR: And he's a lot better than me.

Locust Avenue is one of my all-time favorite local bands, and I can't recommend them enough! Be sure and tune in or download the show, more info at NONcast.com, and check out their web site at myspace.com/locustavenue.