Vol. 3, Issue #1 January 11th - January 25th, 2008
Independently Exposed
By: Nathan Winfrey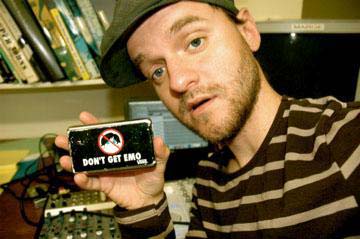 It's no secret that most music lovers hate the radio these days. If you take the time to scroll through all of the FM stations, chances are you're going to find a lot of music sung by people who date/marry Pamela Anderson, accidentally flash their no-no's at the paparazzi or dangle their babies off balconies.
"I wanted to be an outlet for people who are into different music," said "Danger" Granger Brown, host of "Independently Exposed," a live Sunday night radio show broadcast from 8 p.m. to 10 p.m. on 93.7 KSPI FM. The show is committed to playing indie music no other station in Oklahoma will touch, songs that will never see the Top 40, from bands like Flight of the Conchords, Bright Eyes and Pedro the Lion.
Local bands like Colourmusic, Kunek and Mayola have appeared as guests on his show, as have national ones like The Good Life, Two Gallants, Patrick Wolf and the guys from the MTV sketch comedy show "Human Giant."
There's no way to tally his radio listeners, but Granger said he gets about 2,000 online listens per show with subscribers, downloads and podcasts. The latest Independently Exposed appears at myspace.com/independentlyexposed and at independentlyexposed.org about two hours after each broadcast concludes.
An OSU undergrad, this is Granger's second radio show. First, he hosted "Hijack the Mic" at OCU, which focused more on punk music. When 93.7 FM in Stillwater, an otherwise mainstream popular music station, had an opening for an alternative format show, Granger knew exactly what this state needed.
"I wanted to go off in this other direction for 'Independently Exposed,'" he said. "I'm sure when people unsuspectingly turn their radio on expecting to hear Hot 93.7 and hear my show instead, it probably blows their minds. At least I hope so."
"There's a strong undercurrent of people listening to this music a lot, and I don't think that the people who own these radio stations or manage them really get that," Granger said.
When his sponsor, Cain's Ballroom, pulled out unexpectedly, 93.7 FM immediately pulled the plug on "Independently Exposed." It looked like show was over for good, but a week later, Granger got an e-mail from the station asking him to come back.
"I got another e-mail saying, 'We're going to put you back on the air because all these people called and complained.' Then they looked at my MySpace page and saw that I have three times as many friends as 93.7 does. So they put me back on the air without a sponsor," he said.
Granger said the lack of good music on the radio is not just an Oklahoma thing. He recently returned from a four-month internship with Universal Limited Arts Editions in New York City, during which he prerecorded the show and sent it back to OKC each week. He said it was just as difficult to find interesting music on the airwaves there as it is here.
If there's a specific song you're dying to hear, Granger encourages musical requests and dedications. Also, if you think your band would make a great guest on "Independently Exposed," you can contact him at independentlyexposed@yahoo.com.
"Call in and make requests. I always want to know what people are listening to right now, so if you know of a band that you think should be played on the show, let me know," Granger said.
For call-ins and requests, dial 405.377.5774.