Vol. 2, Issue #17 Sept. 14th - Sept. 27th, 2007
Green Lemon Plays September 22nd in Bricktown
By: Brandy Ray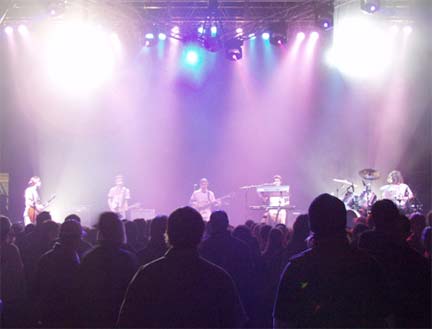 "Trance-based, experimental electronica with vocals" is one way this native Oklahoma band describes their sound, or you could just sum it up in one word: "surreal."
Edmond born, Green Lemon are currently stationed in Colorado and will be making their way through OKC on Saturday, Sept. 22 and if you've never had the pleasure of seeing them live, you're in for a real tasty treat.
This funky, acid-jazz-meets-roots jam band fronted by guitarists Steve Schaben and Wayne Allen, bassist Jesse Floravanti, keyboardist Jon Coldero and drummer Chris Cox, have gained national recognition playing across the U.S. at a variety of reputable venues and festivals including Wakarusa and 10,000 Lakes in Detroit Lakes, Minnesota earlier this year. Also winning awards such as Homegrown Band of the Year in 2004 from the Homegrown Music Network and dubbed 10 Summer Star Bands to Watch by Relix magazine, Green Lemon have worked hard to establish themselves as a growing staple in America's live music scene.
After watching them perform, it is easy to understand why Green Lemon have been blessed with such bountiful praise. Once you see this band live, you're likely to remain in a highly intoxicating, lucid state of euphoria for days.
Blending a variety of influences and styles, Green Lemon's sound collides into a melting pot of melodic haze that transforms the brainwaves into a pleasing state of bliss.
"We have a huge range of influences among the members of the band, and very few in common…about the only music we all agree on is the music that got the band started in the first place—huge cultural icons like Phish, Pink Floyd, Bob Dylan and The Beatles. And I'm fairly sure we all still like The Postal Service. As far as the sound we're going for, it's something that spans several genres but still has certain unifying factors, like three-part vocal harmonies, heavy use of synthesizers, written-out counter melodies that imply chords as opposed to the use of chords themselves, and electronic styles of music played on organic instruments as opposed to being programmed. We use all these devices while playing electronica, rock and reggae in the hopes that no matter which you're listening to it's going to be obvious that it's Green Lemon," Schaben said.
The band encourages music enthusiasts to check out a variety of different musical acts and styles so whether the band was one of your favorite local acts for years or if you can only venture to guess what you are in for, stop by and prepare to be sucked into Green Lemon's soul-quenching sonic sounds.
The show will be at the Bricktown Ballroom, which Schaben told us, in much dismay, was only his second choice of venue. Unfortunately for him, it turns out that the surface of the sun is booked through early next year, but despite the fact that the band will not be able to perform on the sun's hot surface, they are sure to still rock out with shockingly solar flare.
The show will start at 9 p.m. with openers So Far So Good, and Green Lemon will go on at around 10 p.m. For tickets you can visit www.nonzine.com or you can call the Bricktown Ballroom at 236.4143.