Vol. 2, Issue #13 July 20th - August 2nd, 2007
Green Country Invasion: U.F.O.s Over the Blue Dome
By: Becky Carman - Art By: tribalbot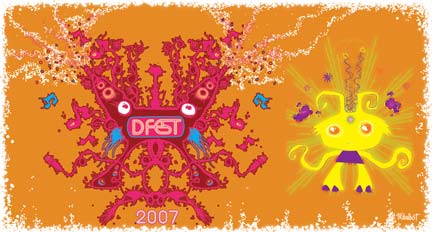 July 27, a U.F.O. will descend over Tulsa's Blue Dome District in a flash of lights and smoke – a spectacle that would seem foreign to this part of the country but is strangely right at home.
Welcome to the 6th annual Diversafest, Oklahoma's answer to South by Southwest. Touted as the largest music conference in the Midwest, the two-day festival provides business-related conferences, panels and clinics for all stages of working musician as well as showcasing artists of every genre and level of stardom.
If you are looking to learn about the music business, find a great venue to promote your band, or just see a wide variety of music for one price, Dfest is a great option. This year's wristband ($20 in advance) will admit you to see every act – approximately 150 over two days. For a little more cash, you can get access to all of the conferences and panels, which are held at the downtown Doubletree Hotel.
Founded in 2002 by Tom Green and Angie DeVore-Green, the festival has grown rapidly since its maiden voyage, which showcased a mere twelve bands to around 150 rained-out festival attendees. In comparison, Dfest 2006 had over 100 performers and thousands in attendance, and 2007 promises to be even larger, with over 30,000 people expected to attend.
"This year is a monster of a year for us. We have made a giant leap from 2006 to 2007 with major headliners and the amount of acts," Green says. "This is the year we will put Dfest on the map nationally."
While a celebration of Oklahoma's cultural community is the driving factor in the promotion of the festival, many of the bands and participants aren't from these parts. Playing alongside local favorites are nationally-renowned artists like Amos Lee, The Honorary Title, MC Chris and The Format.
Better still are those performers straddling the local-national line: Grammy winners The Flaming Lips and Leon Russell and up-and-comers Shiny Toy Guns and The Starlight Mints, though they might compose one of the strangest concert bills in history, are prime examples of the diversity and success of Oklahoma's stable of artists.
What better backdrop, then, for this incommensurable assembly than Tulsa – Oklahoma's biggest little conundrum? With its history in big business, culture rooted in western swing and fine art, and its architecture art deco, Tulsa is the embodiment of appreciating irony. Dfest's home in the fledgling Blue Dome District will no doubt serve to further that notion – a conglomeration as bizarre and innovative as its attendees.
Panels available for badge holders include speakers from the Grammy Foundation, label managers, sound engineers and artist mentoring sessions. Additionally, Dfest's tradeshow boasts exhibits from M-Audio, Sonicbids, Bose and more. Yes. In Tulsa.
"The buzz around Dfest reminds me of what we used to hear about South by Southwest ten years ago," says musician and avid local music fan Mike Ross, 27. "This year's lineup is a good indication that Tulsa is on the vanguard, and that's a big thing for Oklahoma music in general."
Dfest's conference events begin Friday and Saturday, July 27 and 28, from 12:00 – 6:00 p.m. Shows are scheduled at thirteen different venues including two festival stages and begin at 7:00 p.m. Find out more at www.dfest.com.