Vol. 2, Issue #14 August 3rd - August 16th, 2007
Graffito
By: Nathan Winfrey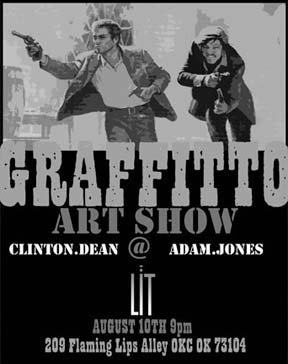 Few artists or photographers would think to juxtapose a dressed-down drag queen with Coke memorabilia, or use a pistol-waving girl with a recent boob job to champion women's rights, but that's exactly the kind of visuals the creative team of Adam Jones and Clinton Dean are known for, and the anticipation for their new series of artwork, "Graffitto," has the Oklahoma artistic community buzzing.
You may have seen Adam's graffiti-infused paintings or Clinton's urban photography at the IAO Gallery in OKC, erotic art show "Biting the Apple," or various galleries around the state.
Adam recently returned from an upscale art show in Santa Monica, California, where he sold a portrait of a friend who'd been cheated on to a soldier on leave from Iraq who had a similar experience. He said the soldier stared at the painting for most of the night, and eventually bought it because it made him feel better about himself. It's that kind of emotional connection that Adam's work strives to create between the art and the viewer.
Though they work in different media, Adam and Clinton's creations are joined in spirit, since it's their urban childhoods that have inspired their subject matter.
"I think that's where a lot of our art comes from," Adam said, "but it's funny because we're two skinny white guys."
Adam's artwork is a blend of acrylics, oil paints, spray paint and stencil work.
"I take portrait paintings and mix them with abstract backgrounds or design elements, then add spray paint stencils and spray paint lettering in various fonts," Adam said.
His subject matter encompasses the past 50 years of American history and pop culture, infusing elements of fashion, skating, rock music and surfing, just to name a few. He cites Jackson Pollock and Andy Warhol as forebears, with the stencils of WK Interact, the contrast of living things with bizarre backgrounds showcased by Blaine Fontana, the street art of Swoon and the graffiti of Jean-Michel Basquiat as inspiration.
Similarly, graffiti is the key element in Clinton's photography, and he always tries to present his subject matter in new, interesting ways.
"All my pictures take on some sort of environmental quality," he said. "Things that give more context to the overall art."
Clinton's been familiar with the darkroom since he was five years old, when his mother took photography classes and would bring him along for the ride. You might say he has a concoction of photo developer in his DNA.
After taking photography classes in high school, Clinton's been taking pictures seriously for four years.
Adam also showed early signs of artistic inclinations, and always seemed a better fit for an art studio than a classroom.
"I'm dyslexic as hell," he said. "I got an 'F' on my spelling test, but kicked ass at drawing the Ninja Turtles."
In high school, Adam won an art competition and was given the opportunity to go to Carnegie Hall in New York City, where he was named one of the 300 best artists in his age group in the country.
"That's what got me into college," he said, "and a full ride to OCU."
That's where Clinton and Adam met and formed a fast friendship based on their appreciation for artwork and a fondness for OKC nightlife; it was only a matter of time before they decided to do an art show together.
This will happen 9 p.m. Aug. 10 at LiT Bar in Bricktown. They've made it such a late showing because they're tired of going to early evening art shows that many people can't get to because of work schedules, followed by after parties. They decided to combine the after party with show itself, and they realized LiT is the perfect place for such a thing.
"The 45-year-old guy who buys artwork at a 6:30 p.m. show isn't necessarily going to agree with our art," Clinton said. "We wanted to reach our target audience."
"This isn't the only thing that we do, but it's new, it's different. It's bringing something like graffiti that's considered lowbrow to a higher art that people can enjoy," Clinton said. "If I had the money, I'd give the artwork away, just because I feel that it's important, that it's provocative."
"We just have fun; we enjoy doing it," Adam said.