Vol. 3, Issue #5 March 7th - March 20th, 2008
Gallhammer: The Beast in The East
By: Ryk Weston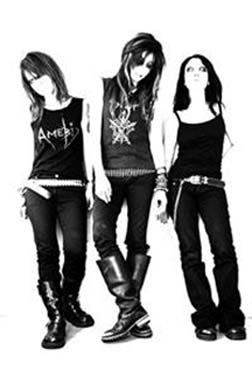 Interest of extreme metal in the Far East has shown significant results in the metal underground for well over two decades. With acts such as Intestine Baalism, Sabbat, Abigail, Sigh, and the all-female grindcore band Flagitious Idiosyncrasy In The Dilapidation have been favorites of those in the know for years. One of the most interesting metal bands comes as a female three-piece group known as Gallhammer from Tokyo, Japan whose heavy doom-laden blend of crust and Hellhammer influences are making sound waves in today's metal scene.
 
Formed in 2003, bassist/vocalist Vivian Slaughter assembled the band with the help of Mika Penetrator (guitar) and Risa Reaper (drums), both who had come from very different musical backgrounds. It had been no easy task for Vivian. "It is hard to find band members with the same taste of music, and I found Mika and Risa from very different styles of music", states Vivian. Such differences in each member's taste may very well attribute to the companionship in Gallhammer. "They were so much more interesting in my idea. Heavy metal was lors of fun when I was a teenager. There is heavy metal in my blood. Not Mika and Risa. It is strange, but true. They had never heard this kind of music before they played in Gallhammer" says Vivian.
 
Months after several self-released demos, Gallhammer soon found themselves with an offer from Peaceville Records, an overseas label fluent with artists in both black metal and death metal genres. "Honestly, I did not have an interest in signing with a label", states Vivian. "But I was a fan of Peaceville. I received their offer and I was so surprised. We only live once and I like strange happenings, good or not". By 2004, their first full-length, Gloomy Lights, was released to hordes of metal fans and was met with great response. Their sophomore effort Dawn Of Gallhammer was then released in 2007 and included a DVD of live performances thus putting Gallhammer firmly on the map. Says Vivian, "We just enjoyed our music. We really like to play and make songs. We wanted to record and preserve our music. We did not think about "we want to be famous" or big. We just wanted to enjoy ourselves".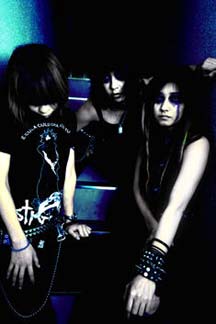 By 2007, Gallhammer landed in Europe on their first tour outside of Japan. Dawn Of Gallhammer was being heralded by metal publications worldwide and the band had begun seeing more and more press coverage. Says Vivian of their recent European jaunt, "It was very good! I really like to play, but we had so much trouble at the same time. It was the first time we had played outside of Japan. We really do want to tour more and gig. We don't care where we play. I was so glad that so many people supported us and were so nice. I want to say "Thanks!"" When asked if this newfound recognition is surprising to her friends and family, Vivian remains grounded in her beliefs. "We are just an underground band in Japan, but we've bene very busy after we signed to Peaceville. Maybe my parents are angry because I am so poor and they are strict Catholics!" laughs Vivian.
 
Gallhammer's most recent release, Ill Innocence, released last September through Peaceville, is an unstoppable juggernaut of crusty doom metal and will once again have the band embark on yet another tour with dates already confirmed across the globe. Not surprisingly, more and more female fans are picking up on Gallhammer's music and recognizing the effort put forth by the female trio. Vivian's advice to female musicians who favor extreme metal and are thinking of forming their own group is this: "Most important is to start what you want to do. I started to play music when I was sixteen and played a gig soon after. I did a lot of things that I wanted to and that I'm interested in. I think this action is most important to me."
www.myspace.com/ghammercrust or www.gallhammer.com