Vol. 1, Issue #16 Sept. 1st - Sept. 14th, 2006
Follow the Metal Brick Road
By: Ryk Weston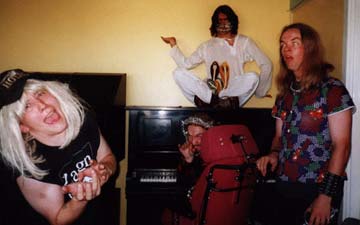 Norway, a country famous for it's fishing and petroleum, is indeed one of the most breath taking locations on the globe. Nearly 2/3 of Norway are covered with rugged mountains and high plateaus. Musically, Norway is noted for it's bout with black metal's most notorious blasphemers. It is also an unlikely spot to find dwarves who play death metal. Did you just read that right? Yes, from the cold landscapes of Scandanavia comes Endwarfment, a band whose lineup consists mainly of dwarves. Surely this is a gimmick, right? "People mostly look down on us because we're NOT black metal", says frontman Amoque von Berlevag (guitars, vocals).
Endwarfment was formed in early 2001 when the band consisted of three dwarves and one full sized frontman, Amoque. Since then, Endwarfment have seen a lineup change nearly every year. One such member, a dwarf by the name of Zkeletor, was deported from Norway on charges of illegal moose-hunting and public nudity. The band now consists of Amoque on guitars and vocals, drummer Atom Vinter, and female dwarf guitarist, Deathanie. Since the recent departure of longtime bassist and co-founder Skrapparkar Shrapnel, the band has continued to keep the torch alive and continue their musical onslaught. Says Amoque, "We have had a lot of line-up changes, and they will continue, sadly."
The band's tongue-in-cheek humor surely seems a likely candidate for expelling Endwarfment from the dwarf community, however, Amoque says it just isn't so. "No, strangely not. No critics from the handicapped either." With LP titles such as Handicapitation and The Paralympik Sessions, you would automatically assume a certain media backlash. Instead, Endwarfment makes light of their situation and have now created a growing fanbase due largely to Myspace. "It's better and easier than a homepage. But computers are always messed up."
Endwarfment caters largely to the vinyl crowd with it's many 7" releases. Remarks Amoque, "I hate CD's. I just have a handful of those crappy discs." An upcoming vinyl release with Norway's most notorious black metaller Nattefrost of Carpathian Forest is soon to be expected as well. "I participated on one of his songs, an he's scatting on one of ours. He talks with a weird dialect, mostly about perversions", Amoque says with a laugh. As for label support, the band has seen better days. "It has been quiet hard getting label support. It was even with celebrities in the band.", says Amoque.
Luckily, Endwarfment continues their musical onslaught as the band are scheduled for two more shows this year followed by an upcoming release on a yet unannounced label. As for their goals? "Entering the studio. Maturity, concerts, split 7" releases...violence", remarks Amoque. And you thought all dwarves were timid. Ha.