Vol. 2, Issue #1 Feb. 2nd - Feb. 15th, 2007
Flying High Again with Klipspringer
By: Angela Newman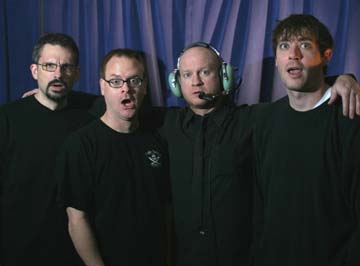 "Asceticism describes a life characterized by abstinence from worldly pleasures. Those who practice ascetic lifestyles often perceive their practices as virtuous and pursue them to achieve greater spirituality. Many ascetics believe the action of purifying the body helps to purify the soul, and thus obtain a greater connection with the Divine".
Klipspringer has been busy subscribing to the rock ascetic, if you will, and the divine is their latest release, "Everyone Kisses Differently". The follow-up to 2004's "My Knee Hurts", "Everyone Kisses Differently" has been two years in the making. Norman's own seminal hardcore-pop band, Klipspringer has along the way, lost a couple of members, found a new religion of sorts, and explored new sounds and subjects. This is the band's fourth CD and demonstrates a sound that is subtly complex with a wicked sense of humor. With the addition of Mitch Newlin, formerly of Tall Tales, the foursome has found a unity that comes through in their latest release. For the uninitiated, Klipspringer is Ty Kamm (vocals and guitars), Alan Hiserodt (drums and vocals), Mitch Newlin (bass and vocals), and Chris Bourland (keyboards and other stuff). The band, minus newest member, Mitch who was a no show due to severe intoxication, took a break from their vow of silence to talk about the new LP.
Q: So, who really is the hottest girl on your block?
Ty: That's probably the cheesiest song I've ever written. It's about that good looking girl that lives on your street, and you wave hi when she drives by. You don't know her, but....
Chris: That's pretty cheesy, Ty.
Ty: It is, but how about that bass slide at the beginning?
Q: On the other hand, "I Never Told You" is a beautiful song.
Ty: The typical lost love thing. My whiny ass love song.
Alan: It's Ty Kamm's "In Your Eyes".
Ty: Ha! 
Q: Phone World is an interesting song. What is the idea behind it?
Ty: Phone World is me bitching about our society becoming a "phone world" with people and all their damn cell phones. It's also a nod to the "roar" bands, as I call them.
Alan: We actually use real phones in that one, including cell phones and a 1970's brown turd phone. It's also full of a lot of weird noises.
Ty: Mmmmm… weird noises… 
Q: Where did the title of 59 Priests Walking come from?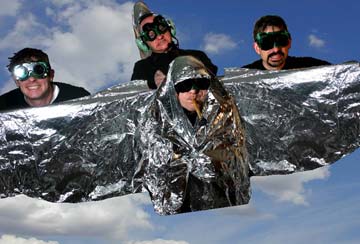 Ty: Corey Roberts originally played keyboards on this one. It's been around for a couple of years. His program setting on his keyboards for that song was 59, and I always envisioned a bunch of priests walking around in slow motion in a courtyard somewhere. That would have been the video for the song, anyway.
Alan: He says "would have been", like it's not gonna happen.
Chris: That was also the hurricane song.
Ty: Oh yeah, this song was also on the compilation, "Sometimes Everybody's Local" CD to benefit Hurricane Katrina victims. This version is the new version, the Minnesota Mix, with a real bass line courtesy of "Minnesota" Mitch Newlin. We were minus a bass player for awhile so Chris had to do a keyboard bass thing.
Chris: It also has a "Saints Go Marching In" part to it, a Louis Armstrong kind of thing at the climax of the song.
Q: You guys' live shows are always pretty awesome, what can the crowd expect this time around?
Ty: Without giving away too much, let's just say it is going to be a religious experience, literally. We've got a whole new shtick for this one. We also have two excellent opening bands, The Gunship and Year of the Jackalope.
Alan: A show of epic proportions. So get off the couch, put the bong down, and come see some live music. Don't just sit home and listen to the album, come see the show. It's the climax to everything.
 
About this time, Klipspringer's bassist Mitch Newlin stumbles in looking like death and reeking of whiskey and places best left unspoke of.
Q: Anything else you would like to add? 
Mitch: What they said. And rock and roll.
Klipspringer will being playing their CD release show at the Deli in Norman, February 16th with the Gunship and Year of the Jackalope. Everybody gets a free copy of the new CD with paid admission, so gather your friends and come get baptized in the cult of the Klipspringer.
www.klipspringer.net
www.myspace.com/klipspringer
www.sprockettrecords.com