Vol. 3, Issue #7 April 4th - April 17th, 2008
Elephants Marching Back to Oklahoma
By: Jane Cheshire, Estes Park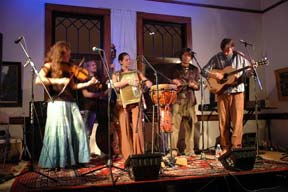 Elephant Revival is moving forward. With a slew of epic shows under their belt, a debut studio album due for a late Spring release and an extensive touring schedule ahead, Elephant Revival is gaining loyal fans wherever they roam. Young in age and conception, the band carries a fresh sense of creativity and inspiration that is felt by people of every generation.. The group provides listeners with a canvas of exploration to discover new meaning through experience and interpretation. The synergy of the five songwriting instrumentalists is something that must be heard, felt and seen.
Loyal fan Jeremy Raggland expounds upon the Revival after packing the house at three consecutive performances during Nederland Colorado's Frozen Dead Guy Days Festival, "I'm proud to admit I'm a groupie or a roadie, or whatever I am. I've only seen ten shows in the last two weeks, traveled one thousand miles and stayed in seven hotel rooms just to see them." Jeremy continues, "Their young, raw creativity continues to inspire me. I don't get tired of their songs for two reasons: First, with each show they continue to be slightly different and better. Secondly and most importantly they play from the heart. Who wants to hear music that isn't? Not me."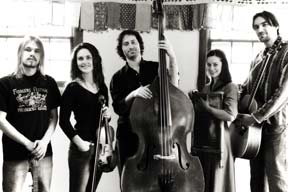 The band consists of Bonnie Paine (My-Tea Kind) on washboard, djembe and vocals, Sage Cook on electric banjo, electric guitar, double-bass and vocals, , Dango Rose on double-bass, mandolin and vocals, Bridget law on fiddle and vocals, and Daniel Rodriguez on acoustic guitar, electric banjo, electric guitar and vocals. As the season's change, Anna Rose Paine (My-Tea Kind) has begun to add her beauty to the mix on the upright bass as well. All band members currently reside in Nederland and the surrounding mountain community. "There is a living musical legacy being carried on in Nederland, and it's a pleasant feeling to see that we are contributing in some way." comments Rodriguez, "It's been great for the band having us all up here. In a way it represents our commitment as a whole."
Individually and collectively the band members have performed with some of the most prolific performers of our time like Michael Franti, Bela Fleck, John Paul Jones, Yonder Mountain String Band, Leftover Salmon, Little Feat, members of Nickel Creek,Vince Herman, Drew Emmitt, George Clinton and Parliament Funkadelic, Hot Buttered Rum, Hackensaw Boys, New Monsoon, Railroad Earth, Benny Galloway, Crooked Still, Uncle Earl, The Mammals, Randy Crouch, Kirk Rundstrum, My Tea-Kind, members of String Cheese Incident, Boubacar Diebate, Tha Musemeant, Taarka, Cornmeal, High on the Hog, John Cowan and countless others.
In performance, Elephant Revival reveals hidden treasures deep within a vast repertoire or original material and a few carefully selected traditionals. In one show, the quintet can be seen delving into Scottish/Celtic fiddle tunes, tight bluegrass numbers, original folk pieces, country rock, indie rock, powerful reggae grooves and an occasional hip-hop beat amongst other styles. Elaborating on the band's creative pules, Boulder county Elephant Revival fan, Mark Keller says, "Their creative momentum and performances are so fresh and inspiring, they have helped awaken a latent spark in my own creativity."
Finding time in-between the bands touring schedule Elephant Revival is currently putting the finishing touches on their first studio album. The full length record is being produced by David Tiller of ThaMusemeant and Taarka. Admirers of Davids projects and recording history, the band is excited that David is in the captain's chair. Bridget Law talks about her experience in the studio with David, "I have been learning a lot. I sincerely appreciate David's willingness to go deeper. He's not worried about time, which relieves us of that potential stress. He sincerely wants to get the best of us and he's always pushing us to go beyond our presupposed limitations." Look out for Elephant Revival's first studio album to be released in late Spring.
As the band gears up for Festival Season and everything in-between, they are looking westward. With Dango's recent jaunt to the Pacific Northwest in support of Leftover Salmon front-man, Drew Emmitt, Elephant Revival now see's a shining light along the 45th parallel and places in between San Francisco and Vancouver B.C. "The West is fertile ground for Elephant's marching," speaks Rose, "From the great salt flats of Utah to the highest peaks of the Cascades, through the lush green valleys to where the forests meet the ocean... This is where the roots of the earth grow deep."
Oklahoma is like a second home to the Revival as it is the birthplace of Bonnie, Annie and Sage. Rose may speak of the great salt flats of Utah, but each member of this band understands that Oklahoma is "the salt of the earth." Elephant Revival will be performing in Oklahoma City on April 4 at Sauced (8:00 p.m.), April 5 at Eskimo Joe's in Stillwater (9:00 p.m.) and April 6 at The Norman Performing Arts Center at the old train depot (7:00 p.m.). For more information logon to: