Vol. 2, Issue #21 November 9th - November 22nd, 2007
El Paso Hot Button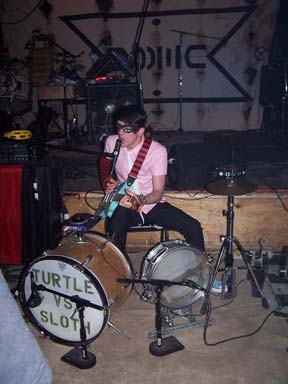 Interview By: Zeke Bleak -- Photos by: Ki
Mickey Reece, a.k.a. El Paso Hot Button, has been dropping jaws and raising spirits for several years now in the OKC scene with his one-man show performance. From the dirty grind of his slide guitar, to the unearthly wails of his digital Theremin, reinforced by the bashing of drums at his feet, Mickey knows how to rile and rouse a crowd. He recently released a full-length CD, When I Needed Sympathy, on Little Mafia Records. We try a dig a little deeper to see what makes this guy tick, with the help of our sedated interviewer, Zeke Bleak.

Zeke: How long have you been going on as El Paso Hot Button?
Mickey: Since 2003. I guess five years. Damn, has it been that long. I should quit.
Zeke: Yeah, you're all washed up now. So, you've been banging you head up against the music industry for this long. How do you think it's gone since when you had that dream when you first started?
Mickey: I think I'm doing what I wanted to do five years ago, touring and opening for bands. That's one thing I always wanted to do was to be an opener.
Zeke: Now, you've opened for some pretty major bands, like John Cale, Pleaseeasaur, The Octopus Project, and our friends from Oakland, Sleepytime Gorilla Museum. Who's been your favorite to open for so far?
Mickey: I don't know. The act that really influenced me and made me want to start doing this is Mr. Quintron & Miss Pussycat from New Orleans. I really get excited when I get to open for them. They don't come through too often. The last time was in July.
Zeke: Inevitably there is talk of influences in any rock'n'roll interview. Is there anyone else you'd like to give a shout out to?
Mickey: Yeah, I am just a big fan of music. I go to more shows then I play, for sure. Jon Spencer Blues Explosion was a big influence. I really like a band called Daughters, from Rhode Island.
Zeke: What about bands from the local scene?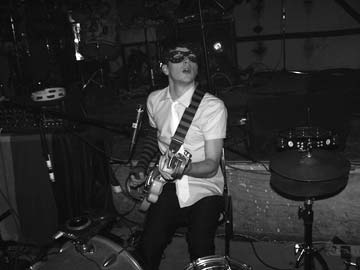 Mickey: I'm doing some shows with Balthazar soon. I've always played with Gravity Propulsion System. We're doing a big tour together too. The Non are really good. There are a lot of new bands coming up, like Crazy Diamonds, Plaid Rabbit, and The Guests, that are really young, but they are influenced by really cool stuff.
Zeke: So we talked about where you've come in five years, where do you see yourself five years from now?
Mickey: Oh, surely I'll hang it up five years from now.
Zeke: Well, what would you do then?
Mickey: I'm going to start making movies, I believe. Whenever I finish my movie that I am making now, called Jungle Boy, which you can view the trailer on YouTube, I want to do premiers at local venues. I'm also going to dive into some other projects at some point. I've got a rap group called Black Lebanese. I grew up listening to hip-hop, so that's what I originally started doing in music.
Zeke: You know Blake O., don't you?
Mickey: Yeah, we went to school together in Newcastle.
Zeke: Must be something in the water. So, let's talk about the tour. Where you going?
Mickey: Yeah, I'm real excited about the tour. I am so ready to get out for a couple of weeks. It's going to be a lot of fun. I'm doing some shows here in Oklahoma, and in Arkansas, Texas, Louisiana, Alabama, Florida. It's a southern tour. I'll be touring with a band from Hot Springs, Arkansas called Church of the Snake.
Zeke: We've talked up to this point about pretty standard stuff. Let's talk about some traumatic childhood event. Let's talk about something that really made you want to open up and explore the emotional world that is music.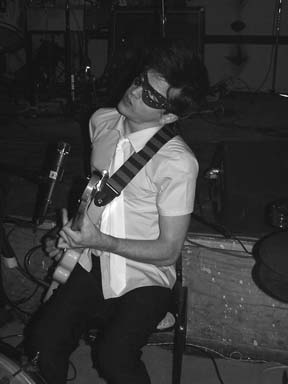 Mickey: Well, that's easy. One time, I was in seventh grade, and I ditched school one day at lunch time to go smoke pot with a friend. So, we walked back to the school and the principal was right there, and he was like, "Hey, you guys get in my office!" So, we go back to the office, and my Grandmother came to get me. She was dragging me out by my arm as school was letting out, and the whole school was looking at me the whole time. There's the most embarrassing childhood event that I can think of. I got grounded for months and months and months, and had nothing to do but learn how to play guitar.
Zeke: So, it ended up being a good thing then?
Mickey: Naw...I'm mean still...I don't know.
Zeke: What's your day job?
Mickey: I work for the FAA, for seven years, training air-traffic controllers.
Zeke: Wow, interesting! So, for everyone out there, when you're listening to "Beat on the Drums," "Hot on the Trail," or any other El Paso Hot Button song, just remember, this man is training air-traffic controllers.
Mickey: That's right.
So get your ass out to the LiT Lounge on Saturday and check out Mickey before he hits the highway for the next few weeks. In addition to this written interview, you can also listen to the audio interview, different than in print and with music from EPHB, on NONcast this Friday, November 9th. Podcasts downloadable at TOGiNET.com. AND if that weren't enough, there is also some very special video of EPHB available at nonzine.com/video.
Check out Graham Lee Brewer's CD review of When I Needed Sympathy!
Check out our old video clip of EPHB's early days!