Vol. 3, Issue #21 Nov. 7th - Nov. 20th, 2008
Dropkick Murphys
Interview by G. Smith - Photos by Lucas Leon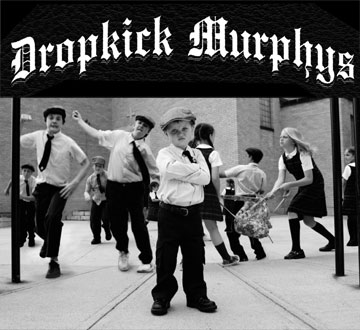 The 17th DKM will be shipping up to Cain's. They rocked the Diamond last March. Long lines in the windy cold, feeling less than hardcore as those in their combat boots and kilts stand smiling and ready.  Punk rawk. Been paying attention since Do or Die and love Woody Guthrie. The show resold me. Okie Roots. There were even children at the show. Three skin brothers were at the Union Hall Breakfast and forgot to get my old copy of Joyce's Finnegan's Wake autographed. Good thing they didn't forget their camera or the DVD would be less than.
There's been several musicians come and go from the Dropkick Murphys, fortunately we get some great stuff from Matt Kelly, the drummer who's been with DKM since the beginning.
NONzine: "Given Worker's Song, what was your last working class job? What is your reason behind blue collar such music?"
MK: I unloaded trucks in the back of a grocery store and stocked shelves nights. I guess that's a "Working class job." I was raised "working class." My parents were working class, as were my grandparents. Pavers, concrete workers, truckers, waitresses, seamstresses. If you have to "choose" to be working class, then you're not working class. Anybody who grew up that way and is smart strives to do the best they can with what they have. That can mean going for the management position and then taking over the shop, going to college nights(or if you can get the financial aid go full-time), etc. It's not glamorous being underprivileged, underclassed, or underpaid. It's a set of family values, an upbringing, not wearing boots and working in a shop when you could full well go to college.
Alright, sorry…. Rant over….
NONzine: Can you tell me some differences there were in working with Spider Stacy (The Pogues) and Ronnie Drew(The Dubliners)? Musically, in the collaboration.
MK: Well, we'd met Spider a few years back at the Garage in London and he was a really nice guy. Subsequently, we'd toured with him and the POGUES and he'd come out and done a song or two with us. He and his wife, Louise, had even before the musical collaboration become friends of the band—fine, fine people!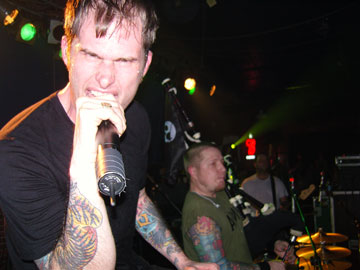 We met the late Mr. Drew at the POGUES' Christmas Eve-Eve gig in Dublin, and he'd knocked on the dressing room door, bummed a smoke off Tim(Brennan), thanked him, and that was that… Tim and I look at each other and just shit ourselves… "Oh Christ, that was Ronny Drew!!!"(add exclamatory words, expletives, etc…. ). So we invited him into the room again, asked if he'd like a beer, and he just sat with us all for a while shooting the breeze and holding court… he said some really, really nice stuff about the band(he'd actually watched us!), and that we were taking this stuff to a whole new generation…. He especially enjoyed our version of "The Fields Of Athenry". We were really floored.
At the end of our session he'd mentioned that he'd love to work with us in the future. We were honored that he'd even entertained the idea.
Basically, working with the two of them differed this way: With Spider, it was like recording with an old buddy you see a couple times a year. Absolutely special nonetheless. The guy's a maniac…total class act. With the late Mr. Drew, it was like working with royalty. Of course the best part was that HE didn't think so. Mr. Drew was a very down-to-earth fellow and didn't put on airs like he was something special. He even took the friggin' train to the studio and was shocked when we tried paying for a taxi/limo service to get him home! Such a gentleman. The world really lost a musical hero when he passed. Rest in peace, Ronny Drew.
NONzine: "The Chosen Few" is the latest thing that has generated some internet buzz, Dicky Barrett of the Mighty Mighty Bosstones is a great addition to the voices.
MK: Well, we actually recorded with Dicky in '99 for a Motorhead tribute comp. We recorded "Rock and Roll" and Dicky did a verse on it—the whole shebang came out pretty awesome. Also, he and Tim Burton(sax) gave me a roof over my head when I was living in the Dropkicks' van. So Dicky and the boys have always been like older brothers looking out for us. Really good fellas.
As far as "The Chosen Few", that song was recorded during our tour with the Bosstones… 'twas recorded in bathrooms, dressing rooms, tour buses, and probably hotel rooms, too. None of the in-jokes in that song were lost on Dicky, even if he does live in frigging L.A.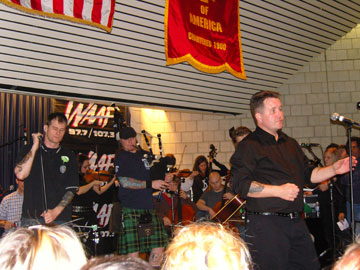 NONzine: With Jeff DaRosa settled in ready for the tour can one expect (and we should get so lucky)to see reggae show up anywhere new? Tons of banjo lovers here in Old Indian Territory is there anything new you can add to the glass bead game on the power that resonates across the skin, any good banjo story would enthrall.
MK: Haha, you must be an EXIT fan. It's funny—many of our songs, during practice, when joking around or when somebody's taking five, end up with weird reggae versions. Unfortunately for you though, the closest thing to reggae will be the beginning and breakdown in the song "Blackout".
Sorry fella, no banjo stories apart from the fact that they ALWAYS FRIGGING BREAK!!!!!!!
NONzine: Where do you think American punk stands compared to where it did in the nineties?
MK: Not much has changed I guess. A lot of bands have gotten too much into Springsteen and singer/songwriter types and fancied themselves the latest incarnations of said people… much to the detriment of their unsuspecting audiences' ears.
I actually think that people in bands have explored music from before 1977 and explored other genres. A great example of this is the (oddly enough)Canadian band FUCKED UP. I thought their "Hidden World" Lp really pushed the boundaries musically. I mean, it was hardcore punk, but very textured and 'musical'. Its boundaries weren't well-defined and they had SOMEWHAT of a unique sound. There are a few bands out there doing that, and I find that to be the coolest thing to do with music: PUSH THE BOUNDARIES.
NONzine: Multiculturalism seems to be the roots of punk. I appreciate what you guys bring to the table. Anything you guys might have to say to those who use the terms Mockney or Plastic Paddy?
MK: I don't agree with your statement. I think that the roots of punk are bands in Detroit and New York City taking rock and roll back from the introverted, 20-minute epic song-writing fools.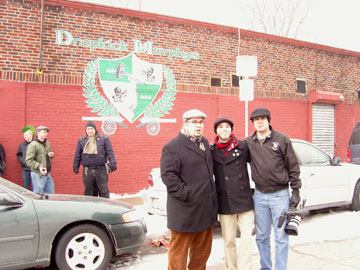 I think Mockney and Plastic Paddy are sometimes apt titles. If a person likes East London or Dublin so much, they should move there. I don't believe in hyphenated Americans. We're almost all from immigrant stock, and there's certainly nothing wrong with drawing from one's family's culture and roots(we all come from somewhere!), but to base one's life around something happening six-thousand miles away is pretty sad. Someone in California fussing about politics in Northern Ireland when they have no immediate family there and haven't even BEEN there should look at their back yard… there's plenty of causes in our cities and towns to patronize. I've met people all around the US who are die-hard into the IRA or the UDA and have no idea what's really going on over there.
It's just as bad as, if not worse than, Americans using terms like "mate", "pub", "bird", and Cockney rhyming slang…
NONzine: There's a great story about the Sex Pistols playing at Cain's Ballroom many, many moons ago. Have you played Cain's before?
MK: Yup. We played there in 1997 with the BOSSTONES, BIM SKALA BIM, and the AMAZING ROYAL CROWNS. Awesome gig! We also played there subsequently—maybe about five years ago?????? Great place though. We were definitely psyched to play there the first time knowing the PISTOLS had played there!
Now with Everybody Out! touring with them we get Rick Barton, you might recall him once being in the Murphys. Bet somebody's gonna play Skinhead in the MTBA. Gonna be a rowdy ol' time in T-town. You really shouldn't miss this show.
Gotta doublepass to the show to give away. I'll be bartending 12-4 and will be doing a drawing. Wear a Murphys shirt to the show and you get an extra shot.