Vol. 1, Issue #21 Nov. 10th - Nov. 23rd, 2006
Devourment: Don't Mess with Texas Death Metal
By: Ryk Weston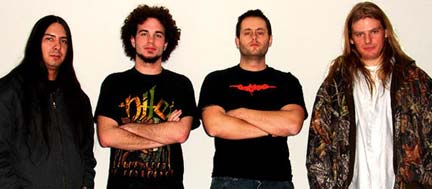 Death metal bands come and go in the underground circuit, and with thousands of such bands striving to make a name for theirselves in a balanced market, only a few will ever make the grade. As any extreme metal act will tell you, paying the bills, holding a family together, and maintaining a death metal band is no easy task. In the case of Texas based Devourment, who have been together for over a decade, the struggle to keep this unit has not been an easy one. Their first official release, Molesting the Decapitated, was heralded by death metal fanzines worldwide as a brutal offering of groove laden death metal. With a small breakup several years ago, Devourment is back with their newest release, Butcher The Weak, out on Brutal Band Records. Devourment recently played at Studio 360 in Norman, their first ever show in Oklahoma. Though due to current jobs, touring for Devourment has not been an easy task. "You wouldn't believe...I have to turn down shows almost every day", says vocalist Mike Majewski, a native of Long Island, New York who moved to Texas at the age of 20.
For a band who churns out some of the most demented lyrics and brutal death metal riffs, the members of Devourment are some of the most calm people you would ever meet.. Upon closer inspection of Butcher The Weak's lyrics, the gore unfolds in a most malicious manner. "I remember reading the lyrics to Cannibal Corpse's Butchered at Birth and just thinking it was the most craziest stuff I had ever read", says Majewski, who handles the majority of Devourment's lyrics, and is also responsible for the macabre artwork within Butcher The Weak. "Yeah, I've been drawing all my life. It was just something that I was born with, this talent.", replies the singer. True to his word, his talent manifests the horror story which Butcher The Weak's lyrics tell. "On this album, the lyrics kind of tell a story. The next release, which we're already working on, will have a different concept", says Mike.
Initially formed in the mid-90's after the demise of Necrocide, Devourment went on to recruit needed musicians to stabilize the lineup. A small demo was put out, entitled Impaled, and then after another line-up shift came Molesting The Decapitated, which was released through the now defunct United Gutteral Records label. After some minor troubles and a small breakup, Devourment was reformed with Ruben Rosas (guitarist) and Mike Majewski, who had been playing bass prior to their breakup. Soon joining Devourment came Chris Andrews (bass) and Eric Park (drums) who have more than upped the ante in terms of bringing forth some of the most slamming death metal this side of Hell.
Sure, as I've explained before, touring as a death metal band is indeed hard. Devourment have actually been able to book a two week tour in Europe beginning in May, a small stint along the West Coast, and upon returning will enter the studio to record the follow-up to Butcher The Weak. Says Mike, "Yeah, we're pretty excited about it. It should be a lot of fun." And with a two album deal with Brutal Bands Records, the future looks bright for a band who is deeply respected in the death metal underground.