Issue #18 Sept. 29th - Oct. 12th, 2006
Design Prof Shows Off
By: David Klein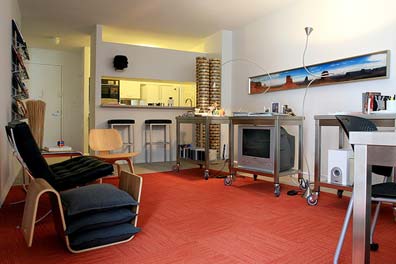 Jim Watson, professor of design at the University of Central Oklahoma and part-time New York City resident, will be a featured designer on the Home and Garden Television program Small Spaces, Big Style on October 8.
Watson entered his modestly sized, efficiently designed New York apartment in an HGTV design contest and lost, but a network producer had noticed his apartment and offered to film the space for another show.
"It's just a hoot," Watson said. "But I'm a little worried about how it will turn out."
Watson's apartment was the essence of New York long before he added his 3-D puzzle of the city's skyline − It is in Lower Manhattan; overlooks the Hudson River; and is a whopping 719 square feet (with the balcony). All it lacks is a sweaty, disheveled cabbie on the couch.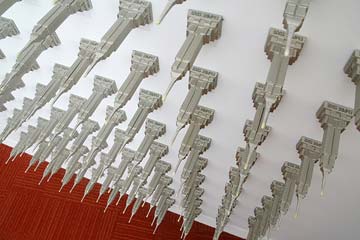 From a casual glance, Watson's apartment seems like any contemporary, hip New York apartment, but his meticulous attention to detail makes the space unique. Every item in the apartment is completely functional and well placed.
Early in the design process, Watson had walls removed and opened the main room. He used squares of carpet laid at an angle, which create an illusion of space and continuity throughout the apartment and direct the flow of traffic between rooms.
"I tried to create a loft essence in the apartment," Watson said.
Invisible bookshelves, industrial frames, and seas of landmark statuettes break the routine of the white walls, while stainless steel furniture and accents give the apartment a sterile strength through which the red flooring pops.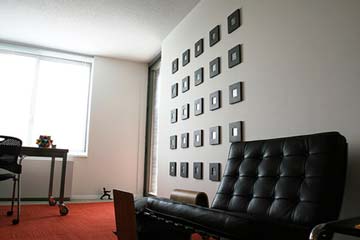 Every room in the apartment is a distinct homage to New York City's vast history and diverse culture with New York maps, books and souvenirs. Watson also displays autographed work from designers he respects including Milton Glaser, Christo and Jeanne-Claude.
Watson spends nearly a quarter of the year in the hustle and bustle of New York but loves living in the dawdle and calm of Edmond while school is in session.
"I love every minute in each city," Watson said. "They are perfect antidotes for each other."
Watson's Edmond home rivals the New York apartment in style while its extra space afforded him the luxury of a detached office and a urinal in the bathroom.
Watson's designs spill from his residences into every aspect of life. He is continually improving the status quo in which the average person finds solace.
He is not content with standing in an inefficient ticket line or eating at a square restaurant table with unused space. He questions the need to idle on red at a stoplight and wants to use urban street posts as iPod™ holders.
Despite his constant design revision, Watson does not anticipate a redesign for the New York apartment after it takes its permanent place in the annals of the cable television catalogue.
"I've done a couple of things since the filming, but I'm very happy with the apartment," Watson said. "I'm happy with how the space feels."