Issue #16 Sept. 1st - Sept. 14th, 2006
Artist Spotlight: Derek Doublin
By: Aharen Richardson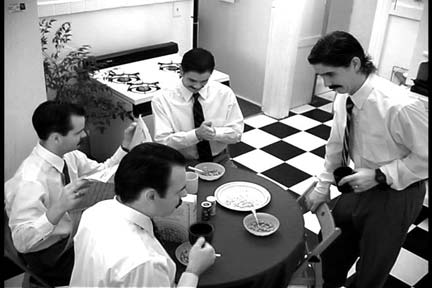 Derek Doublin is rooted in Oklahoma. Like a wildflower, he spreads his artistic fingers through the red earth and sprouts art; be it film, music or poetry: it's rooted in his experiences growing up on the outskirts of a local town he'd rather not name and living in Oklahoma City. Of course, like so many of us hope to, he left in his early twenties, living in Austin and L.A. for a short time, but he came back to refocus and reconnect to his home.
I sat with Derek at Sober Grounds to get a feel for his particular kind of vision. You might say he is a renaissance artist, working with many mediums to create an up and coming body of work that can make you laugh or make you get in touch with deep introspective emotions, but mostly, it makes you laugh.
During college Derek joined a comedy troupe that was picked up by producers from FOX. He traveled to L.A. to work on a project where he blended his short films with music, but it turned out to be too experimental. Derek describes his comedy style as "absurdist" and his artistic comedic process as organic—"hanging out with friends, coming up with ideas and then creating them."
I first ran across his short film "The Dad Family," filmed in L.A. and co-written with friend Matt Brown, on MySpace. The film is part of series that focuses on a family of Dads; the comedic genius of this piece can only be described as familial. Also on MySpace is a short on airplane safety, a seagull observation and the inner workings and deep thoughts of a dog's mind, as well as a What If tribute, as in "What if Batman didn't see it coming?" All are worth the QuickTime download and are guaranteed to give you a laugh out loud natural high.
For the last four years, however, Derek has taken a hiatus from filmmaking and turned his focus to music. I got the chance to hear and watch two of his musical projects. One is a song called "Driving in my Bed," an evocative tribute to night driving which he calls his only "addiction." The second is a rescoring of 2001: A Space Odyssey which is full of homegrown absurdity and musical ingenuity.
I asked Derek about his multi-artistic talents. He said, "All of these mediums come out of necessity. Writing lyrics and music is very personal and private; on the other hand, photography and film is going out into the world."
His musical approach is a more solitary process than his film and comedy. He contends that music is a way to explore some of the darker and more emotional aspects of life, especially the kind of music he is focusing on now in preparation for a November album release and a multimedia tour. "My music is very desperate," Derek admits. But after listening to his single track, "Driving in My bed," I found it to be positive with an ethereal essence.
Currently, Derek is returning to film. With his newly named production company, Delicious Productions, he is working on a pilot for a television show based on what it's like to be an artist in Oklahoma.
The big question for many artists living in Oklahoma is: How do I support myself financially and leave myself enough time to do my art? Derek's answer to this is working as a freelance media artist for local companies and non-profit organizations. But he draws a fine line between work and art. His freelance projects are pragmatic, and he does them without loosing too much of his creative energy. The moment his work interferes with his artistic side, he pulls back. For Derek, it is a matter of necessity; art is his way of life. As he puts it, "Art is all I have."
To view Derek Doublin's work, you can visit www.quickmechanism.com. Look out for local shows highlighting his latest musical project this Fall.