Vol. 3, Issue #14 August 1st - August 14th, 2008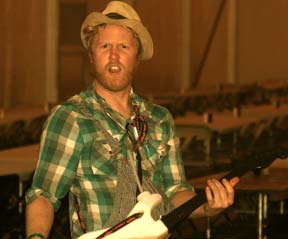 Derek Does Rocklahoma
Festival coverage and photos by: Derek Doublin
Retarded dogs were everywhere. The whole place was like a tornado drunk on lake water, covered in mullets, tits, and awful confederate flags. There was a ton of mud and a lot of missing teeth. There were drunk helicopter rides, broken mechanical bulls, and the oxygen bar (yes, there was an oxygen bar) was giving away free tobacco products. There were beer mugs in the shape of Fender Stratocasters, life-size, complete with straps and plastic strings. The place was real. It was Rocklahoma 2008, the world's largest 80's metal festival, aside from Rocklahoma 2007.
Rocklahoma reminded me of some backwoods dirty uncle that likes to sit around reading old, faded issues of Playboy while watching WWF or GLOW (Gorgeous Ladies of Wrestling). There was no reason in hell I should have attended Rocklahoma. And that is why I decided to go. When in search of unusual, spontaneous adventures one must often choose between two roads: The road less traveled - *cough*cough* - and the OTHER road... then one covered in lost shoes, dirty g-strings, and empty bottles of Kentucky Gentleman. That is the road I always end up on. And this time around, Rocklahoma was that road.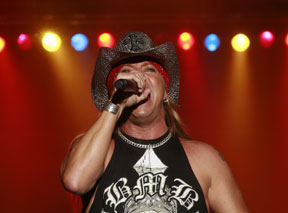 Ratt, Jackyl, Firehouse, Bret Michaels, Sebastian Bach, Dokken, Extreme, Warrant, Tesla, Queensryche are all bands I could give a Ratt's ass about. I don't care about hair metal nor do I care about the hair metal world, albeit the musicians were all phenomenal, the majority of the performances taking place on the stage did not hold my attention for long. This wasn't because the shows were bad. Arguably, Rocklahoma itself was phenomenal and great fun. The primary reason my attention shifted was because the REAL entertainment was down in the mud, among the dip cups and the sweaty boobs. The real show was all around me. The real show was the audience.The following is a brief visual representation of that show.