Issue #18 Sept. 29th - Oct. 12th, 2006
Deicide: Still Evil After All These Years
By: Ryk Weston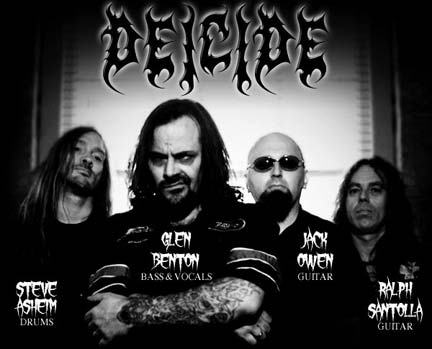 Glen Benton is a happy man. After two decades of battling bad press and fronting metal's most notorious band, Mr. Benton is finally at ease with himself. Deicide's newest album, The Stench of Redemption, recently broke into Billboard's Top 100 and also marks their second release with their new label, Earache Records. It is also Deicide's strongst album to date since the recent departure of longtime band mates Eric and Brian Hoffman, who quit abruptly during the end of the band's last tour. But none of this has phased Glen Benton who is at the top of his game with Deicide. "Yeah, man, it's really overwhelming", says Glen with a grin. "I believe it's the first time in 19 years where I've put out a record where people haven't shredded it."
Musically, Deicide are at the top of their game. If Hell had a house band, Deicide would surely be it. From the blindingly fast drumwork of Steve Asheim, and the thundering vocal attack of Benton himself, The Stench of Redemption is Deicide's strongest album to date. Backed with a solid studio production, it is no wonder why music critics everywhere are praising the band for their phenomenal contribution to today's current death metal scene.
To understand the trials and tribulations of Deicide, you must go back to the late 80's when this small Floridian death metal band was breaking out into the scene. Their harsh anti-Christian message along with Glen's repeated antics, which included burning an inverted cross into his forehead, was all the fuel that the press needed to make Deicide a household name. From guest appearances on the Bob Larson show to the recent spot on the Discovery Channel, Glen Benton and company have continued to deliver their music to a legion of fans worldwide. With a new lineup which consists of two new guitarists, Jack Owen (ex-Cannibal Corpse) and Ralph Santolla (Iced Earth, Death), there is simply no stopping Deicide. Even Glen couldn't be happier with the new lineup. "It's better with these guys. We're like four giggling mad men every night. The Hoffmans, they were getting so sloppy onstage that I'd just want to walk off some nights. They were bummed on the publishing deal, that they didn't get paid enough. You know, Brian wrote one song and Eric wrote one song for Scars of the Crucifix (their last album), and they got paid for those two songs. And they quit immediately upon getting paid. It's always been about money for them."
Even more shocking came the news that the Hoffman brothers weren't even writing their own guitar leads for the past several albums, but were instead written by current guitarist Ralph Santolla. "Yeah, we got it on video. People don't believe it. Eric would be so into his lifting weights and shooting steroids and being a jackass, and didn't really put so much effort into the band. It was always a free ride for them. They'd get their parts recorded, and then it'd be like, "Okay, let's go see Ralph". They'd go to Ralph's place and bring their video camera. They would play the parts to Ralph, and he would come up with something and try to show it to them. But yeah, we got that stuff on video, man. And don't think we're not going to put that on the next DVD!", Glen laughs.
And indeed, Glen Benton is having the last laugh. With a tour that will see the band around the world, Deicide has become a musical juggernaut which is now unstoppable. Not that any of this will stop bad press from attacking Glen as it usually does; journalists tend to always want the evil Glen Benton story. Remarks Glen with a sinister laugh, "Sometimes they get it depending on what type of day it is...if I'm up early or some shit. You know what really gets me, man? It's those questions of assumption. It's like, I don't kill babies, I don't burn dogs...just stupid questions. Sometimes I just give them what they want to hear. You know, I'm a normal guy like everybody else. Like right now, I'm getting ready to pull out the lawn mower and mow the yard.."
Added to the success of their recent album, Deicide have released a video for the single 'Homage For Satan' off The Stench of Redemption, which has been doing incredibly well on European TV and throughout the Internet. "Yeah, I wrote that video. It was based off The Fallen with Denzel Washington. That's what gave me the idea for this video. My concept that was written was that Jesus comes back to Earth in our time frame, right now in New York City. People shooting heroin on the street, people eating out of garbage cans, him seeing all this shit, you know? And then a crowd of people chasing him down the fucking street!", Glen says with a laugh. "The guys at Earache were like, 'We'll never get this on MTV, Glen!'"