Vol. 2, Issue #11 June 22nd - June 28th, 2007
Deathless Anguish: Metal Beast of the Middle East
By: Ryk Weston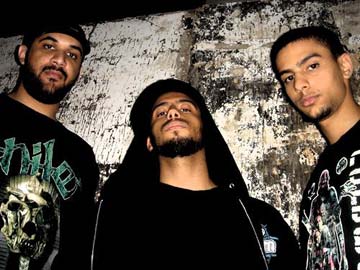 It's easy to feel sorry for the lesser known death metal band trying to break ground in Nowhere, Ohio, and it's just as upsetting if your residence happens to be in the Phillipines. As the death metal underground has shown us, this genre of extreme metal is damn near everywhere. It's more global than you'd think. Now imagine your difficulty level if you're a death metal band in the Middle East, Saudi Arabia to be exact. Still think you have it tough? You haven't even begun to know the half of it. Just ask Kamal Khalil, frontman for Saudi Arabia's first ever death metal band, Deathless Anguish. Nestled in the heart of Dammam, Saudi Arabia, this guttural growling trio is forever struggling to make a name for theirselves, and with help from their newest release, 'Demise Inception', Deathless Anguish is finally making some headway.
With a population of just over one million, Dammam is the prinicpal port of Saudi Arabia located along the Eastern Coast. It is also the main gateway through which cargoes from all over the globe enter the Eastern and Central Provinces of the Kingdom. Quite an unlikely place to house a death metal scene, but since the inception of organizations like S.A. Metal, Saudi Arabia is finally making it's mark. Kamal gives more insight to the duties of S.A. Metal. "It represents the metal scene in Saudi Arabia", says Kamal. "They were the first who organized a public gig in Saudi Arabia which was a big risk and it unites the bands in this country plus promoting and supporting the local bands in every possible way so that we get bigger and better scenes."
The notion that the Middle East is home to extreme metal bands is mind boggling to some given the extreme censorship of such area, and according to Kamal, Deathless Anguish was no easy task to begin with. "It was almost ten years ago when I first heard Cannibal Corpse and I was amazed with all the brutality I heard back then. I realized that this was the music I'm going to be into for the rest of my life. Obtaining death metal releases was impossible since that even regular metal was too difficult to get in here, so basically downloading and online shopping were the solutions. I hope to see more extreme music here in the upcoming years", says Kamal. And what of the risk of being a metal head in the Middle East? "Well, being metal and having a band in here is a big risk and could be considered a crime, so imagine all that and also talking about politics which is prohibited in the Middle East. Taking a risk is much better than a double risk. I guess nobody wants to serve time", says Kamal.
While the metal scene may be small in Saudi Arabia, the driving mentality behind Deathless Anguish is forever growing. When you consider the fact that half of the band play in other bands, it becomes clear that these determined musicians are adamant in helping to create something special. "It is really great to have these two guys in the band. One of the goals is to release an album that really describes the band and shows the abilities of each member and we can do that in the first album that will be released soon", says Kamal. And though the gigs may be few and far in between, Deathless Anguish show no sign of pausing for obstacles. "We have only played twice in all the gigs that have happened, plus death metal fans are not that much here. Most of our supporters are from the members of other local bands who we really respect and they also respect us. To be honest, we get more fans outside the country than inside", exlcaims Kamal.
With the release of their current album, 'Demise Inception', our underdog heroes stand a good chance of breaking stereotypes placed on Middle East music. All one has to do is hear the guttural vocals and bludgeoning assault of their recording to see that Deathless Anguish is no gimmick. Says Kamal, "We just finished 'Demise Inception' which is the band's first album as a trio. I can say that it's more organized, more techniques were used, faster and better recording. We uploaded three songs from the album to our Myspace page so that listeners could form an idea on us and our style in this album. We hope that death metal fans would like it."
www.myspace.com/deathlessanguish