Vol. 3, Issue #10 June 6th - June 19th, 2008
deadCenter 2008...it just gets better and better
By: Joel Decker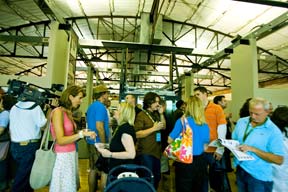 The 8th annual deadCENTER Film Festival will take place June 11th - June 15th 2008 in Oklahoma City. Thousands of people from around the nation will descend on Downtown OKC for a weekend of great film, great parties and great fun.
The deadCENTER Film Festival showcases independent films from around the world, but also takes pride in showcasing films made by the ever growing Oklahoma independent film community. Below are four features made in Oklahoma by Oklahomans that will be screened at the upcoming deadCENTER Film Festival.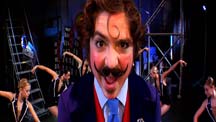 Rainbow Around the Sun starring Matthew Alvin Brown, The Fellowship Students, Jamie Buxton
Screenplay by Kevin Ely
Directed by Kevin Ely and Beau Leland
The rock opera Rainbow Around the Sun is an energetic foray into musical storytelling where the line between the fantastic and the tangible are pleasantly blurred. The film follows Zachary Blasto (Brown), a talented musician and an accomplished alcoholic, on his musical journey between the fantastic world of his own imagination and the reality of the downward spiral his life is plummeting towards. Zachary's hard drinking fueled egomaniacal ways coupled with an ever increasing stressful existence cause him to alienate those he needs most. Zachary's break up with his girlfriend Debbie (Buxton) the failing dynamic of his band, the impending death of a loved one and his own self doubt are forgotten when he escapes to the imaginary fantasy world of his own mind.
Renowned for his many stage performances, Brown seamlessly makes the transition to film in the unforgettable role of loveable but beleaguered Zachary Blasto. With an unforgettable soundtrack, written and performed by Brown and The Fellowship Students, fantastic visuals and a solid narrative, first time feature directors Kevin Ely and Beau Leland have made a memorable film that is unlike anything you've seen or heard.
Rainbow Around the Sun can be seen Wednesday June 11th at 9pm at Film Row located at 700 W. Sheridan in Oklahoma City and Friday June 13th at 5:30pm at the Oklahoma Museum of Art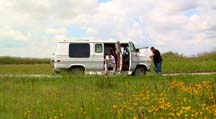 The Stanton Family Grave Robbery starring Cole Selix, Kevin Costello, Brand Rackley
Screenplay by Mark Potts, Cole Selix and Kevin Costello
Directed by Mark Potts
In the comedy The Stanton Family Grave Robbery, Charles Stanton (Rackley) has just been informed by his older brothers Mark (Selix) and Brian (Costello) that their father has died. Following the funeral, the older Stanton brothers decide it best to honor their father's wish of being buried in Oklahoma, in the process angering their shrew of a step mother. They kidnap their younger brother and take a road trip with their father's body in the back of their van from Texas to Oklahoma. The result is a smart comedy involving death, family, and how facing reality isn't always bad.
Director Mark Potts has made a funny movie with a great comedic cast. Rackley, Selix and Costello create a brotherly dynamic that manages to be funny without being mean or overly sentimental.
The Stanton Family Grave Robbery can be seen Thursday June 12th at 9pm at the Kerr Auditorium in the Kerr McGee Tower at 111 Robert S. Kerr in Oklahoma City
Unsolved starring Jane Bunting, Jerome Braggs, Josh Shideler
Screenplay by Sean Lynch and Lance McDaniel
Directed by Lance McDaniel
Unsolved is about Amanda Voci (Bunting) a young grad student who is given a class assignment to reopen an unsolved criminal case and determine why it was never solved. The simple class assignment quickly turns into a tale of danger, deceit and murder leaving Amanda questioning whether or not those closest to her can be trusted, including herself.
First time feature director Lance McDaniel succeeds in creating a suspenseful and riveting tale of what can happen when someone begins to unearth hidden secrets. Bunting plays a determined and intelligent heroin who never lets herself become the victim. It's refreshing to see an independent and smart female lead in a movie. McDaniel has not only directed a superbly suspenseful movie, but also managed to throw in relevant statements concerning race relations. Unsolved is entertaining, suspenseful and also features some of the most beautiful shots of Oklahoma City ever put on film.
Unsolved can be seen Friday June 13th at 9pm in the Kerr Auditorium in the Kerr McGee Tower 111 Robert S Kerr Ave in Oklahoma City and Saturday June 14th at 5:30pm at the Oklahoma Museum of Art.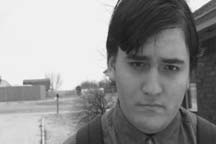 A Beautiful Day starring Angelina Hampton, Jordan Pitts, David Smith
Written and directed by Adam Hampton

A Beautiful Day is a horrifically suspenseful film in which three strangers wander into a small town whose inhabitants are dangerously cynical. It seems the strangers want nothing more than to help their fellow man and warn them of impending doom; however, it is revealed their frightening methods bring about horrific consequences for non-believers.
The film, shot entirely on location in Dale, Oklahoma, garnered national attention earlier this year when the film's trailer hit You Tube and was mistakenly viewed as a legitimate terrorist threat made against the town of Muskogee. Writer-Director Adam Hampton shot the film in eery black and white, creating a feeling of constant, anxious, dread. Using clever editing and a minimal cast to tell a horrifying tale of small town isolationism and the results of how strong beliefs can have lethal consequences, this film succeeds on every horrifying level.
A Beautiful Day can be seen as a part of the Horror Shorts program Friday June 13th at 10pm at the IAO Gallery 822 N. Broadway in Oklahoma City.
These movie's show Oklahoma's film scene continues to grow while producing diverse and highly entertaining films. For information on how to get passes to these films log on:
www.deadcenterfilm.org