Vol. 3, Issue #8 April 18th - March 1st, 2008
David Slemmons: Peace, Power, & Love
By: Bill Richards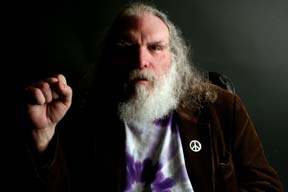 Meet the David:
David Robert Slemmons has lived a long colorful life, from being a Librarian to working on the Alaskan pipeline and everything between. Actor, activist and Outlaw Poet, David has earned his niche in Norman History. Mr. Slemmons has worn a many titles in his days, but his favorite is friend. People who know him just call him David.
Early Years:
David was born at Cal State Hospital in Berkley California. How is this not a surprise? After his parents graduated, his father took his first real job in Reno Nevada. Growing up around Lake Tahoe, David took to skiing. He wore his hair long, which was not the cool thing to do in the Leave it to Beaver days. When David started school in 1967, he wasn't well liked his first year on campus and was thrown into the lake for being the longhaired hippie. It all worked out the next year when the trends caught up in Nevada, and he was elected student body officer. David graduated with a B.A. in Creative Writing under Walter Van Tilburg Clark at the University of Nevada with a minor in Speech and Drama.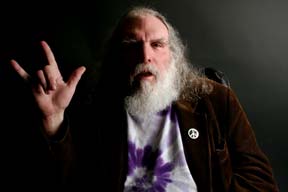 Growing up in the time of change:
Living in the time of Dr. Martin Luther King and the happenings at Kent State, David was there for it all. He was there when the Beatles broke into America, and the Doors opened up perceptions in the Decade of Love and War. After Graduating in 1971, David entered the military as a conscientious objector. He was shipped off to Alaska because of his radical views and colorful past. David earned himself quite the reputation, was one of the first activists to drop the F bomb in a public speech, and even earned an FBI file.
After the Miltary:
David stayed in Alaska, worked some as a counselor after his military time, then took a break and worked on the Alaskan pipeline. Always the activist, he got in trouble on the pipeline and decided to go back to school at the University of Alaska to pursue his first passion: acting and the theater. Somehow he became student body president.
The long strange trip to Norman:
David's friend at the U of A talked him into just putting his name into running for a seat on student senate, and he ran unopposed. At the first meeting, this same friend exposed David's color full past in Nevada and his experience as a student officer, and nominated David as president of the senate - he was again unopposed. After his friend moved on from being Student Body President, David inherited this roll. As Student Body President he was sent to Harvard to represent the U of A about Higher Education. On the way back from this conference, he stopped in Minnesota to attend another meeting about starting yet another student organization. The agenda was to give State schools more influence and votes than small private schools have in a Nationwide educational organization. As life goes, David was elected president of this new organization, and this new job and title took him to Norman and University of Oklahoma.
While in Norman:
This new job and title was nice, but there wasn't much to do, so he helped out the local theater groups on campus and around town. He helped get the Medieval Fair going as head of drama department in 1978, and directed the whole fair in 1979. During this time David was very active - with over a 100 credits to his name. He also did poetry readings and published a book called Outlaw Poet. During this time he had two wonderful children named Mabry and Michael, and still had time to get a MFA in Drama and Master of Library and Information Studies from OU.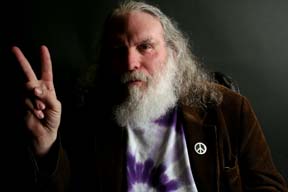 Groovefest:
Groovefest has been going on for more than 20 years starting in 1986. It's a free music festival promoting community building through arts and human rights awareness. David has been helping Groovefest since its infancy. David and many others have poured there heart and soul into this great event with help from many different organizations along the way like Amnesty International, Green Corn, Our Earth and the Oklahoma Coalition to Abolish the Death Penalty. It has always been about spreading the word of human rights good music and good times. It has the luxurious title of the longest student run human rights music festival in the world. Groovefest is normally held twice a year in the spring and fall season. David has been given the handle of friend of Groovefest for all his many years of service to this great event.
This year's Groovefest is held on Sunday April 27th Groovefest kicks off around 11am and goes to 10pm. With live music by the Academy of Music Students, DJ K-Real, Kevin Watson, The Gunship, Proprietors of the Earth, Mama Sweet, Galapagos and Sam and the Stylees. With added performances by Desert Fire Princesses Bell dancing and Tracy's fire dancing. Plus guest speaker world-renowned humanitarian Jack Healey founder of Amnesty International and currant head of human rights action in Washing D.C.
David Slemmons the man:
Humble in his nature, adorning his cowboy hat, brown corduroy jacket and peace pin, David has always been about changing the world, through politics, theatre and poetry. He has lived a life that helped shape the face of Norman and has inspired and befriended many artists. He is always the activist with a message of Peace, power and love - and my good friend - David Slemmons.