Vol. 3, Issue #13 July 18th - July 31st, 2008
Crocodile Rock
By: Becky Carman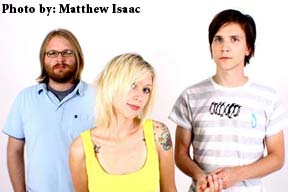 Crocodile suffers a strange dichotomy. At once the new kids on the block and the well-seasoned pros, the band members – Raechel Brown (synths, guitars, vocals and Theremin), Derek Brown (synths, guitars and vocals) and Dusty Wayne Nelson (drums) – are culling their collective experience…and keeping it all in the family.
"We finally got our act together and started playing in the fall of 2006," Raechel said. "Derek and I are married. Derek and D.W. are cousins, and we had been talking about putting something together for a while, but the timing wasn't right until then."
Crocodile was in its infancy during Dfest 2007 and is bringing its brand of indie pop rock this time around, but with a little more experience.
"When we played Dfest last year, we had played less than ten shows probably, so naturally our live show has evolved since then," Brown said. "We were – and are constantly – realizing our strengths and weaknesses and trying to learn what we can do to make our live show better." Since last summer, Crocodile has played a number of well-attended shows, including a date at the Bricktown Ballroom with another husband-wife duo, Mates of State.
At this year's festival, Brown said she looks forward to seeing headliners Ghostland Observatory, Apples In Stereo and The Roots, "or anyone else that can offer lasers, synths or afros – not necessarily in that order of importance."
To be certain, synthesizers do rank higher in import than any flashy peripherals – a truth evident on Crocodile's debut EP, The Great Depression, self-released earlier this year.
"We have huge crushes on synth-based music," Brown said, "and decided early on we wanted to make synths the focus of the instrumentation."
Crocodile's greater focus, as honed from its members' years of playing in now-defunct projects, is pretty clear.
"I would say the main difference as compared to then is now we're not as worried about going out and playing as many shows in as many different cities as humanly possible," Brown said. "We're trying to look more at the big picture and focus on recording just as much as playing live. Touring is important, and we want to do more of that than we're doing now, – hello, $4.00 a gallon gas! – but we're also really concerned about recording a full-length record that we can be proud of and using that to try and make something out of all this."
Crocodile will play Dfest at 10:00 p.m. Saturday, July 26 at The Continental (21+)