Vol. 3, Issue #13 July 18th - July 31st, 2008
Q & A: Callupsie
By: Becky Carman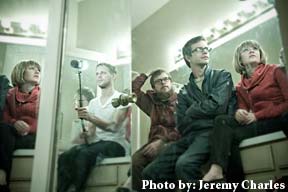 Tulsa's own Callupsie are making their first go at Dfest, in the midst of a challenging year that has left members Aaron Hamby, Liz Wattoff, Clay Welch and Daniel Sutliff tighter than ever. Here, Hamby discusses cancer, DJs, drag queens, hardcore and watching grass grow.
You've had quite a year. What are a few of the biggest ups and downs?
The last year has definitely been crazy. I can't think of any real downs, because everything that has come along has been a real learning experience. I was dealing with recording the record (Callupsie, out on Little Mafia) and having cancer and post-cancer surgery. We went through a major member change with Sam (former bassist Sam Ewing) leaving and Daniel joining, and we released our album. Throughout everything, our band has stayed together both personally and musically and has even grown more so as a result of the events of this past year. 
Tulsa's music scene seems to have evolved into something formidable, and relatively quickly. Have you noticed a difference?
The Tulsa music scene has grown considerably in the last year alone. I'm sure more folks are going out, and yes, a few more venues have popped up. Although, we have a hard time judging that considering the fact that we've been here the whole time. would liken it to watching grass grow and then periodically trying to stop someone from mowing it down.
What's the best show you've ever played?
Our last show at the Cain's Ballroom with Girl Talk was nearly sold out, and the kids were losing their minds. I've never seen that kind of energy. They were there to get down on some DJ shit, and we went out there in front of this packed house and played them space rock for an hour. As soon as we started you could see some lights going off. I never thought I would see glow sticks at a Callupsie show.
What's the worst?
We played an outdoor festival in Tulsa about three years ago (Tulsa Pride). I can remember it being about 120 degrees out there, and a bunch of old drag queens were trying to play bingo on the stage during our show. I think I was dabbling in exhibitionism at the time, and I had only a pair of skimpy shorts on. The drag queens were making cat calls and calling out the bingo numbers. We played for ten minutes. I have nothing against hot weather, old drag queens, or bingo...just not all together at the same time.
Liz is a 7th grade teacher. Do her students know about Callupsie?
Yes! We get loads of Myspace junk from her students and at least one or two messages a day that simply say, "Hi, Miss Wattoff!" They think she is pretty cool.
Callupsie was mentioned in a Tulsa article in SPIN magazine. Any action from that?
We received a good month or so of attention as far as web stuff goes. We booked some out-of-town gigs and sold a few records. That SPIN hype was kind of funny. My favorite part about the exposure was getting to namedrop Gary Busey as a major influence on the 10 o'clock news. I could give a fuck about Gary Busey, but since we were in SPIN magazine, they took it as gospel. That was one of the only good things to come of that article.
Okay, I'm going to ask you to name drop again. If you had to pick a less-notorious Tulsa band that everyone should know about, who would it be?
Anything with James Plumlee. Tulsa underground hardcore will always be the best. Hands down. Check out Anchors and Teeth and Bring Down the Hammer.
Callupsie plays Dfest at 7:00 Saturday, July 26 at The Blank Slate.