Issue #18 Sept. 29th - Oct. 12th, 2006
Budget Bonanza: Responsible government spending with Jim Roth
By: Robert Cole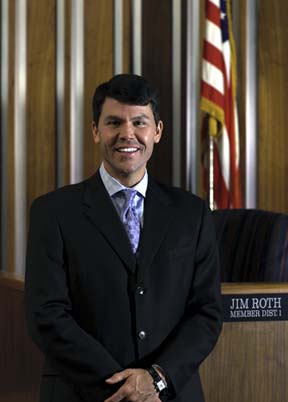 When November comes around we can hope to expect a very tense time in America's history. Over the past four years Bush's presidency has broken the law, pulled us into a blurry war, and more recently tried to enact acceptable torture methods on 'terrorists' (a term so loosely defined that nearly anyone could be a suspect). Possibly worse, countless cases exposing fraud, irresponsible spending and ulterior motives have come to define this administration.
Oklahoma Senator Randy Brogdon has spoken out about overspending in government, especially here in Oklahoma where big money is not finding the issues. Sen. Brogdon, supporter of S.O.S. (the Stop Over Spending Initiative), contends that a lot of needed funds is getting thrown around in Oklahoma government, most of which seems to be aimed toward more state control and private interests. Posted on www.freedomworks.com, Brogdon writes:
"In the last ten years alone Oklahoma's budget has grown from $2.5 billion to over $6 billion dollars...I don't think it is unreasonable to expect the legislature to do their job and be responsible with taxpayer dollars. Unfortunately that very seldom happens."
Here in Edmond $218 million has been set aside for our budget. That's $11,653.75 per minute to keep my town up and running.
An Ally in District 1
Commissioner Jim Roth, an Oklahoma raised democrat, will defend his deserved seat in the November election. Roth has gained considerable respect among District 1 Oklahomans and it wasn't through excessive (expensive) advertising campaigns or epic speeches that has kept his voters happy, it has been a devotion to Oklahoma and responsibly handling the tax payer's money.
Jim Roth spent time as a Chief Deputy Commissioner, Staff Attorney and County Clerk for District 1 from 1998 through 2002. Since then he has served as Commissioner for that large chunk of Oklahoma City and surrounding areas with amazing success. His work has directly contributed to new road construction throughout the state, better medicaid programs and careful consideration for his constituents.
"The legislators, in my opinion, have not been addressing the problem." Roth admitted in a phone interview, "I'm very concerned about overspending. In my opinion, the government hasn't been putting the money where it's needed. We still have tragic overcrowding in our County Jails and State Prisons. We still lead the nation in hunger, as a State, we should be doing more about these problems. There are many Oklahomans who are hurting and our Legislature has failed them time and time again. Who is their voice? Who is their advocate? I have tried to be there for them and will continue to work to give a voice to those who have not had one."
He is now running as incumbent against Dave Mehlhaff, a republican and devout Christian. Although Roth has been a target for badgering, he has remained indifferent to slander methods to gain a constituency. In commissioner Roth's daunting 50-60 hour work weeks, he has managed to build, or rebuild, more than 52 miles of hard surface roads, including 8 new bridges that will see completion by 2007.
"We have reconstructed major arteries like Luther Road, NE 150th, Wilshire, Choctaw Road and Triple X Roads. We have built and done more with less money because we have completely reformed and retooled our District Operations."
Roth's office is responsible for 41% of the roads in Oklahoma county while receiving only 33% of the allotted funding. After cutting superfluous staff, Roth managed to save $2 Million in taxpayers money that went directly to these projects.
During his 2002 campaign, Commissioner Roth personally knocked 12,000 doors of senior homes and at the 2003 senior summit arranged for the Oklahoma elderly to voice their concerns in person with legislators. From the effort State Question 714 was passed, an initiative which suspends property taxes for Oklahoma citizens 65 and older who need financial assistance.
"We doubled funding to the Senior Nutrition program and thereby eliminated the waiting list for our County's seniors. And we keep working to make progress for them." Roth said.
By fulfilling tangible and specific promises, Roth has secured a loyal base of supporters. With his help, more Oklahoma citizens can be assured that funding is getting to the problems instead of the other way around.
"I've always been honest and up front with who I am. And I think the public appreciates that and knows I will always be honest with them about their business and the issues that matter."
This year's election will be held on Tuesday, November 7th and I urge our readers to consider Roth for another term as District 1 Commissioner. To find out how to support Roth in the 2006 general election visit him on the web at www.roth4commissioner.com.