Vol. 2, Issue #19 October 12th - October 25th, 2007
Brooks Chambers
By: Nathan Winfrey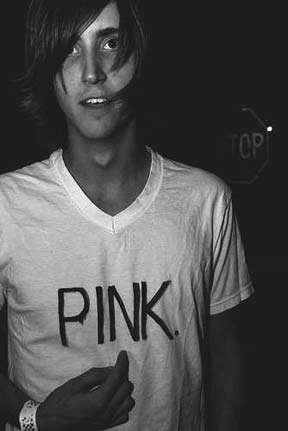 Jazzy pop rocker Brooks Chambers multitasked for a phone interview while browsing Circuit City with friends in his native Austin, when his tour took him back through his old stomping grounds for a show at legendary Emo's (the venue, not the musical genre).
Multitasking isn't a foreign concept for Brooks, considering number of creative mediums he experiments with.
He's a singer/pianist mainly, kind of Tom Waits-meets-Elton John-meets-David Bowie, and he's coming to the Conservatory with Floridian indie rockers Band Marino Oct. 14 at 8 p.m.
His "Long Story Short" EP released in 2006, and he plans to record four more songs, but it may be awhile before we see a full album because he plans to do more touring first—10 months in 2008, to be exact.
"I want to put out a full-length so bad it makes me sick," Brooks said.
Brooks is branching out into other mediums, as well. He's just finished a children's book called The Speckled Rose and is going to write music to go along with it. He's also working on a musical called "The Well Wisher King."
"I'm interested in a lot of different art forms," he said. "I'd really like to eventually get involved with more theatrical elements on a bigger level. I really like musical theatre; I think when it's done right, it's hilarious."
This is only Brooks' third time to play the Sooner State, though one of his managers, Andy Loper, operates out of Bethany. But still, he speaks fondly of the 405 area code and can't wait to get here.
"Oklahoma City is now kind of my second home, with my management being there," he said.
Brooks said he's had a surprising response to shows in OKC. When he last played the Conservatory, in May, he almost cancelled the show for various reasons. But he came anyway, and showed up an hour early to find about 15 people standing around near the door.
"I started talking to them to try to get some fans, and it turns out they were there to see me. I was really surprised," he said.
Brooks has a unique relationship with Band Marino, seeing as he needed a band for the tour and they needed someone to play mandolin, banjo and accordion. So, Brooks headed off to their Orlando home and learned all three instruments in a week, then spent the next week teaching them all of his songs.
They launched the tour in January, with Band Marino backing up Brooks Chambers, then Brooks Chambers filling out Band Marino.
"I think the whole tour's going to be a real blast. I like this kind of trading-off thing," he said.
It may seem ironic that one of the reasons Brooks is a solo artist is because he enjoys collaboration—one probably wouldn't think a man who mostly produces music on his own would have much opportunity for a melding of ideas with other musicians—but this way, he gets to play with a different band each time he tours, and he really enjoys the changes to the musical formula it permits.
"It's allowed me to collaborate more freely and with a lot more versatility than if I was in a band," Brooks said.
He has other collaborations on the horizon that he's excited about, including one with Astronautalis, a hip hop artist from Jacksonville.
"I guess I'm just trying to be the Van Morrison of the whole hip hop thing," Brooks said.
He also does a lot of work with Jacketweather Studios in Austin, with of the other half of his management, Brandon Johnson.
Brooks Chambers is mostly a three-piece, with piano, bass and drum. For a while, he was switching between the guitar and the piano, but after a couple shows, he decided to stick with the keys exclusively.
"It's a stronger presence and more what I want to convey, rather than a just solo artist with an acoustic guitar. What I do is more along the lines of Elton John and Billy Joel," he said.
He mostly plays venues more used to hardcore, emo and indie acts, and his piano bar persona and comical audience interaction aren't exactly what concert-goers have come to expect.
"They're not used to a guy playing a piano, acting kind of drunk and wearing a seer sucker suit," Brooks said.
He also tends to channel a little bit of Jerry Lee Lewis on stage.
"I get kind of crazy sometimes," Brooks said. "I have some blood stains on my keyboard. I don't really think of myself as a rock musician, but I think the blood speaks for itself."