Vol. 2, Issue #2 Feb. 16th - March 1st, 2007
Ben Kweller Interview
By: Graham Lee Brewer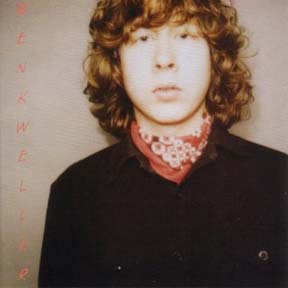 Since jumping in the lime light at the tender age of 14, fronting the band Radish, Ben Kweller has literally grown up on a major label, putting out several albums and embarked on a few world tours with the band all as a teenager. Now he's a seasoned veteran and New York City solo artist, and he's still only 25. I've always looked at Ben's life as extremely enviable and amazing. It's easy to make the assertion that someone who has seemingly always been on the receiving end of major praise and support, even at the very beginning of his career would have a major ego, too. But nothing could be further from the truth as far as Ben is concerned. Before our interview I had a long list of questions about his latest album and his music in general, but as the interview progressed Ben's good nature made me so comfortable that it felt more like a conversation between friends. I found myself asking him questions that I hadn't planned, almost just like we were shooting the shit. He'll be gracing us with his presence at the Bricktown Ballroom on February 24, with locals The Red Light Knights and The Separation opening.
Man I'm really excited about that Oklahoma City show
Really? Why is that?
Cause my friends The Red Light Knights will be playing.
I didn't realize you were friends with those guys.
Oh yeah. Me and their cousins, The Kings of Leon are really close friends. They're practically brothers. They have a family reunion in Oklahoma every Labor Day and I've been going for the past few years. The Red Light Knights formed pretty recently and I've kind of seen them come up. I was really psyched when I found out that I could have them open up for me.
That's pretty cool. Do you like Oklahoma?
Yeah I do. I grew up in Texas, pretty close to the Oklahoma border, like an hour away. I;ve always like OKC. I've never been to Tulsa, I have some buddies up there.
You're originally from Greenville, TX, and moved to New York to start your solo career. What was that transition like?
It's really two very different places man. But it wasn't a total culture shock for me because I went to New York so much when I was younger. My dad went to school there and I've always been in to NYC and wanted to live there at some point in my life. So I'm glad that I've seen both sides, the country and the city. Although I prefer the country now. I think because I spend everyday of my life playing in major cities around the world. When I have time off I love going to my parents house and going fishing, hiking, and camping.
Do you plan on moving back to the country anytime soon?
Well, my wife and I have been talking about maybe going down to Austin. It's kind of the best of both worlds for me. My managers there, its got a great music vibe, but you can also get a few acres outside of town and have a barn and a studio. It's not like NYC.
When you were first getting established in NYC Evan Dando (The Lemonheads) and Jeff Tweedy (Wilco) both asked you to open for them. What was it like being kind of 'taken in' by respected musicians like those two?
That's the kind of stuff that really helps you build your confidence. There's nothing like the people you look up to bringing you out on the road. That's the kind of thing I'm trying to do for The Red Light Knights. I'm in a position where I get to play in front of a lot of people so if there's kids that look up to me and I dig their music I want to help them out because I've definitely got my fair share of lucky breaks when I was coming up. Jeff and Evan are both geniuses, so when they called me up and told me 'hey, I like your music' it was such a huge honor. That kind of props are better than any kind of album sales or record deal. I'd much rather an artist that I respect give me props than some A&R guy at a record company.
Didn't you also get to visit Brian Wilson when you were about 15?
That was crazy. Even though I was really psyched to get to meet him and go to his house, it because a record company was trying to get us to sign. Brian had never heard our music before and didn't know who we were, we just went to his house because Electra Records was trying to win us over. So it was the opposite of Jeff Tweedy saying "I like your stuff and I want you to open up for me on some dates.' Record companies don't really do that kind of stuff anymore, but in the nineties that was kind of the height of bribery.
That's still pretty cool that they tried to bribe you with Brian Wilson.
That's the thing, there's no better way to get someone to sign a deal. But we actually never ended up signing with them, but it was a good trick, haha.
Do you prefer those smaller acoustic sets that you got to play with Evan and Jeff or do you like the big venues that you play now?
My ideal venue is 1000 people. Once I go past 2000 people it seems to become less intimate. I can still connect to everybody when I'm in front of a couple thousand people, but once you go more than that it feels like your not connecting with each individual fan you're trying to be an entertainer for a whole group. But I'll play for anybody. I've opened up for different bands that played in arenas and shit, playing in front of 10,000 people and that's hard because you do your thing but its hard to know if you're really connecting. You don't get that instant vibe that you get in front of 1000.
Where there any other bands in the NY scene that were as supportive as those guys were?
Yeah, there were people my age that were starting out like The Strokes and Adam Green. Before he went solo he was in a band called The Moldy Peaches. The three of us all met early on, in 2000. This was before any of us were signed and were just playing shows in New York bars. It was a really cool time because everyone was really supportive. Jeff and Evan were the two veterans that reached out to me. Chris Robinson from the Black Crows also came out and was supportive. But The Strokes and Adam and even Conner from Bright Eyes, we all became friends. It was cool to help each other out and even play each others songs and get inspired by each other.
You got started on your musical career at such a young age. Did being so young make it difficult for you?
I don't think it made it difficult for me, it was just as hard for me as it was for someone in their mid-twenties. I think I was lucky for starting out so young because it gave me a head start and a lot of time to develop as an artist. By the time that I moved to New York and became a solo artist I had already made three albums with Radish and toured around the world. So, I already knew what kind of music I wanted to make. I'm lucky because not a lot of artist get that chance, to live multiple lives. I feel like I've already lived two or three.
I can definitely sense that growth in your newest album. It has this established quality to it. Was that a conscious decision or did you just write what came out?
It's just kind of what came out, but it's definitely more direct and more honest. I'm not sugar coating my lyrics I'm just kind of saying it like it is. As we get older hopefully we get better at what we do, whether you're a doctor, lawyer, musician, or painter. If there's growth that's a positive thing. For some reason I wrote a lot more ballads on this one, it's a little more mellow. The rock songs are more classic rock, like Petty or Americana. I dig that. That's where my head space is at. A lot of songs about travel and freedom and living while you can. Who knows where I'll go next.
I'm a huge Mason Jennings fan and I know you guys have a close relationship. Can you tell me a little about that?
Mason and I are super great friends. We're both fathers and we bond over that big time. We're young parents and that's a big deal these days. He's obviously one of the greatest song writers of this generation and he deserves a lot more attention that he gets, and that's one thing that always kinds of bums me out, because I know in my heart everyone should know his music. Century Spring is one of the est albums ever. His bass player Chris is actually touring with me right now.